When:
December 15, 2018 @ 12:00 pm
2018-12-15T12:00:00-05:00
2018-12-15T12:30:00-05:00
Where:
The Bluestone
583 E Broad St
Columbus, OH 43215
USA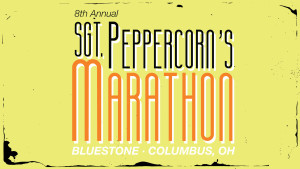 Sgt. Peppercorn's Beatles Marathon is an event like no other.  Experience Sgt. Peppercorn's Lonely Hearts Club Band perform e
very Beatles song in chronological order.
215 songs, 1 day, 12+ hours. 
For the Ninth consecutive year, Columbus musicians will play all 215 officially released Beatles songs, in a single performance. Beginning with the album, Please Please Me at

12:30 PM

, and ending with Abbey Road some time after

midnight

, The Beatles Marathon is currently, the only single performance of every Beatles song.
Tickets On-Sale Thursday, October 25th at 12pm
The Beatles Marathon is arguably the most ambitious musical feat attempted in Columbus each year, and it has also become a beloved community event. For Peppercorn, who's now known more for the Beatles show than for his band the Whiles, the event isn't some excuse to play a bunch of covers and make some money. It's an essential, sacred part of his life.
"You could find better musicians – especially with me," Peppercorn said. "There are always at least 100 people in the Bluestone who could sing the song I am singing better than me. [But] we are the island of misfit toys, and this show is our home." -Columbus Alive