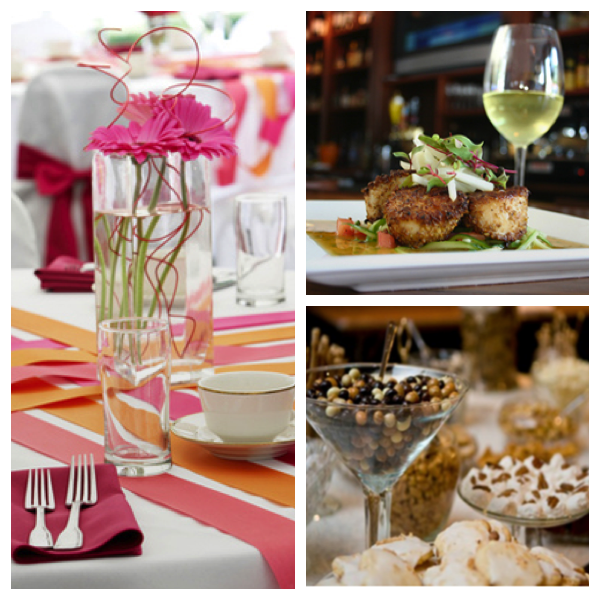 Experience the most diverse catering menu in Columbus for your next corporate meeting, party or fundraiser. Our full-service kitchen allows not only flexibility but also creativity in planning your next event in Columbus. Work directly with our Executive Chef to plan your menu from start to finish – hors' d'oeuvres to dessert and all the finishing touches. We consider the impressive menu we have already established as a jumping off point for your creativity. Our exceptional food is prepared with only the freshest ingredients and highest standards.
Breakfast catering.
Start your morning off on the right foot with breakfast for your Columbus Event or meeting. Choose from classics like the Farmhouse Breakfast with fresh scrambled eggs, crisp bacon strips, hash brown potato cakes and assorted breakfast pastries, or keep it simple with the Bluestone Continental Breakfast featuring freshly baked muffins and Sammy's New York Bagels accompanied by assorted yogurt, granola topping, butter and cream cheese, or choose from many other delicious breakfast selections.
Hors d'oeuvres.
Begin your next Columbus Event with a diverse selection of displayed or butler passed hors d'oeuvres. We offer display selections like the impressive Sesame Seared Tuna or Baked Brie en Croute, hot selections like Lamb Chops with an herbed Dijon creme and Water Chestnuts Wrapped in Bacon, as well as chilled options such as our Beef Tenderloin Canapé and Crab Salad served on a Cucumber Roundel.
Salads and lunches.
Delight your guests with plated salad options, like the Roasted Turkey Waldorf Salad. Select a deli buffet or a Bluestone buffet such as Roma Chicken Roulades, Baked Gnocchi, or Tropical Salmon. With dozens of lunch choices, the hardest part will be picking just one.
Dinner catering.
Now for the main event. It's our pleasure to assist you with menu selections and accommodating special requests like vegetarian dishes and allergies. When it comes to finding the perfect Columbus dinner catering, the search stops here. Our served options will wow your palate with dishes like Supreme Chicken Piccata and Strawberry Seabass. The buffets are to die for, featuring options such as Pesto Salmon and Chicken Marsala.
Dessert and finishing touches.
Complete a spectacular night with desserts like Chocolate Peanut Butter Pie, Creme Brulee Cheesecake, Flourless Chocolate Truffle Cake or an assortment of Gourmet Miniature Pastries. We can even create exceptional Celebratory Decorated Sheet Cakes for your special occasion.
Offering full catering services for your Columbus event or party.
When it's time for your special event, you'll never have to worry about the menu or the food when you choose catering services from the Bluestone. Let our Chef and team of experienced kitchen staff customize your menu and create a memorable culinary experience!
To get started, please contact our events coordinator at 614.884.4646.