When:
April 6, 2022 @ 8:00 pm – 11:45 pm
2022-04-06T20:00:00-04:00
2022-04-06T23:45:00-04:00
Where:
The Bluestone
583 East Broad Street Columbus
Ohio 43215
Said The Sky
April 6, 2022 9 PM
at The Bluestone
Columbus, Ohio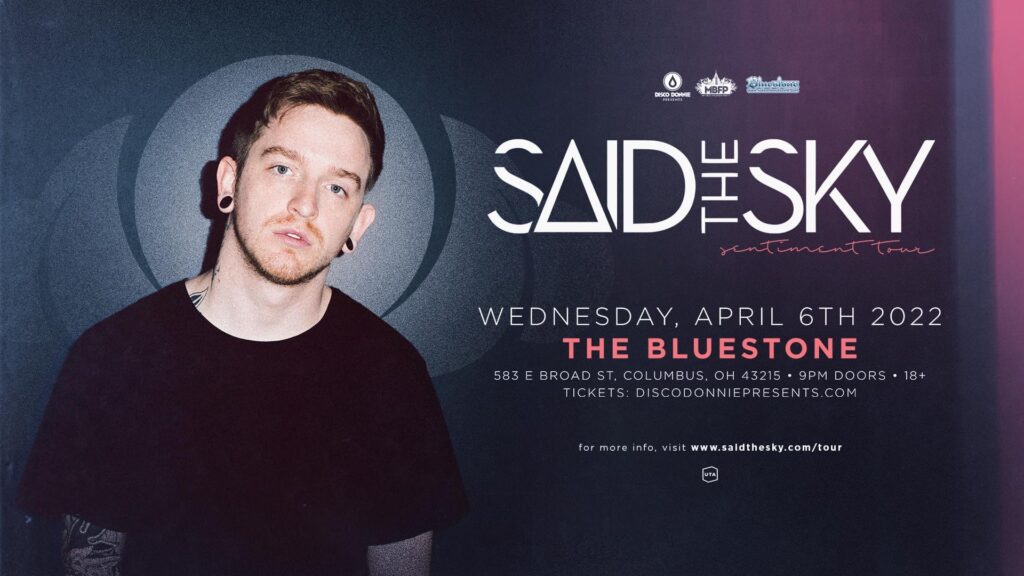 Disco Donnie and My Best Friends Party present :
Said The Sky – Sentiment Tour Columbus
sentiment
[sen-ti-ment] noun
1. a view of or attitude toward a situation or event; an opinion
2. exaggerated and self-indulgent feelings of tenderness, sadness, or nostalgia
"A brand new show.
Brand new visuals.
Brand new music.
A brand new experience that I can't wait to share with you. "
SAID THE SKY
A blend of soaring melodies and emotive bass lines. Said The Sky is an experience through music.
Playing piano and various instruments since the age of eight, Colorado native Trevor Christensen is coming forward with a fresh perspective on music. Bringing his melodic background and technical training into his music, Said The Sky works to capture everything beautiful in what people know as EDM. His last 3 years have been devoted to his production, and bringing the ideas build up in his head from his entire childhood to life. His music is, what he hopes it to be, an experience: A captivating blend of moving bass lines, and soaring melodies.
https://www.facebook.com/saidthesky/

Local Support TBA
VISUALS BY SIF