Bluestone Event Venue, where anything is possible.
The Bluestone, is a place for country music concerts to corporate events, weddings and private parties. A destination venue for your special event. With cathedral ceilings, soulful acoustics that you can only hear in a 115-year old church. We have a staff who truly cares about delivering an amazing experience and making your event special in every way possible. The Bluestone is one Columbus's BEST event venues that takes pride in all that they do. Book a tour at The Bluestone today and experience a truly unique experience. Their catering staff will plan your perfect event. We take amazing pride in all that we do! Call today at 614-884-4646 and book a tour. The Bluestone cares about your needs and their amazing event planners will make anything possible
The Bluestone is an extraordinary venue that offers an unparalleled and unique experience for your wedding ceremony and reception. The Bluestone is a newly renovated 120-year-old church that boasts three diverse levels, seven bars, soaring stained glass windows, and a gracious outdoor patio.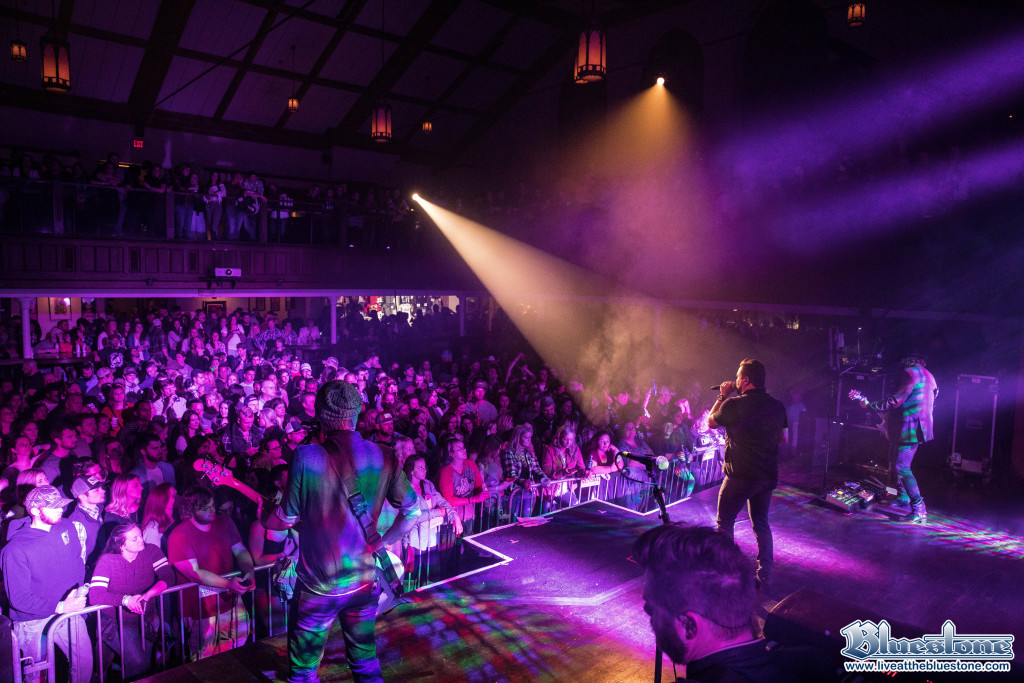 CONCERTS COLUMBUS OHIO
Oct
3
Sat
Eli Young Band Live at Westland Mall Drive in

@ Westland Mall Drive-In
Oct 3 @ 6:00 pm – 11:00 pm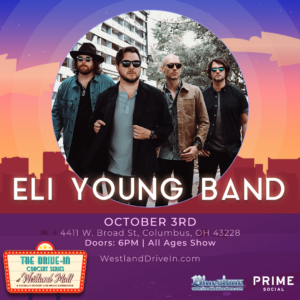 Eli Young Band Live at Westland Drive-In 
Columbus, Ohio
Saturday October 3rd
A socially distanced, live music experience. Please read the following info regarding COVID-19 safety, procedures, and other FAQs:
***TICKETING:***
*EACH PASS INCLUDE ADMISSION FOR UP TO (4) PERSONS PER VEHICLE*
Each vehicle is permitted to bring up to (6) persons. Single Person Add-On tickets are required for persons in vehicles that will be carrying more than (4) people. Vehicles with more than (4) persons MUST be from the same household, and vehicles with more than (4) seats must have enough legal seats and seatbelts for everyone in the vehicle.
All spots are FIRST-COME, FIRST-SERVED within the section of the pass you purchased. There are no reserved spots within each section.
***COVID-19 SAFETY:***
Prime Social Group has taken enhanced health and safety measures for both our guests and employees. You and your guests must follow all event related policies and posted instructions while visiting our venue. Exposure to COVID-19 is an inherent risk in any public location where people are present. We cannot guarantee that you and your guests will not be exposed during your visit but we have taken reasonable measures to help limit potential exposure. By visiting our event, you and your guests voluntarily assume all risks related to exposure to COVID-19.
What you can expect:
* Parking spaces will be outlined and striped at 15 feet x 20 feet and
staggered six feet apart from the next adjacent parking space.
* Markings or signage to indicate social distancing in lines throughout the venue.
* Signage displaying COVID-19 best practices and regulations will be
posted throughout the venue.
* Employees will wear masks or face coverings and follow COVID-19
regulations.
* Guests are required to conduct self-screening before each event and are encouraged to stay home if they show symptoms.
* Cloth masks or face coverings are required for all guests except those
guests covered by the exceptions listed by the Ohio Department of Health.
* To limit contact and alleviate the need to leave the designated parking
space, one trash bag will be provided to each vehicle upon entry.
* Use of an FM Transmitter to transmit sound to the vehicle, alleviating the
urge to leave the parking space.
* Use of a mobile phone app to order and deliver concessions and event merchandise.
* Hand sanitizing stations will be set up throughout the venue.
* Restrooms will be cleaned and sanitized hourly.
* On-site medical staff and a medical tent.
* A COVID-19 testing site is available less than two miles away from
venue.
It is our #1 priority to keep everyone safe and healthy. Therefore, the following measures will be implemented:
**EVERYONE must present a face mask upon entry, unless a person qualifies for an exemption under the guidelines set by the State of Ohio. NO EXCEPTIONS.
**EVERYONE must wear a mask when outside of their vehicle. NO EXCEPTIONS.
**You may leave your parking spot only to use the restrooms and go to food trucks. You must wear a mask during this time, as well as follow social distancing measures.
**Each spot will be separated by 6 feet to enforce social distancing
**Refusing to abide by any of these requirements at any time is grounds for ejection of the event, determined solely by the event organizer, in which you, your vehicle, and all other persons in your vehicle will be ejected from the venue.
Get more info, read our FAQ, and see the full schedule of drive-in events at WestlandDriveIn.com
Oct
8
Thu
Chase Rice Live at Westland Mall Drive In

@ Westland Mall Drive-In
Oct 8 @ 6:00 pm – 11:00 pm
Chase Rice (solo acoustic) @ Westland Mall Drive-In
Thursday, October 8, 2020 from 6:00 PM to 11:00 PM (EDT)
Chase Rice first climbed charts as a co-writer of Florida Georgia Line's monster hit "Cruise," the historic 24-week No. 1 that perched atop the Billboard Hot Country Chart longer than any other song in the chart's then-69-year history. In 2014, Rice broke through as an artist: Ignite the Night yielded Top 5 singles "Ready, Set, Roll" and "Gonna Wanna Tonight," which he followed in 2017 with the acclaimed Lambs & Lions before ultimately earning his first No. 1 single as an artist, 2019's two-week chart-topper "Eyes On You."
We are located at 583 E. Broad St. Columbus, Ohio 43215, just five minutes from Downtown Columbus.