When:
November 9, 2023 @ 8:00 pm – 11:45 pm
2023-11-09T20:00:00-05:00
2023-11-09T23:45:00-05:00
Where:
The Bluestone
583 East Broad Street Columbus
Ohio 43215
My Best Friends Party & Disco Donnie presents:
APASHE
ANTAGONIST TOUR
w/ LIVE BRASS ORCHESTRA
November 9, 2023 8 PM
Music Starts 9 PM
at The Bluestone
Columbus, Ohio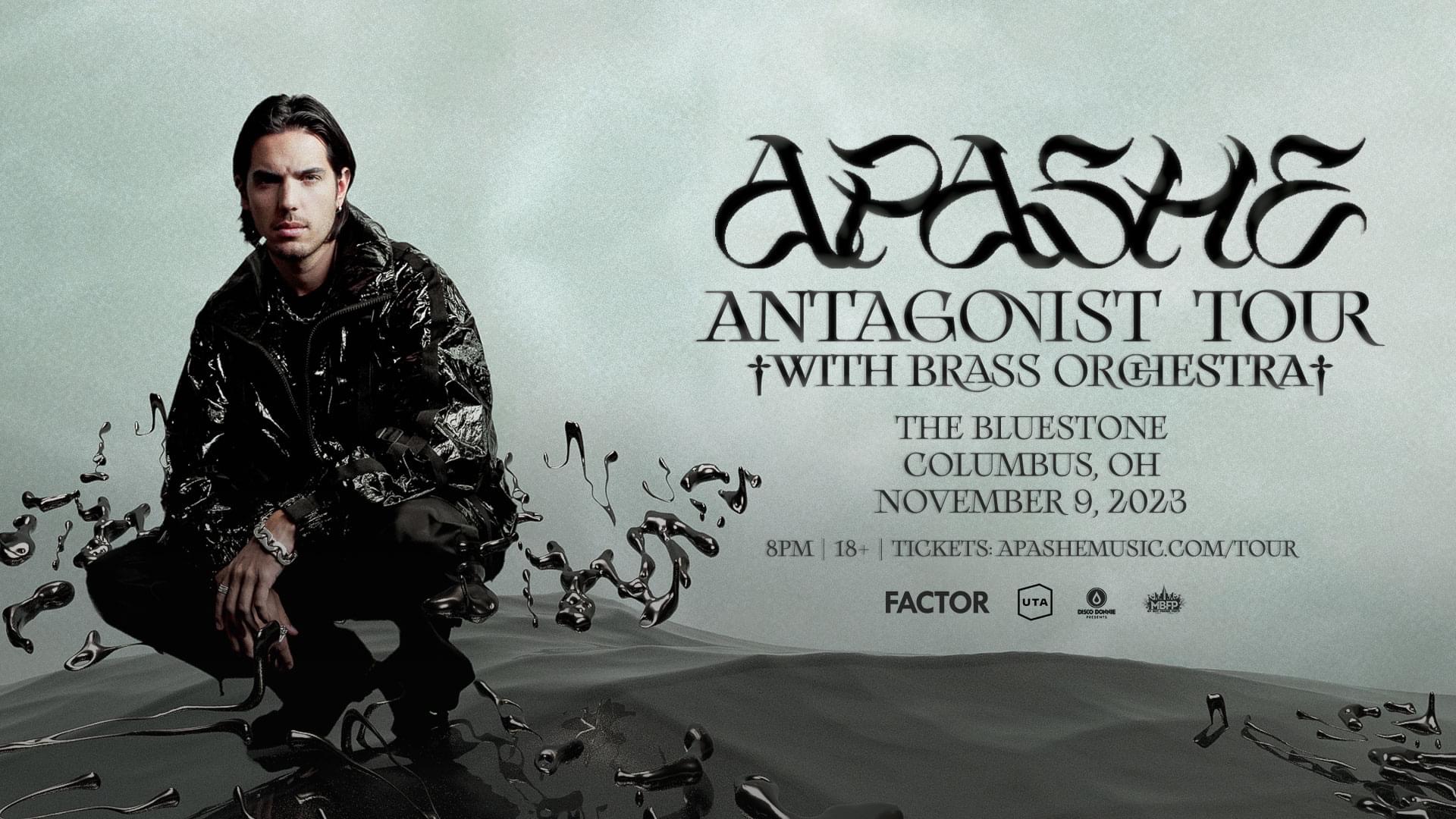 Apashe is a 27-year-old electronic music producer from Brussels, now based in Montreal. Since signing to Kannibalen Records in 2011, he's released a steady stream of bass-heavy anthems that showcase his ground-breaking sound design and expert sampling.
Apashe distinguishes himself with his unique live performance in which he recreates his tracks as well as arsenal of unreleased edits, in unique ways live. For this tour he's bringing along a live brass orchestra.
John De Buck, a.k.a. Apashe, is a special case. Born in Belgium, his Francophone parents chose to enroll him in a Dutch-language school, and the now-trilingual producer completed a degree in electro-acoustic music at Concordia University before his career exploded. He has toured around the world, including stops in Europe, Australia, Asia and North America with his own headlining tours, as well as played festivals including Electric Forest, Tomorrowland, Igloofest, ADE, Nocturnal Wonderland and more. He's also written music for ad campaigns by Budweiser, Adidas, Samsung and Famous franchises such as Marvel and Fast and Furious have also availed themselves of his services.
His record label, Kannibalen Records, is also home to Black Tiger Sex Machine. It turns out De Buck is the antithesis of his music, which is full of abrupt drops, intense buildups, and frenetic crescendos. The man is calm and affable.
The secret of his success? Following his instinct. "My team and I work in a very organic way," he says. "We create music, we put it on the internet. It grew very naturally, to be honest, we never really tried to push things. But we've now gotten to a point where the projects we get are huge!"
Huge? The word could hardly be more appropriate. SOCAN members who see and hear their sheet music played by a horde of seasoned musicians in Prague's Dvořák Hall are few and far between. After seducing the dubstep world and ad agencies, Apashe was chosen for a substantial grant, the first of his career.
"Up to this point, I've always been 100% independent," he says. "We were so used to doing things on our own that now, if someone gives us the financial means, we're like 'Yo! Let's go all out!' Without FACTOR's help, I wouldn't have had the chance to work with the orchestra. I owe them that."
We already knew he had a knack for epic, opera-like creations. But this time around, he's not re-mixing a Mozart concerto. It's his own creations. "I listened to a lot of classical music when I grew up, all the great composers," says Apashe. "Now I'm exploring the lesser-known composers. I listened to a lot of movie soundtracks, and they're generally classically-trained composers who work with orchestras. People like Daniel Hoffman, Philip Glass, or even Hans Zimmer… People always tell me I make cinematic music, but the thing is, when I try to do something else, I just can't."
Apashe's love of strings, and especially sacred music, has been well-known for a long time. He also loves foreboding and heavily treated choirs, to add another level of intensity to his music.
"I'm not sure exactly where that comes from, it's quite strange," he says. "I just love grandiose and supernatural sounds. Just like bass music! It's heavy and immense, like classical music. That's why I want to bring them together."