Tickets to your hometown music venue. The OFFICAL BLUESTONE TICKET BOX OFFICE for Columbus Ohio Concerts.
Get Tickets to The Bluestone and never miss your favorite artist again. Tickets From country and electronic to R&B and hip hop.  THE Bluestone brings quality entertainment to the stage every time. We're working hard to bring you the best music and special events in Columbus, Ohio. Keep an eye on our tickets and events calendar and check back often for concert updates. Just click on an event to purchase tickets.
https://www.eventbrite.com/o/the-bluestone-7491519101
Buying tickets on the Eventbrite app is quick and simple. Register for the event with just a few taps, and you'll receive a confirmation email when your order is completed successfully.
Please note: You may view some events on the app that are not ticketed by Eventbrite. The ticket purchase flows for those events may differ from the description below.
Eventbrite takes the security and privacy of your billing information seriously. All online payments are processed over a secure connection using a PCI-compliant gateway. If you prefer an offline transaction, learn how to buy tickets without using a credit card.
 Tickets to The Bluestone
Click here to subscribe to our text messages.
From country music concerts and rock and roll to corporate events, weddings, and private parties, we're a destination venue for your special event tickets. With cathedral ceilings, soulful acoustics you can only hear in a 115-year old church, and a staff who truly cares about delivering an amazing experience, The Bluestone is one Columbus event venue you simply shouldn't miss.
Get your Tickets to the best shows in town Now
www.liveatthebluestone.com
Sep
15
Thu
Matt Stell September 15, 2022

@ The Bluestone
Sep 15 @ 7:00 pm – 11:45 pm
Matt Stell
September 15, 2022 7 PM
at The Bluestone
Columbus, Ohio


About Matt Stell:
THE COUNTRY MUSIC INDUSTRY HAS LONG BEEN FILLED WITH ITS SHARE OF CHARACTERS. FROM WILLIE TO HANK AND DOLLY TO WAYLON, EVERY LEGEND STARTS OUT AS JUST ANOTHER ARTIST THAT DOESN'T FIT EASILY INTO SOME PREDETERMINED BOX. AND AS HARD AS COUNTRY MUSIC MAY TRY TO FIT MATT STELL INTO ONE OF THOSE TRIED AND TRUE BOXES, IT'S DARN NEAR IMPOSSIBLE.
Heck, he's 6'7.
But more so than the massive physique that helped Stell become a collegiate basketball standout, the Platinum certified singer has proven via the songs he sings and the shows he puts on that he is far too powerful of an artist to ever fit into some sort of singular category. In fact, to describe Stell in a few words would be a complete disservice to the man he is and the artist he looks to become as he releases his new EP Better Than That on October 16.
"If you cut a groove too deep, it's hard to get out of it," he remarks with a chuckle. "I've never wanted to be some one-dimensional artist, and with this new EP, I think I'm determined to show that there is much more to me than just a guy who can sing a love song."
Indeed, the Arkansas native comes from a long line of self proclaimed badasses. He can spin a romantic verse as easy as he can rock out an anthem. He can overanalyze a word as easily as he can let the melody ride a lyrical wave. And yes, he gets as much enjoyment out of discovering a hook in the writing room as he does hooking a fish.
"When you step out into that river and the salmon are still swimming upstream like they have for thousands of years, it's a real cathartic, therapeutic thing for me," he says of a recent fishing trip to Alaska. "It's a great reset."
In everything he does, it's evident that Stell is reflective and adventurous and funny and pretty damn smart. And if he's being totally honest with himself, he's never been one to love a love song.
Yep, you heard that right.
Granted, it was in fact a love song that catapulted Stell to country music success in 2019 via his massive hit "Prayed for You," a life-changer of a song that spent two weeks at the number one spot. As the only debut single to top Billboard's Country Airplay chart in 2019, and one of NSAI's "10 Songs We Wish We'd Written," the hit has gone on to rack up some impressive stats with over 270 million streams, his first RIAA Platinum certification and more than 20 million views of its official music video to date.
But there's a catch.
"If the only thing you've heard is 'Prayed for You,' you would have a different idea of who I really am," Stell explains. "Knowing that you are making music that means something to people is the ultimate compliment, but there is so much more to me."
A few more of the many facets of Stell are currently on display via his current top 10 and rising single "Everywhere But On," a song that Stell calls 'autobiographical' in the way that it tells the story of a man trying to escape the memories of a long lost love.
"Having two songs on the radio is an incredible thing, but what's even more incredible is finding your own voice and your own identity," he says.
Stell showcased a whole bunch of identities in another Better Than That EP standout – "If I Was a Bar." At a time when some of his fellow artists were perfectly content in simply sitting down with their guitar and playing their songs during the pandemic that Stell lovingly refers to as a 'damn biological hurricane,' Stell and his rather relentless work ethic turned out a music video that had him playing thirteen different roles in the span of a 3-plus minute song.
"I threw every stitch of clothing I have ever owned into my truck for that video shoot," laughs Stell of the somewhat restrictive project. "Sometimes creativity benefits from constraints."
Yet, there were few constraints on Stell's songwriting during the creation of the new Better Than That EP, which was co-produced by Stell alongside Ash Bowers. Via songs co-written by Stell such as "I Love You Too," "Chase It Down" and the title track "Better Than That," the listener can still hear Stell's distinctive way of wrapping a lyric around a memory and the twist he can put on a phrase.
"Songwriting is a craft that can get better the more time you put into it," remarks Stell, as he laments to himself about how much he hates clichés.
But for the first time in his still evolving career, Stell relied on outside writers on three of the eight tracks of the Better Than That EP in an effort to fill in the blanks of the overall project.
One of those cuts is "Sadie," a melodic brain-buster of a song that offers 'a sparse lyric but one in which every word means something.' Another outside cut is "Look At Me Now," perhaps one of the most earth-shattering love songs in recent memory. Yes, the guy who says love songs aren't his thing just might make history with yet another love song.
But before Stell looks too far into the future, he finds his soul planted deeply in the present. He is praying for the day he can plug his amp back in and jump on the bus with his band and play these new songs for a live crowd.
This new chapter in his journey leaves Stell with a whole bunch more ammunition in the writing room and a unique vantage point to view the characters in his songs…and the character he might ultimately turn out to be.
Oct
14
Fri
Maddie & Tae October 14, 2022

@ The Bluestone
Oct 14 @ 7:00 pm – 11:45 pm
Maddie & Tae October 14, 2022 7 PM
with SACHA
The Bluestone
Columbus, Ohio
Tickets purchased before postponed date are still valid.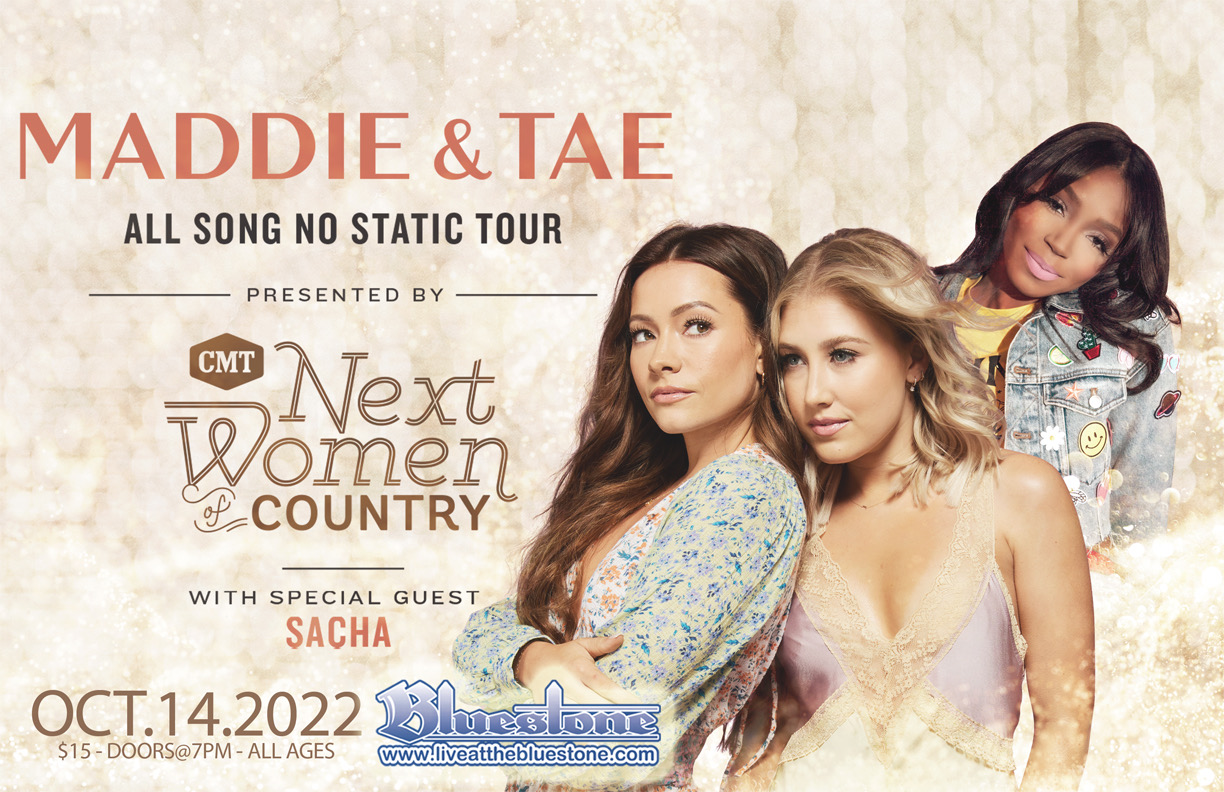 Maddie & Tae's All Song No Static Tour presented by CMT Next Women of Country is headed to Columbus with special guests SACHA.
Website: www.maddieandtae.com
Facebook: https://www.facebook.com/maddieandtae
Twitter: @MaddieandTae
Instagram: @maddieandtae
YouTube: https://www.youtube.com/user/MaddieandTae
About Maddie & Tae
Award-winning duo Maddie & Tae are drawing praise for their No. 1 debuting The Way It Feels album release with Rolling Stone saying the new music is "anchored around their stellar vocal pairings and some of the tightest harmonies on Music Row." Together as longtime friends and music collaborators, Maddie Font and Taylor Kerr co-wrote 14 of the album's 15 tracks including the Platinum-certified No. 1 country radio hit, "Die From A Broken Heart," which Esquire calls "their finest moment yet." The pair also co-wrote two brand new holiday songs to join a collection of classics for their first ever holiday project- We Need Christmas.
Maddie & Tae first broke out in 2013 with their brilliant counter to bro-country, the Platinum-selling smash, "Girl In A Country Song," which took Country radio by storm, skyrocketing to the top of the charts and quickly going PLATINUM. The duo became only the third female duo in 70 years to top the Country Airplay charts, also earning trophies from the Country Music Academy and Radio Disney Music Awards along with multiple ACM, CMA and CMT Award nominations. Maddie & Tae have received widespread praise from Associated Press, Billboard, Entertainment Weekly, NPR, The Tennessean, The Washington Post, Glamour and others. The celebrated duo has toured with country music's hottest stars including Carrie Underwood, Dierks Bentley, Brad Paisley and more.
About SACHA
Making a name for herself in the U.S. and Canada since the release of her EP The Best Thing in July 2020, SACHA is one of country music's fastest rising stars. Becoming an iHeartRadio's "Future Star" following the success of her latest single "Standards", SACHA has since been named as a member of CMT's Next Women Of Country 2021 class and earned her first GOLD single alongside The Reklaws with their viral hit track "What The Truck," which was the the fastest-ever Canadian country song to go GOLD in the streaming era (under 16 weeks). She recently performed the track alongside The Reklaws to close out the national broadcast of the 2021 Canadian Country Music Awards.
Featured in major television, print and online press including CMT, Music Row Magazine, American Songwriter, Rolling Stone Country, Billboard, The Boot, Hello! Magazine, US Weekly and Bustle, SACHA has also appeared on A-list editorial playlists (U.S. and Canadian) on Spotify, Apple & Amazon Music. Fans can catch her recent music videos on CMT, including "Cheers," "Standards" and "What The Truck". SACHA recently premiered her music video for "Pretty Please" in New York City with a takeover of the Paramount Times Square billboards and on CMT. The track can be found on SACHA's sophomore EP WE DID, which is available everywhere now.