Tickets to your hometown music venue. The OFFICAL BLUESTONE TICKET BOX OFFICE for Columbus Ohio Concerts.
Get Tickets to The Bluestone and never miss your favorite artist again. Tickets From country and electronic to R&B and hip hop.  THE Bluestone brings quality entertainment to the stage every time. We're working hard to bring you the best music and special events in Columbus, Ohio. Keep an eye on our tickets and events calendar and check back often for concert updates. Just click on an event to purchase tickets.
https://www.eventbrite.com/o/the-bluestone-7491519101
Buying tickets on the Eventbrite app is quick and simple. Register for the event with just a few taps, and you'll receive a confirmation email when your order is completed successfully.
Please note: You may view some events on the app that are not ticketed by Eventbrite. The ticket purchase flows for those events may differ from the description below.
Eventbrite takes the security and privacy of your billing information seriously. All online payments are processed over a secure connection using a PCI-compliant gateway. If you prefer an offline transaction, learn how to buy tickets without using a credit card.
 Tickets to The Bluestone
Click here to subscribe to our text messages.
From country music concerts and rock and roll to corporate events, weddings, and private parties, we're a destination venue for your special event tickets. With cathedral ceilings, soulful acoustics you can only hear in a 115-year old church, and a staff who truly cares about delivering an amazing experience, The Bluestone is one Columbus event venue you simply shouldn't miss.
Get your Tickets to the best shows in town Now
www.liveatthebluestone.com
Dec
10
Sat
Kameron Marlowe December 10, 2022

@ The Bluestone
Dec 10 @ 7:00 pm – 11:45 pm
Kameron Marlowe
We Were Cowboys Tour
December 10, 2022 7 PM
at The Bluestone
Columbus, Ohio


BIO
Sometimes he can't even believe it.
With over 165 million on-demand streams, believers at country radio and the support of over a dozen digital tastemakers – Spotify, Amazon Music and Pandora among them – Kameron Marlowe has exploded onto the country scene, emerging as the big-voiced authentic talent modern fans crave. But if you ask the humble everyman himself, he'll tell you straight up: He never saw this coming.
"I didn't think I had what it took to be an artist," says the all-natural singer-songwriter, blessed as he is with a tender, dynamic vocal growl. "So, I took a different route at first."
Lucky for everyone, all roads lead to destiny. Now singed to Columbia Nashville and standing on the verge of a bright future, the North Carolina native is right where he belongs – in the spotlight. It just took a few twists and turns to get here.
Growing up, Marlowe lived in the Charlotte-area suburb of Kannapolis, and his path was indeed headed elsewhere. He did love music from a young age – schooled by his grandfather on the '90s country giants, and captivated by high-energy rockers like Stone Temple Pilots, Puddle of Mud and Kings of Leon. Plus, he sang in church and loved classic vocalists like Ray Charles and BB King, even forming a teenaged cover band that turned heads (the wrong direction, he jokes).
But after starting college in hopes of studying music, life intervened, and Marlowe left to help his family, taking a steady job selling car parts in his hometown instead.
A hint of what could have been came in 2018, with a Top 24 appearance on Season 15 of NBC's The Voice. But even with a resonate baritone as inviting as a Southern breeze, and a genuine small-town swagger, Marlowe left with nothing more than some new friends in Nashville – plus an interest in songwriting. It seemed like music had passed him by, and to be honest, he was fine with that.
By 21, he was back home and back on the job, ready to settle down with a white-picket future. He was ready to put a ring on his girlfriend's finger. But when she abruptly ended the relationship, telling him she wanted a different future, his whole world shook. Suddenly adrift and questioning the path he'd chosen, Marlowe put pen to paper for just the third or fourth time in his life … and that musical therapy session changed everything.
"It was a really hard break-up situation, and I didn't know what I wanted to say," Marlowe explains, thinking back to that fateful night. "So I came home, and just tried to write something down for myself to get over it."
Over a day-and-a-half, Marlowe wrote and revised, whittling the track down to a tight, classic heartbreak ballad with a modern edge, totally by himself. Full of raw emotion and vivid, heart-on-the-floor storytelling, it became "Giving You Up," and for most people the story would end there. He'd scratched the itch to express his pain.
But not Marlowe. He was raised to finish what he started, and decided instead to get it recorded – after all, it's not like he had a wedding to pay for. Once again, he had no idea it what was coming.
"I just felt like I was supposed to finish that song," he says now. "It was my 'If I am ever going to try music, now is the time 'moment. My life had just been flipped upside down, and the whole plan I had made with trying to get married was gone. So I spent a little money to get recorded, and figured I'd see what happens. … After that? I've just been blessed with the reaction to it."
Showcasing his easy Carolina croon, equal parts velvet and vinegar, and built around the done-mewrong devastation, fans flocked to the song in the millions, feeling for Marlowe as he kicked the habit of loving his ex for good. He soon made the move to Nashville full time, and now just a few short years later, the real work has begun.
After signing with Columbia and releasing a self-titled EP in 2020, Marlowe tapped another electrifying power ballad as his single debut, sending the buzzed-and-broken "Sober as a Drunk" to country radio. In response, he was named to more than a dozen "ones to watch" lists, opened for stars including Lee Brice, Dustin Lynch, and Chris Young, and sold out headlining club shows throughout the Southeast. He'll join Brad Paisley for his TOUR 2021 beginning in July. And now by working with mega-producer Dann Huff (Keith Urban, Thomas Rhett, etc.), he's being challenged to believe in himself like never before.
"I think the next batch of music is going to be a lot better," he says. And by early accounts, he's right. Matching a muscular mix of country's timeless and trendy with a hardwired connection to his heart, these fresh songs show an artist who's just beginning to tap his from-the-gut potential – and find a home for that show-stopping voice.
His vocal shines through a wide grin in the first new release, easy going "Tequila Talkin'," as Marlowe matches the fun of Friday-night flirting with an upbeat, summertime sway. He co-wrote the tune with Dan Isbell and Ray Fulcher, and makes no apologies for the good natured pick-up line – or its fiddle-laced sound, pulled straight from his '90s favorites.
"Honestly, it kinda just came from trying to meet girls at the bar," he says with a laugh, thinking back to his earliest days at Nashville's Red Door. "It was like 'Man, I always get a little extra confidence from tequila, I don't know about you! 'And I'm such a sucker for a fiddle in a country song that I just decided to go for it."
It was Marlowe's love of music, and the steady tug of destiny which pulled him into the spotlight. And now that he's here, he'll see it through to the end – just like his first hit. With a debut album in the works, he's living a life he never thought possible, and it's all because he gave his dream a shot. Now he's hoping fans will do the same.
"It feels really weird, because my life was completely different a couple of years ago," he admits. "But I really put in a lot of effort to write these songs from the heart, so check out the lyrics. See what you think on a deeper level."
Dec
17
Sat
The Dolly Disco December 17, 2022

@ The Bluestone
Dec 17 @ 8:00 pm – Dec 18 @ 12:45 am
The Dolly Disco
December 17, 2022 8 PM
at The Bluestone
Columbus, Ohio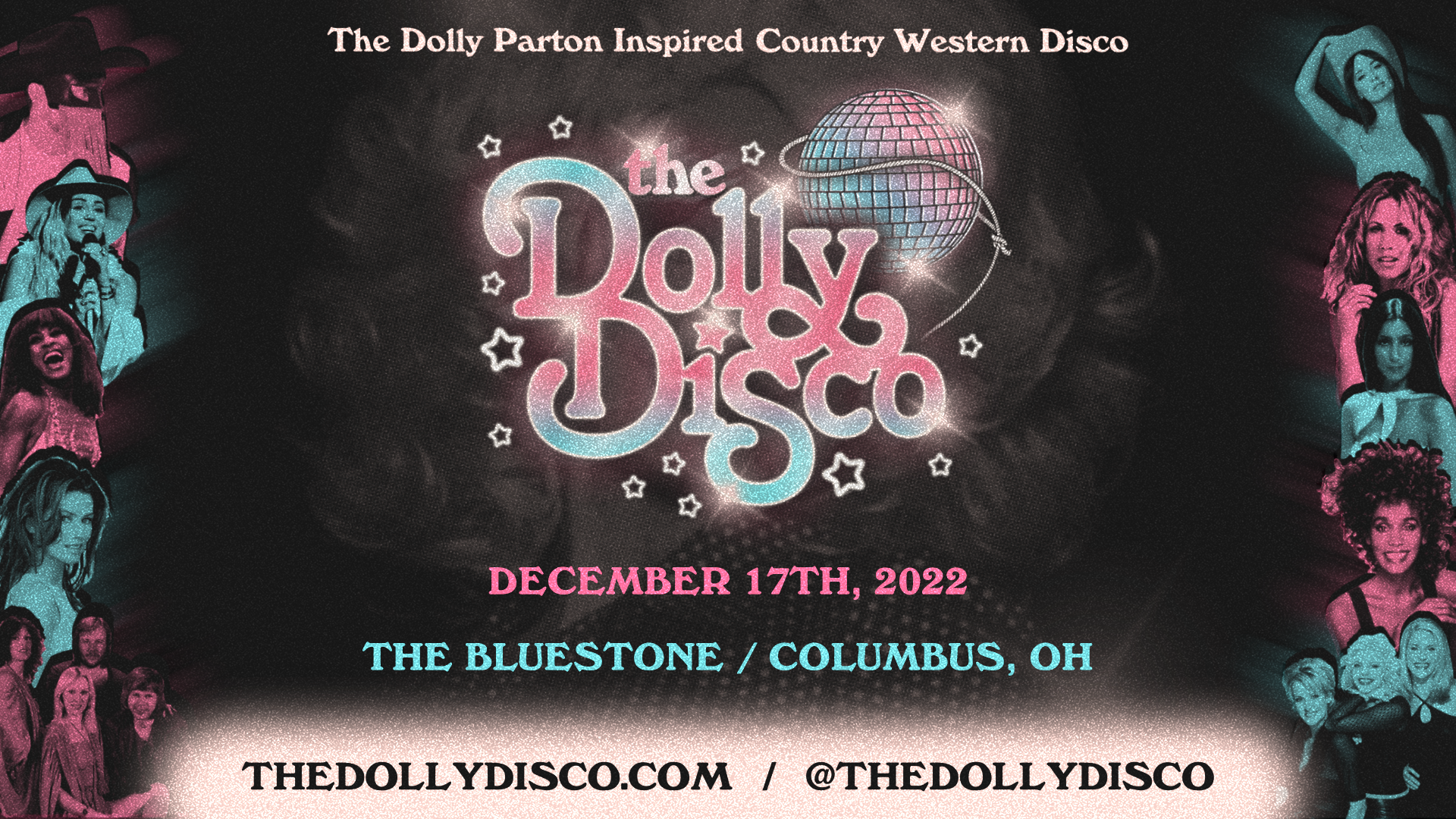 This ain't no disco
It ain't no country club either…
Giddy up girls, for THE DOLLY DISCO
The Dolly Parton Inspired Country Western Disco Dance Party! 
This is for the 9 to 5 workin' girls with a calling from another era who just want something a little classic. Join us in Rainbowland where you'll dance with somebody, hand in hand to the music of Dolly Parton, Kasey Musgraves, Orville Peck, Shania Twain, ABBA, Miley Cyrus, Cher, Whitney Houston, The Chicks, Madonna, Tina Turner, Sheryl Crow and more.
So wrangle your country-disco dancing queens and come party!