The OFFICAL BLUESTONE TICKET BOX OFFICE
Get Tickets to The Bluestone and never miss your favorite artist again. Tickets From country and electronic to Indie Rock.  THE Bluestone brings quality entertainment to the stage every time. We're working hard to bring you the best  concerts and special events in Columbus, Ohio. Keep an eye on our tickets and events calendar and check back often for concert updates. Just click on an event to purchase tickets
https://www.ticketmaster.com/the-bluestone-tickets-columbus/venue/41852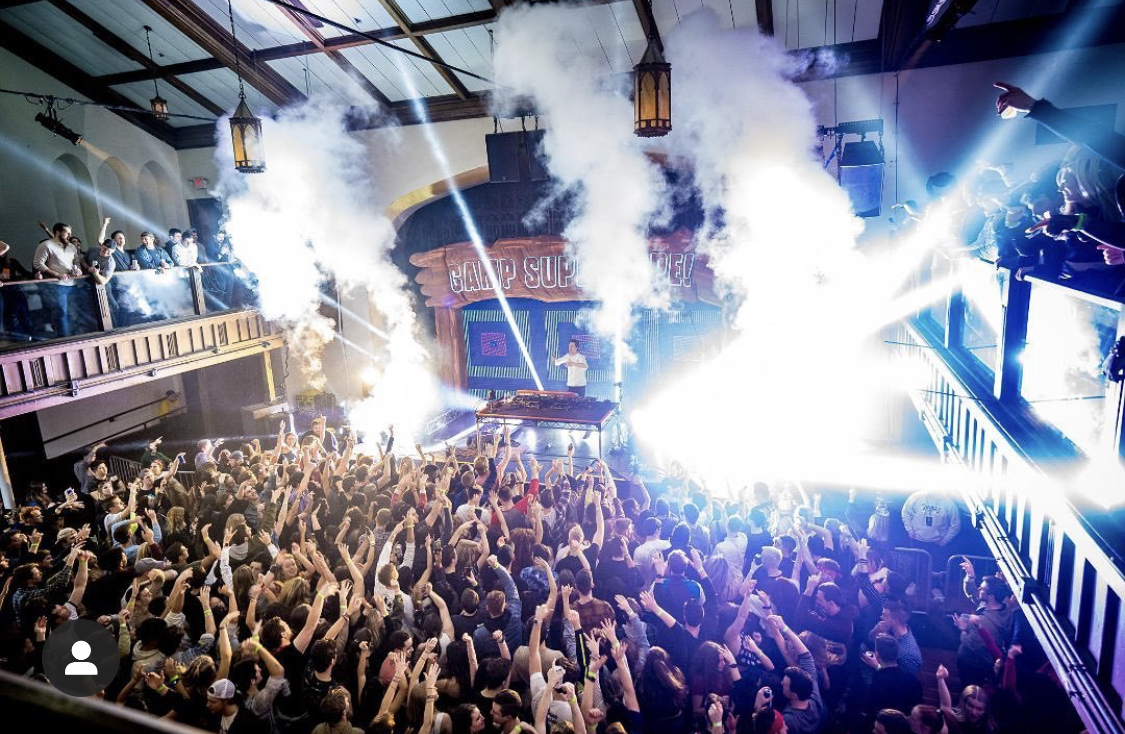 Nov
8
Wed
CloZee November 8, 2023

@ The Bluestone
Nov 8 @ 7:30 pm – 11:45 pm
My Best Friends Party & Disco Donnie presents:
CloZee
w/ Daily Bread & Chmura
November 8, 2023 7:30 PM
at The Bluestone
Columbus, Ohio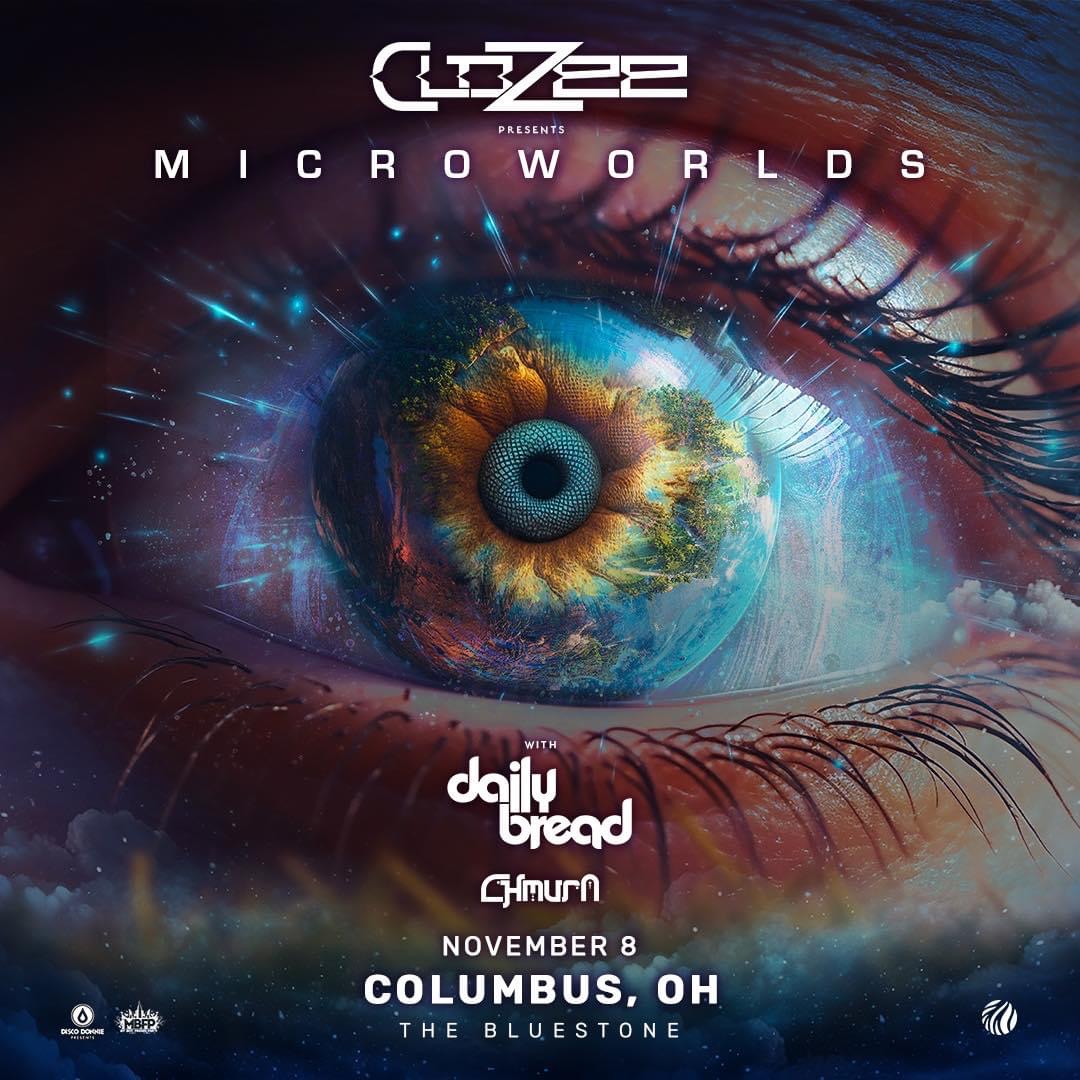 CloZee –
A purveyor of lucid sounds, French producer Chloé Herry is a worldly and rhythmic figure in the electronic music atmosphere. Best known as CloZee, this Denver dwelling producer awakens the wanderer within. Orchestrated under the umbrella of modern electronic music, CloZee's sound can best be described as world bass.
Drawing inspiration from her frequent travels and subsequent explosive performances across the globe, the multidimensional musician casts a wide net that draws listeners in from all walks of life. The 2015 release of CloZee's breakthrough single "Koto" marked the beginning of her legacy.
Capitalizing on the acclaimed introduction, her debut album Evasion sent ripples throughout the electronic music industry, cementing her as a modern champion of genre-bending bass. Her on-stage presence has moved crowds in enchanting geographic regions from the likes of France, India, Australia, and all across the US.
Despite forging a language of her own, CloZee's sound is succinctly disciplined, rooted in classical guitar production and fused with a penchant for freeform melodies. Exploring universes of art that reach far beyond the realm of sound and music, CloZee's creativity is prompted by the mystifying nature of painting, dreams, and even changes in weather. A grandiose marriage between culture and sound, CloZee is still navigating the genesis of her already highly-influential career. Like a ticking time bomb, Chloé Herry is prepared to beam into the horizon with her artistic ingenuity and refined musical flair.
DAILY BREAD –
Repping Atlanta proudly, Daily Bread—Rhett Whatley's sonic perception—is always coming with fresh ideas to give soul-stirring sounds a trenchant edge. The Philos Records resident began beatmaking from his bedroom in 2014, equipped with an MPC, his massive record collection, and a background in jazz guitar. His penchant for experimenting with instruments and an intense affinity for crate-digging helped hone his craft and elevated his sound selection to new heights. The beatsmith consistently finds creative ways to meld vintage and modern sounds to construct an aural narrative that is uniquely him, bringing together nostalgically soulful melodies, gritty hip-hop hooks, and bass-driven flare into one cohesive sound.
Motivated by a goal to bring old sounds to new ears, Daily Bread has never wandered too far astray from his funky pastiche. The prolific producer dropped Out There, The Darkness Before Dawn, Cloud Conductor, and Divided Souls LP (with frequent collaborator Derlee) before concocting the perfect recipe with his 2018 On The Daily. Since then, Daily Bread's trajectory has been divinely unpredictable. With merch selling out in mere minutes, vinyl being resold for hundreds of dollars, and a legion of supporters consistently waiting for Daily Bread's next move, Whatley's flame isn't going out just yet. In fact, the heat only continues to rise.
CHUMURA –
Nov
9
Thu
Apashe November 9 2023

@ The Bluestone
Nov 9 @ 8:00 pm – 11:45 pm
My Best Friends Party & Disco Donnie presents:
APASHE
ANTAGONIST TOUR
w/ LIVE BRASS ORCHESTRA
November 9, 2023 8 PM
Music Starts 9 PM
at The Bluestone
Columbus, Ohio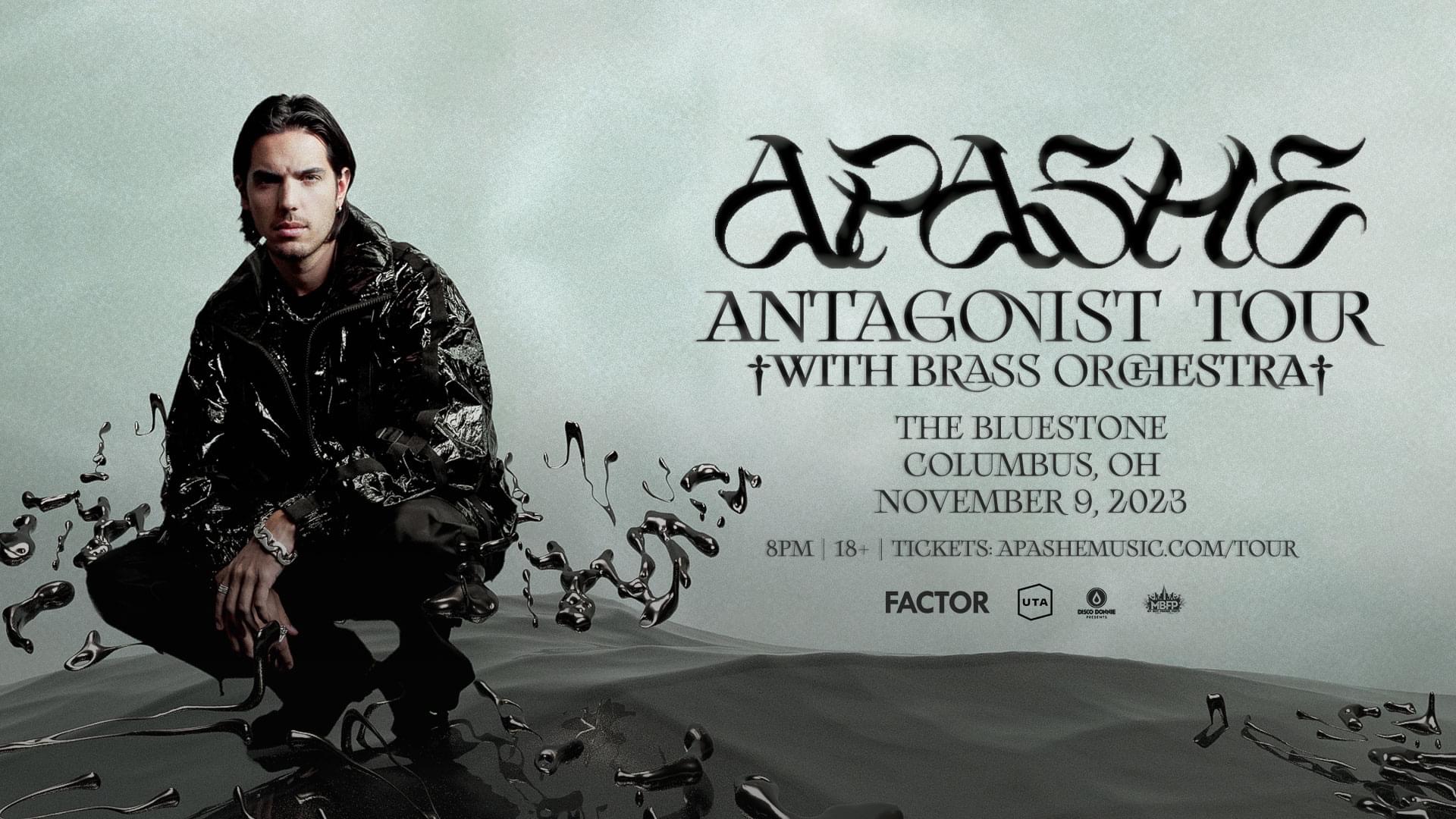 Apashe is a 27-year-old electronic music producer from Brussels, now based in Montreal. Since signing to Kannibalen Records in 2011, he's released a steady stream of bass-heavy anthems that showcase his ground-breaking sound design and expert sampling.
Apashe distinguishes himself with his unique live performance in which he recreates his tracks as well as arsenal of unreleased edits, in unique ways live. For this tour he's bringing along a live brass orchestra.
John De Buck, a.k.a. Apashe, is a special case. Born in Belgium, his Francophone parents chose to enroll him in a Dutch-language school, and the now-trilingual producer completed a degree in electro-acoustic music at Concordia University before his career exploded. He has toured around the world, including stops in Europe, Australia, Asia and North America with his own headlining tours, as well as played festivals including Electric Forest, Tomorrowland, Igloofest, ADE, Nocturnal Wonderland and more. He's also written music for ad campaigns by Budweiser, Adidas, Samsung and Famous franchises such as Marvel and Fast and Furious have also availed themselves of his services.
His record label, Kannibalen Records, is also home to Black Tiger Sex Machine. It turns out De Buck is the antithesis of his music, which is full of abrupt drops, intense buildups, and frenetic crescendos. The man is calm and affable.
The secret of his success? Following his instinct. "My team and I work in a very organic way," he says. "We create music, we put it on the internet. It grew very naturally, to be honest, we never really tried to push things. But we've now gotten to a point where the projects we get are huge!"
Huge? The word could hardly be more appropriate. SOCAN members who see and hear their sheet music played by a horde of seasoned musicians in Prague's Dvořák Hall are few and far between. After seducing the dubstep world and ad agencies, Apashe was chosen for a substantial grant, the first of his career.
"Up to this point, I've always been 100% independent," he says. "We were so used to doing things on our own that now, if someone gives us the financial means, we're like 'Yo! Let's go all out!' Without FACTOR's help, I wouldn't have had the chance to work with the orchestra. I owe them that."
We already knew he had a knack for epic, opera-like creations. But this time around, he's not re-mixing a Mozart concerto. It's his own creations. "I listened to a lot of classical music when I grew up, all the great composers," says Apashe. "Now I'm exploring the lesser-known composers. I listened to a lot of movie soundtracks, and they're generally classically-trained composers who work with orchestras. People like Daniel Hoffman, Philip Glass, or even Hans Zimmer… People always tell me I make cinematic music, but the thing is, when I try to do something else, I just can't."
Apashe's love of strings, and especially sacred music, has been well-known for a long time. He also loves foreboding and heavily treated choirs, to add another level of intensity to his music.
"I'm not sure exactly where that comes from, it's quite strange," he says. "I just love grandiose and supernatural sounds. Just like bass music! It's heavy and immense, like classical music. That's why I want to bring them together."
Nov
10
Fri
Temple Of Bass ft. Marauda November 10, 2023

@ The Bluestone
Nov 10 @ 8:30 pm – 11:45 pm
Temple Of Bass
ft. Marauda
November 10, 2023 8:30 PM
at The Bluestone
Columbus, Ohio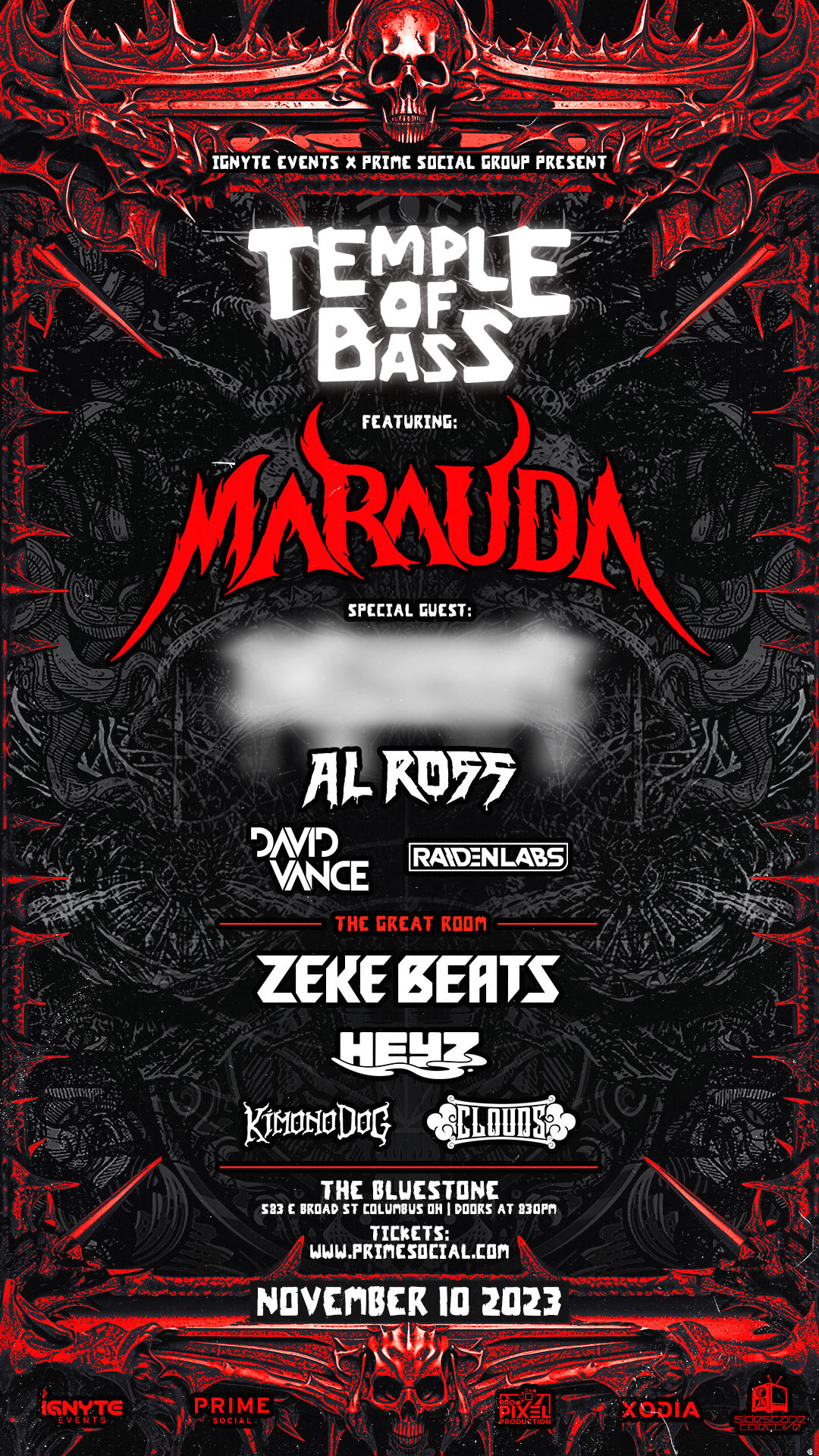 Description
Prime Social Group Presents…
Temple Of Bass ft. MARAUDA
**Full lineup coming soon!**
AGES: 18+ I ALL SALES FINAL I NO REFUNDS I NO RE-ENTRY
Ticket Prices:
$35-45 GA
$65-$70 VIP
Included in this total ticket price is a 5% arts and culture fee on the base ticket as required by the City of Columbus. This fee supports exemplary artists, arts and cultural organizations and programs that educate and engage audiences of all ages throughout greater Columbus. For more information on this click here.
Tickets: After completing your purchase on TIXR, you will receive an email confirmation with your attached PDF ticket(s). You may print your PDF ticket OR download your PDF ticket to your mobile device to be admitted into the event, and you MUST bring A VALID PHOTO IDENTIFICATION as well. The name on the tickets do not have to match the ID so long as the barcode is scannable. PSG is not responsible if ticket(s) cannot be scanned and the order is under a different name than the person presenting the ticket. 
All Patrons must present a "Legal ID" for alcohol Purchases. Fake IDs will be confiscated. Presenting a fake ID is a crime and punishable by law.