Tickets to your hometown music venue. The OFFICAL BLUESTONE TICKET BOX OFFICE for Columbus Ohio Concerts.
Get Tickets to The Bluestone and never miss your favorite artist again. Tickets From country and electronic to R&B and hip hop.  THE Bluestone brings quality entertainment to the stage every time. We're working hard to bring you the best music and special events in Columbus, Ohio. Keep an eye on our tickets and events calendar and check back often for concert updates. Just click on an event to purchase tickets.
https://www.eventbrite.com/o/the-bluestone-7491519101
Buying tickets on the Eventbrite app is quick and simple. Register for event with just a few taps, and you'll receive a confirmation email when your order is completed successfully.
Please note: You may view some events on the app that are not ticketed by Eventbrite. The ticket purchase flows for those events may differ from the description below.
Eventbrite takes the security and privacy of your billing information seriously. All online payments are processed over a secure connection using a PCI-compliant gateway. If you prefer an offline transaction, learn how to buy tickets without using a credit card.
 Tickets to The Bluestone
Click here to subscribe to our text messages.
From country music concerts and rock and roll, to corporate events, weddings and private parties, we're a destination venue for your special event tickets. With cathedral ceilings, soulful acoustics you can only hear in a 115-year old church, and a staff who truly cares about delivering an amazing experience, The Bluestone is one Columbus event venue you simply shouldn t miss.
Get your Tickets to the best shows in town Now
www.liveatthebluestone.com
Mar
21
Thu
SOLD OUT! Drake White LIVE March 21st

@ The Bluestone
Mar 21 @ 7:00 pm
Drake White will return to The Bluestone on March 21st, 2019
Doors for the show will open at 7pm
Opening Artist: Jordan Brooker
Tickets are $20 in advance
THIS SHOW IS SOLD OUT!
To listen to Drake White's music is to fully experience the soul and rhythm of his upbringing in the Appalachian foothills of Northeastern Alabama. The undeniable sound of his soulful voice has whipped concert audiences across the country into a frenzy as Drake and his band, The Big Fire, raise the roof and summon spirits to life onstage. It's equal parts Baptist tent revival and amped-up southern rock festival. As you watch Drake crank the energy level up higher and higher throughout the night, you feel as if you'd walked in on a live gospel album backed up by all-stars from The Allman Brothers and Lynyrd Skynyrd. Of course those acts hit musical pay dirt recording in Muscle Shoals, Alabama in the late '60s and '70s, a little over two hours west of Drake's tiny hometown of Hokes Bluff.
The same fire that drives Drake to pour his entire being in to those performances also demands that he continue exploring and refining that country soul sound, which the world first heard on his debut album, 2016's SPARK (Big Machine Label Group). In the spirit of propelling his music forward, Drake teamed up with a crew of Nashville's most creative musicians in an effort to, as he says, "Bridge that gap between Nashville and Muscle Shoals." It's in the crossroads of those two musical worlds that you'll find Drake White's new five-song EP, PIECES (BMLG Records) . The new project is helmed by hit producer busbee, best known in country circles for his work with Maren Morris and Keith Urban.
Apr
12
Fri
Tyler Farr LIVE in Columbus, Ohio April 12th

@ The Bluestone
Apr 12 @ 7:00 pm
Tyler Farr LIVE at The Bluestone Friday, April 12th, 2019
Doors for the show will open at 7pm
Opening Artist: Josh Phillips
Tickets are $30 in advance and $35 day of show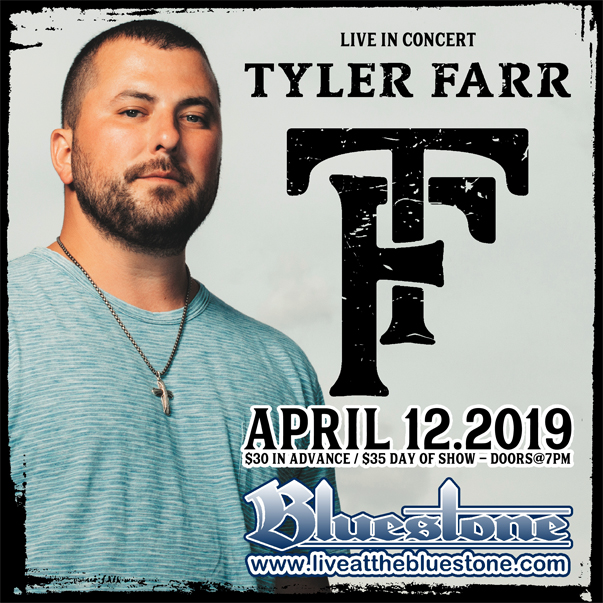 "Maybe I'm addicted to pain…What used to be, what's gone.
There's definitely some darkness,
but it's hard to explain, though everybody knows it.
"Probably I'm a hopeless romantic,
but sex can make that complicated, too.
"You know you want to be in love, but that's a tricky thing to find."
Tyler Farr's a thinker, an observer of the human condition, a man in the middle of a surging testosterone country movement in today's Nashville who insists on digging a little deeper, getting a little realer and owning how hard it can be. On Suffer In Peace, the son of a Garden City, Missouri farmer opens his veins and examines the pain that comes from being truly engaged with living.
From the wracked hangover of what you don't see coming in love "Withdrawals," the smoky acoustic "I Don't Even Want This Beer" or the spare run-from-the-memories title track, the classically-trained vocalist knows that love isn't just hard, it's risky. With a resonant tenor that has a powdery bottom and a warm center, Farr heats up difficult emotions and peels back what most men barricade behind bravado.
One listen to "A Guy Walks Into A Bar," Suffer's lead single, is to hear the tension, the exhaustion and the devastation that comes with a stiff upper lip. It falters just a bit, buckles and throws unspeakable pain wide open without going for melodrama as he transforms the joke into a punchline that is the hero's life.
May
2
Thu
Dylan Scott LIVE May 2nd

@ The Bluestone
May 2 @ 7:00 pm
Dylan Scott LIVE at The Bluestone on Thursday, May 2nd 2019
Doors for the show will open at 7pm
Opening Artist: TBA
Tickets are $15 in advance and $20 day of show
Tickets on-sale Friday, February 15th at 10am
Country singer Dylan Scott is extending his tour for his 2016 self-titled debut album with a set of headlining U.S. dates in 2019. The newly announced Nothing to Do Town Tour begins Jan. 17 in New York City and ends Feb. 23 in Charlotte, North Carolina. Tickets go on sale on Sept. 21 at Scott's official website. Seth Ennis is the opening act on the tour.
Scott, who released his Merry Christmas EP in 2017, has been using his extensive time on the road to build his following. He's gone from headlining clubs to headlining theaters. The songs that are consistently part of his set list include "Hooked," "Beer Buddies," "Makin' This Boy Go Crazy" and "My Girl." "Hooked" and "My Girl" have both been Top 10 hits on Billboard's Top Country Songs chart.