When:
April 12, 2019 @ 7:00 pm
2019-04-12T19:00:00-04:00
2019-04-12T19:30:00-04:00
Where:
The Bluestone
583 East Broad Street Columbus
OH 43215
Tyler Farr LIVE at The Bluestone Friday, April 12th, 2019
Doors for the show will open at 7pm
Opening Artist: Josh Phillips
Tickets are $30 in advance and $35 day of show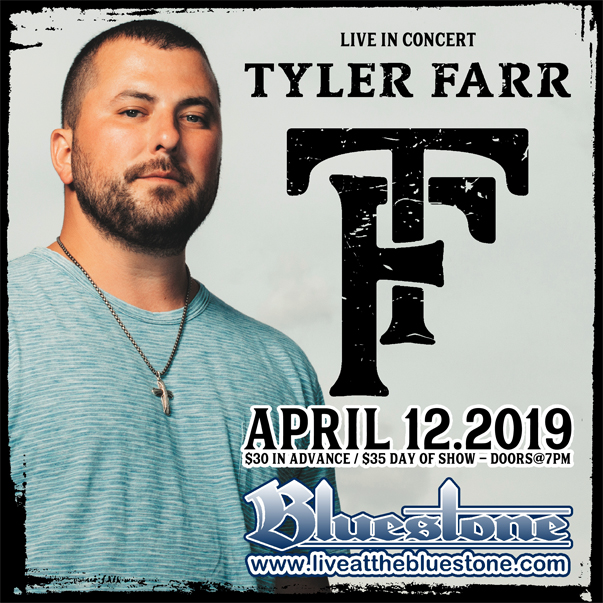 "Maybe I'm addicted to pain…What used to be, what's gone.
There's definitely some darkness,
but it's hard to explain, though everybody knows it.
"Probably I'm a hopeless romantic,
but sex can make that complicated, too.
"You know you want to be in love, but that's a tricky thing to find."
Tyler Farr's a thinker, an observer of the human condition, a man in the middle of a surging testosterone country movement in today's Nashville who insists on digging a little deeper, getting a little realer and owning how hard it can be. On Suffer In Peace, the son of a Garden City, Missouri farmer opens his veins and examines the pain that comes from being truly engaged with living.
From the wracked hangover of what you don't see coming in love "Withdrawals," the smoky acoustic "I Don't Even Want This Beer" or the spare run-from-the-memories title track, the classically-trained vocalist knows that love isn't just hard, it's risky. With a resonant tenor that has a powdery bottom and a warm center, Farr heats up difficult emotions and peels back what most men barricade behind bravado.
One listen to "A Guy Walks Into A Bar," Suffer's lead single, is to hear the tension, the exhaustion and the devastation that comes with a stiff upper lip. It falters just a bit, buckles and throws unspeakable pain wide open without going for melodrama as he transforms the joke into a punchline that is the hero's life.