Tickets to your hometown music venue. The OFFICAL BLUESTONE TICKET BOX OFFICE for Columbus Ohio Concerts.
Get Tickets to The Bluestone and never miss your favorite artist again. Tickets From country and electronic to R&B and hip hop.  THE Bluestone brings quality entertainment to the stage every time. We're working hard to bring you the best music and special events in Columbus, Ohio. Keep an eye on our tickets and events calendar and check back often for concert updates. Just click on an event to purchase tickets.
https://www.eventbrite.com/o/the-bluestone-7491519101
Buying tickets on the Eventbrite app is quick and simple. Register for the event with just a few taps, and you'll receive a confirmation email when your order is completed successfully.
Please note: You may view some events on the app that are not ticketed by Eventbrite. The ticket purchase flows for those events may differ from the description below.
Eventbrite takes the security and privacy of your billing information seriously. All online payments are processed over a secure connection using a PCI-compliant gateway. If you prefer an offline transaction, learn how to buy tickets without using a credit card.
 Tickets to The Bluestone
Click here to subscribe to our text messages.
From country music concerts and rock and roll to corporate events, weddings, and private parties, we're a destination venue for your special event tickets. With cathedral ceilings, soulful acoustics you can only hear in a 115-year old church, and a staff who truly cares about delivering an amazing experience, The Bluestone is one Columbus event venue you simply shouldn't miss.
Get your Tickets to the best shows in town Now
www.liveatthebluestone.com
Apr
30
Thu
The Charlie Daniels Band – The Bluestone
Apr 30 @ 7:00 pm
The Charlie Daniels Band will be performing live at The Bluestone on Thursday, April 30th, at 7pm.
Opener: Cliff Cody and Wyatt McCubbin will be opening the show!
Tickets are $40 Pre-Sale and $45 day of show.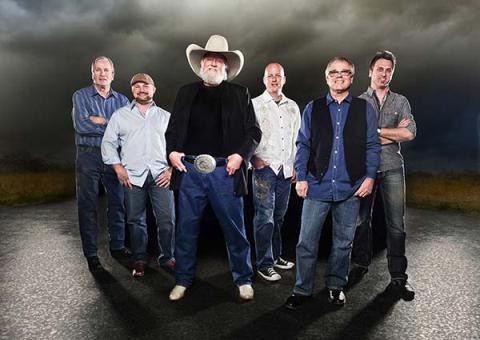 CMA and Grammy award-winning country band, The Charlie Daniels Band, will perform live at The Bluestone on Thursday, April 30th, 2015.  Charlie Daniels Concert Tickets are available online at www.liveatthebluestone.com for just $40.00 in advance and $45.00 day of show.  Doors for the show will open at 7pm, this is an all ages event.
Charlie Daniels, born and raised in North Carolina, began playing the fiddle and guitar in several bands throughout his young adult life.  At the age of 21 he decided to pursue a professional career in music.  Daniels assembled his first rock and roll group named, The Jaguars.  There was very little success with The Jaguars but Daniels continued to write songs including,   One of "It Hurts Me", which was recorded by Elvis Presley in 1963. In the late 60's Daniels opted out of The Jaguars and after much practice, became one of the best fiddlers in Nashville, TN.  He would focus his fiddle playing on the current day hits, including a lot of top songs from Bob Dylan, his popularity soared.
Mid 70's was the year for his new band, The Charlie Daniels Band.  After a run with the Southern Rock style, Charlie then decided to lean more towards a country music band, ultimately it was a career changing choice.  Shortly after this decision, the single, "The Devil Went Down to Georgia", was released.  It went straight to the number one spot and crossed over on to the pop charts at a number three spot.  This song was named the Country Music Association's Single of the Year.  After this hit was released, their next album, Million Mile Reflections, became a multi-platinum success.
VIP Admission: VIP Tables do NOT include admission tickets to the show.  Tickets must be purchased separately.
**VIP Tables for this show are sold out**
Loft Lower Tier: $250 (seats four people-no exceptions)
Prime view of stage
Includes six bottles of Miller or Coors Light
VIP waitress
Exclusive Private Bar access
Buckets (six bottles) available for purchase all night for $24
Loft Upper Tier: $200 (seats four people-no exceptions)

Includes six bottles of Miller or Coors Light
VIP waitress
Private Bar Access
Buckets (six bottles) available for purchase all night for $24
*All VIP tables located in the loft area
*Table purchases do NOT include admission into venue
Apr
16
Thu
Maddie and Tae in Concert April 16th 2020

@ The Bluestone
Apr 16 @ 7:00 pm
Maddie and Tae LIVE in Concert at The Bluestone on April 16th, 2020
Opening Artist:
Doors for the show will open at 7pm
Tickets are $15 in Advance and $20 Day of show
Tickets on-sale Friday, January 17th at 10am
Maddie & Tae first broke out in 2013 with their PLATINUM-selling "Girl In A Country Song," and the full-length that followed made good on the single's glinting promise. Released in 2015, the whip smart Start Here cast a side-eyed glance at the high school cafeteria crowd—then just teens, it was a world they still knew well—and burned with the desire to break out, move out, and set the world on fire.
Oct
14
Fri
Maddie & Tae October 14, 2022

@ The Bluestone
Oct 14 @ 7:00 pm – 11:45 pm
Maddie & Tae October 14, 2022 7 PM
with SACHA
The Bluestone
Columbus, Ohio
Tickets purchased before postponed date are still valid.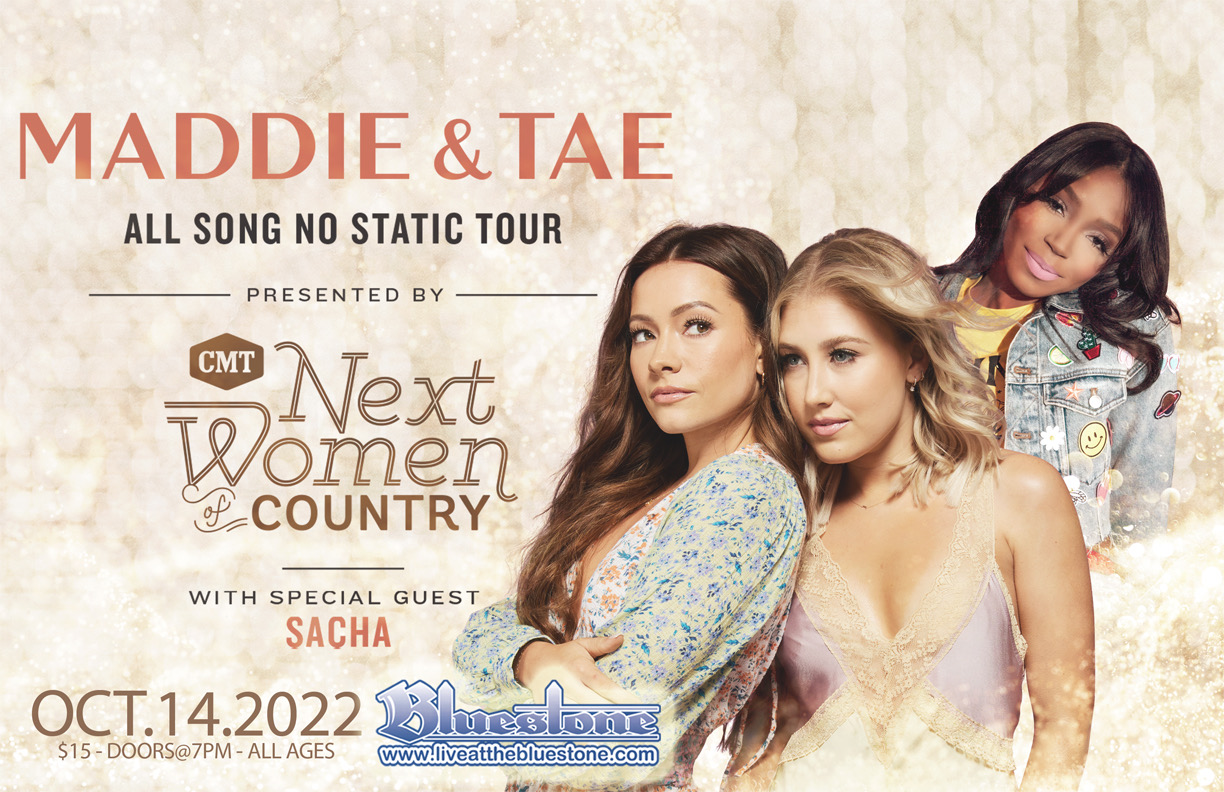 Maddie & Tae's All Song No Static Tour presented by CMT Next Women of Country is headed to Columbus with special guests SACHA.
Website: www.maddieandtae.com
Facebook: https://www.facebook.com/maddieandtae
Twitter: @MaddieandTae
Instagram: @maddieandtae
YouTube: https://www.youtube.com/user/MaddieandTae
About Maddie & Tae
Award-winning duo Maddie & Tae are drawing praise for their No. 1 debuting The Way It Feels album release with Rolling Stone saying the new music is "anchored around their stellar vocal pairings and some of the tightest harmonies on Music Row." Together as longtime friends and music collaborators, Maddie Font and Taylor Kerr co-wrote 14 of the album's 15 tracks including the Platinum-certified No. 1 country radio hit, "Die From A Broken Heart," which Esquire calls "their finest moment yet." The pair also co-wrote two brand new holiday songs to join a collection of classics for their first ever holiday project- We Need Christmas.
Maddie & Tae first broke out in 2013 with their brilliant counter to bro-country, the Platinum-selling smash, "Girl In A Country Song," which took Country radio by storm, skyrocketing to the top of the charts and quickly going PLATINUM. The duo became only the third female duo in 70 years to top the Country Airplay charts, also earning trophies from the Country Music Academy and Radio Disney Music Awards along with multiple ACM, CMA and CMT Award nominations. Maddie & Tae have received widespread praise from Associated Press, Billboard, Entertainment Weekly, NPR, The Tennessean, The Washington Post, Glamour and others. The celebrated duo has toured with country music's hottest stars including Carrie Underwood, Dierks Bentley, Brad Paisley and more.
About SACHA
Making a name for herself in the U.S. and Canada since the release of her EP The Best Thing in July 2020, SACHA is one of country music's fastest rising stars. Becoming an iHeartRadio's "Future Star" following the success of her latest single "Standards", SACHA has since been named as a member of CMT's Next Women Of Country 2021 class and earned her first GOLD single alongside The Reklaws with their viral hit track "What The Truck," which was the the fastest-ever Canadian country song to go GOLD in the streaming era (under 16 weeks). She recently performed the track alongside The Reklaws to close out the national broadcast of the 2021 Canadian Country Music Awards.
Featured in major television, print and online press including CMT, Music Row Magazine, American Songwriter, Rolling Stone Country, Billboard, The Boot, Hello! Magazine, US Weekly and Bustle, SACHA has also appeared on A-list editorial playlists (U.S. and Canadian) on Spotify, Apple & Amazon Music. Fans can catch her recent music videos on CMT, including "Cheers," "Standards" and "What The Truck". SACHA recently premiered her music video for "Pretty Please" in New York City with a takeover of the Paramount Times Square billboards and on CMT. The track can be found on SACHA's sophomore EP WE DID, which is available everywhere now.