When:
February 18, 2022 @ 9:00 pm – 11:45 pm
2022-02-18T21:00:00-05:00
2022-02-18T23:45:00-05:00
Where:
The Bluestone
583 East Broad Street Columbus
Ohio 43215
KAYZO – NEW BREED TOUR
Presented by Disco Donnie and My Best Friends Party
February 18, 2022 9 PM
at The Bluestone
Columbus, Ohio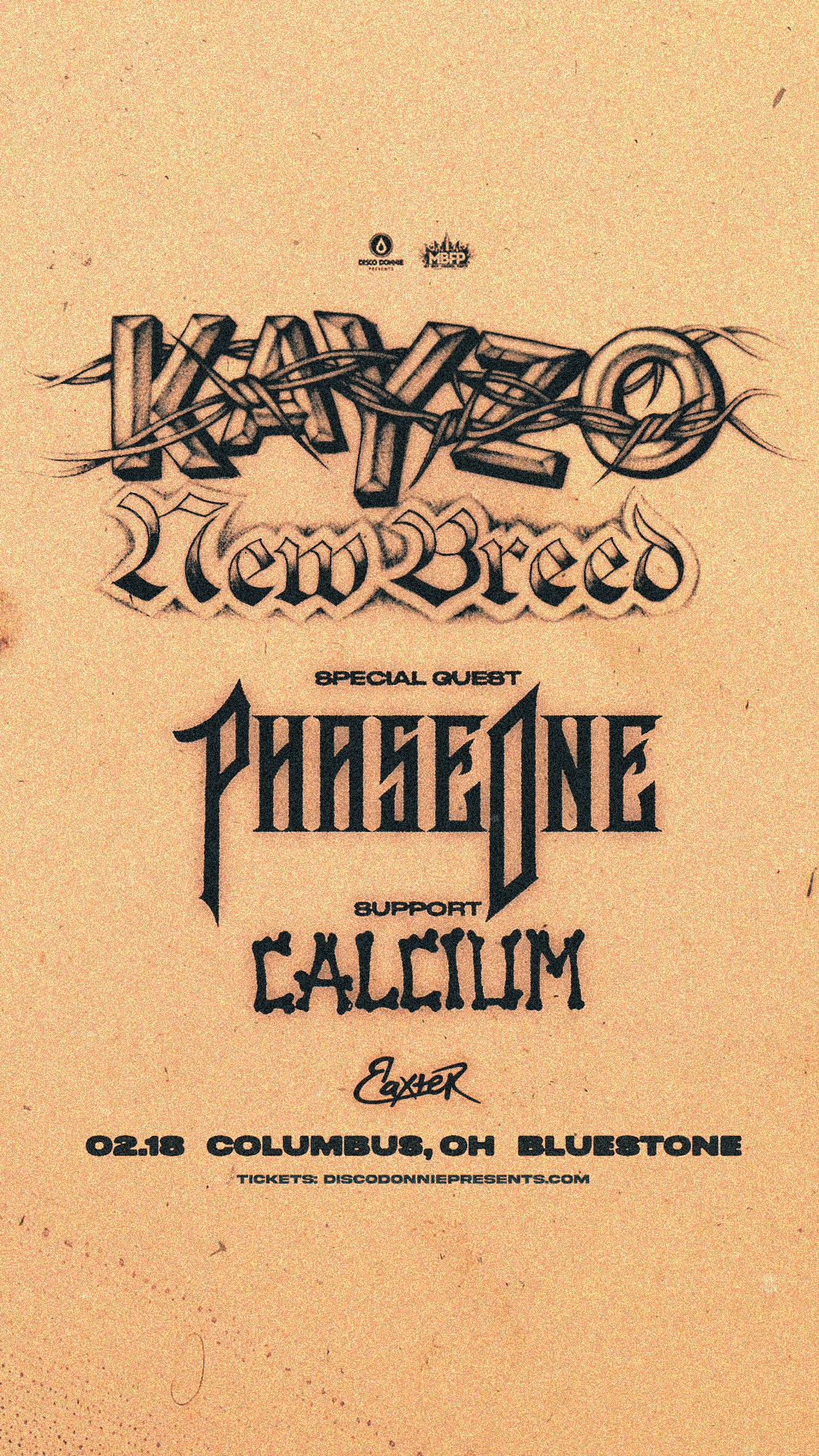 A MASSIVE 3 ACT MEGA PARTY:
KAYZO
PHASE ONE
CALCIUM
Biography:
KAYZO –
Kayzo is the alias of LA-based DJ/producer Hayden Capuozzo. Recognised as one of Billboard Dance's 100 Artists of 2019, he is one of the fastest rising electronic artists of the decade.
Kayzo is internationally renowned for his bass-fluid, shapeshifting sound which fuses hardstyle, trap, electronic, bass, dubstep, rock, metal and many more.
Over a career spanning almost a decade, Kayzo has released two critically-acclaimed studio albums, embarked upon his own headline tour, collaborated with the likes of DJ Snake, Steve Aoki, and SLANDER, and produced remixes for top electronic acts such as Jack U, Oliver Heldens, Calvin Harris, Alesso and Skrillex.
On Spotify alone, Kayzo has over 90 million streams and 1.5 million monthly listeners. His latest release, Breakable, released early March 2020, is available to stream here.
A tastemaker in his own right, Kayzo is the founder of his own label – Welcome Records. He also hosts his own radio show – Doghouse Radio – in the US.
On the live front, Kayzo's genre-defying DJ sets have earned him an international following. To date, he's performed at some of the world's top venues and festival stages, including Lollapalooza, Tomorrowland, Bonnaroo, EDC Las Vegas, Electric Zoo, Voodoo, and Parookaville, to name a few.
KAYZO has no boundaries as continues to break barriers that are set up before him. He produces music, not defined as a genre but what he simply likes and enjoys creating. Much of his influence comes from the music he grew up on and the elements can be heard throughout the bodies of work. Outside of production, his mixing and versatile style across multiple genres has created a unique and one of a kind performance.
With the establishment of his "Doghouse" brand, fans have turned to KAYZO to seek more than his music.
KAYZO has went from a graduate student of the production school, Icon Collective, to becoming a winner of Insomniac's Discovery Project which gave him first chance to showcase himself live. Five years later, KAYZO can now be found traveling as an international DJ performing at festivals and headlining shows across the globe. KAYZO and his Doghouse stand for more than music but a mental determination with a motto that preaches 'anything is possible as long as you put your mind to it.'
PHASE ONE-
Graeme Duffy, better known by his moniker PhaseOne, has taken the bass music scene by storm over the past several years and shows no signs of stopping. Often combining metal and dubstep, PhaseOne creates a symphony of filth. It's easy to see why labels like Firepower and Never Say Die have taken such an interest in the Aussie bass prodigy.
Emerging onto the scene in 2013 with a unique take on bass music production he founded himself within the dubstep community with a range of remixes and unique originals, forming his own distinctive style by mixing heavy metal elements with heavy-duty bass. After catching the attention of some of the largest dubstep labels created two EPs with the label Firepower Records, he then signed to Disciple records in January 2017 joining one of the most talked about labels in bass music, where he has since released another 3 acclaimed chart topping EPs as well as a slew of viral hit singles.
In 2018 PhaseOne set out on his most ambitious project to date, to write a full length album. The project will saw him transcend multiple genres as well as reconnect with his metal roots. The album features exciting collaborations with some of the metal, punk and rock scenes most respected bands as well as an exciting list of talented up and coming producers.
Graeme's sound should come as no surprise, given his background. He started his musical journey in metal bands, first performing throughout Sydney, which inevitably led to his experimentation with electronic music and dubstep. As listeners, we cherish the the drum solos, guitar riffs, and heavy metal accents PhaseOne serves up.
"It's easier in a lot of ways because I have full control of what I'm doing and don't have to worry about how anyone feels about a song up until I give it to my manager to listen to."
One would assume, with all of his musical talent and busy touring schedule, PhaseOne has made producing and DJing a full-time gig by now, right? As it happens, when he is not behind the decks or in the production studio, Graeme works in a TV broadcasting studio back in Sydney. "It's important to have a backup," he says, "If this doesn't work out, then I still have something to fall back on. That's a lot of what all of this touring I plan on doing in the next few years is about, seeing if this can be a full time gig or not." With the support he's gained from Firepower and Never Say Die, and the relationships he's made in the bass music scene as a whole, it's hard to imagine NOT seeing PhaseOne a headliner for the foreseeable future.
CALCIUM-
The Houston-based newcomer known as Calcium continues his meteoric rise to fame with the aptly titled Skull Vault EP. A four-tracker built on the foundations of all that is dark and heavy in the dubstep and riddim world, the resulting EP is sure to elevate Calcium even further in the eyes of those who like to stomp it out in the pit.
Most impressively, the young producer's sound continues to evolve and while the signature skull and bones elements of his early output remains, the power of his vision shines through in a jaw-dropping way as melodic elements and epic intros compete with the untethered fury at the core.
From the goosebump-inducing pain of "Crusher" to the wonky flex of "Comply" and "Break This Down," it's obvious that Calcium is hyperaware of the opportunity to pull out all the stops and take advantage of the platform that Black Label is offering up with the EP. This sentiment is best realized on the collaborative killer known as "Turn It Up" where Calcium goes head-to-head with Flix and proves he's just as much of a beast in collab mode as he is on the solo tip.
It's obvious that Calcium is here to stay and with the future looking heavier with each and every release we thought it was the right time to sit the youngblood down and figure out what makes his own skull tick.
Local Support: Baxter