When:
January 21, 2023 @ 8:00 pm – 11:45 pm
2023-01-21T20:00:00-05:00
2023-01-21T23:45:00-05:00
Where:
The Bluestone
583 East Broad Street Columbus
Ohio
Carter Winter Live January 21, 2023
January 21, 2023, at 8 PM
Doors Open 7 PM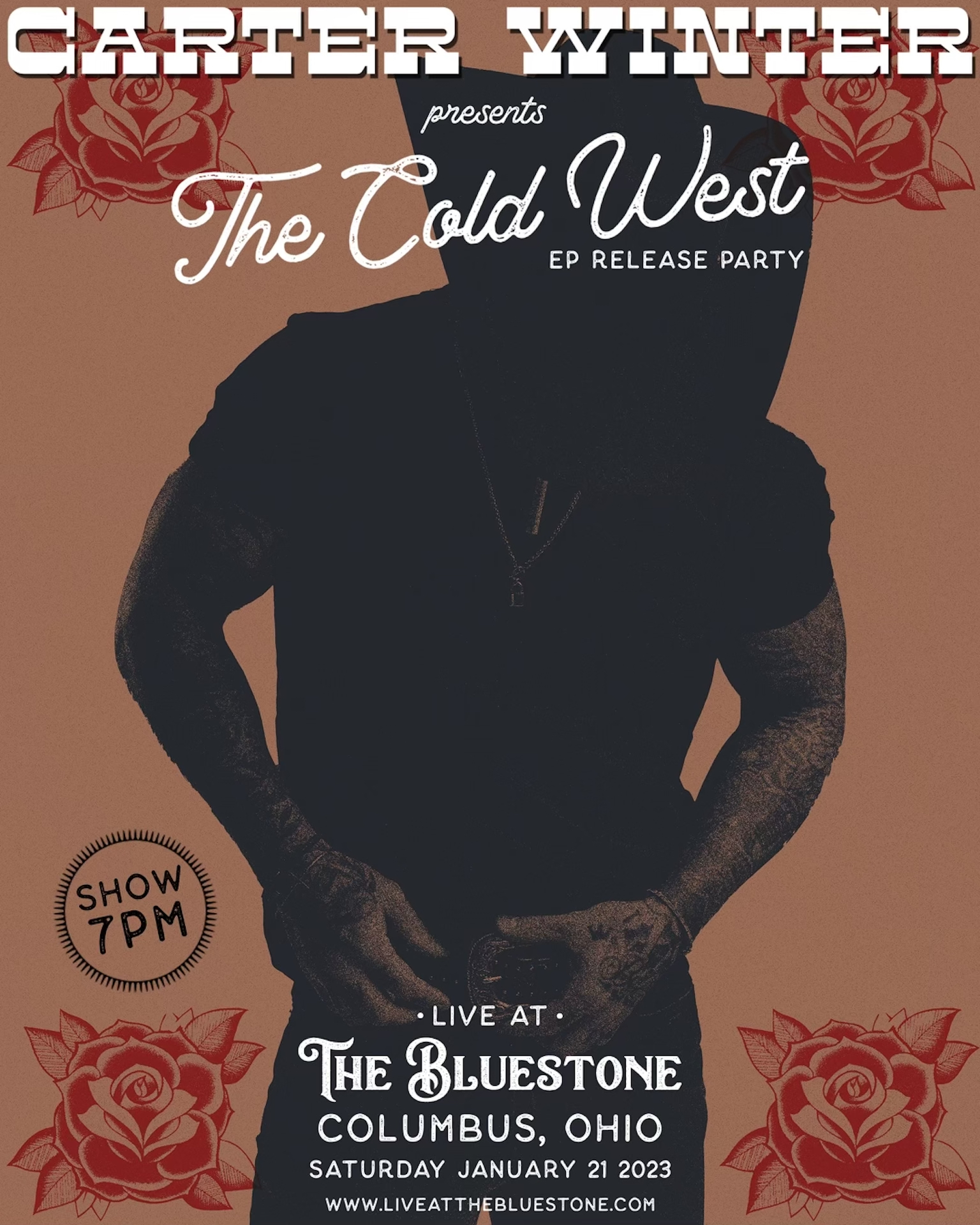 Hometown native Carter Winter will headline our stage on January 21, 2023
With a rich baritone voice and a talent for crafting engaging lyrical stories, singer/songwriter Carter Winter is quickly becoming established as one of the most brilliant new singer/songwriters in country music.
His passion for touring the country and meeting fans has put him on stages coast to coast, where inspiration can strike at any time. The passion for each song he writes is what ultimately drives him to be even better, saying "each song is its own piece of art."
"Higher on You," Winter's latest work of art, is a brand new song co-written with label mate Sam Grow and hit songwriter Taylor Phillips. The single's artwork — a whimsical hand-drawn self-portrait — reveals yet another dimension of Winter's artistry not as well known.
"With every new song and project I create, I feel like I get closer to my sound and who I am as an artist," commented Winter. "This song is such a good vibe, it's different yet familiar and I've never been more excited for a single release!"
The song is the first new music released by Winter following his Average Joes Entertainment debut album, "Temptation," released to critical acclaim in late 2018. Produced by Grammy award-winning producer, Chad Carlson, the album yielded the hit song and video, "Skylines," which was added to rotation on CMT Music.
The Ohio native's first EP, "Some Kind of Fire," was released in 2015, and was followed by 2016's "The Whiskey In Me." Winter is currently writing and recording songs for his next album scheduled for release in late 2020.
Called "country music's modern traditionalist," Carter Winter connects with an audience through a fresh sound that like Carter himself, is surprisingly familiar, yet raw and honest. Winter has been influenced by living a life on the edge, but having the wherewithal to share life's ups and downs through songs. As a creative talent, he has always been compelled to do what he does, even if there's no fallback option. When it's all said and done, the challenges are what makes the music stand out, on its own perch.