Tickets to your hometown music venue. The OFFICAL BLUESTONE TICKET BOX OFFICE for Columbus Ohio Concerts.
Get Tickets to The Bluestone and never miss your favorite artist again. Tickets From country and electronic to R&B and hip hop.  THE Bluestone brings quality entertainment to the stage every time. We're working hard to bring you the best music and special events in Columbus, Ohio. Keep an eye on our tickets and events calendar and check back often for concert updates. Just click on an event to purchase tickets.
https://www.eventbrite.com/o/the-bluestone-7491519101
Buying tickets on the Eventbrite app is quick and simple. Register for event with just a few taps, and you'll receive a confirmation email when your order is completed successfully.
Please note: You may view some events on the app that are not ticketed by Eventbrite. The ticket purchase flows for those events may differ from the description below.
Eventbrite takes the security and privacy of your billing information seriously. All online payments are processed over a secure connection using a PCI-compliant gateway. If you prefer an offline transaction, learn how to buy tickets without using a credit card.
 Tickets to The Bluestone
Click here to subscribe to our text messages.
From country music concerts and rock and roll, to corporate events, weddings and private parties, we're a destination venue for your special event tickets. With cathedral ceilings, soulful acoustics you can only hear in a 115-year old church, and a staff who truly cares about delivering an amazing experience, The Bluestone is one Columbus event venue you simply shouldn t miss.
Get your Tickets to the best shows in town Now
www.liveatthebluestone.com
Oct
30
Sat
Fright Night : Svdden Death Saturday 10/30

@ The Bluestone
Oct 30 @ 9:00 pm – 11:45 pm
Disco Donnie Presents and My Best Friends Party
Fright Night : Svdden Death . Must Die . Eazybaked – Saturday 10/30
Perhaps you may recall MBFP's first BIG event, an infamous party we threw at a waterpark / hotel known as "Headless Horseman's (G)rave". We expected maybe 500 people to show up. Turned out about 3,000 people thought the idea of partying in a waterpark was pretty sweet. That night ended up being legendary and pretty much put us on the map. We've come a long ways since then and it's been a few years since we threw our own Halloween Massive.This year we decided to GO BIG. Introducing an all new Halloween Soire in the same Hallowed spirit. Epic production including festival like Lighting, Led Screens and Haze.
SVDDEN DEATH –
Also known as The Prince of Evil, SVDDEN DEATH has been honing his dubstep-centric voice for years now. Few have risen through the trenches and have stirred the bass community as much as Bay Area native Danny Howland, better known as SVDDEN DEATH.
Taking inspirations from Noisia, 16BIT, Skrillex, and other legends in the dubstep community – SVDDEN DEATH has formulated a hybrid of textured rhythms and sub-wrecking basslines to create his own maniacal sound.
Since release of his first EP through the well-known Never Say Die: Black Label SVDDEN DEATH has made his mark in the bass scene. He has patiently polished his presentation and sound, and created a persona that perfectly captures a dark, yet captivating aura. SVDDEN DEATH goes a step above the rest with his aesthetic choices and incredible theatrics.
MUST DIE –
Lee Austin Bates, also known as MUST DIE!, is a Houston-born and Dallas-based dubstep, electronica and drum & bass producer. Bates' pseudonym is inspired by the 2006 film John Tucker Must Die.
Since he began to gather attention across the bass scene in 2011, he has produced a wealth of original material and remixes, releasing on labels such as Never Say Die, Ultra, Dim Mak, Play Me, Mad Decent, and Atlantic Records. Using his naturally artistic and innovative musical intuition MUST DIE! has quickly risen to recognition with his distinguished level of production. He tours extensively and has supported the likes of Datsik, Excision, and Zomboy to name a few. With a charismatic and outgoing personality alongside his technical proficiency MUST DIE! will continue to grab attention over the coming months.
EAZYBAKED-
Emerging from the hills of Clermont, Florida, EAZYBAKED is a dynamic, multi-talented duo of two old friends looking to bring the bass & 4th dimensional sounds to the streets and shows across the country. EAZYBAKED origninated from two teenagers, Eric Ray and Andrew Principe. Eric, who goes by Eazy, and Andrew, who goes by the alias of Mr.Baked. What they're bringing to the scene is something that cannot be classified into simple genres. These underground producers are creating an entirely new sound – with support from Happy Colors, Sound Remedy, Hokes, Matayo, Urbindex, Just A Gent, $aturn – you can expect to see alot from these kids in the near future.
Costumes are of course encouraged as this is going to be a WICKED HALLOWEEN PARTY. Full of surprises and fun. Get your tickets now to save money and reserve your spot
Nov
4
Thu
Eli Young Band Nov. 4th 2021

@ The Bluestone
Nov 4 @ 7:00 pm – 11:45 pm
Eli Young Band
November 4th, 2021 at 7 PM
at The Bluestone
Columbus, Ohio
Tickets $30
Artist Biography
by Mark Deming
Fusing a young man's take on heartland rock with the tougher side of Texas country music and the cocky enthusiasm of alt-country firebrands, the Eli Young Band have become a potent draw in the Southwest on the strength of local airplay and extensive touring. The Eli Young Band's story began when Mike Eli and James Young both enrolled at the University of North Texas and found themselves sharing a dorm room as freshmen. Both played guitar, and the two new friends started writing and singing songs together. Under the name Eli & Young, they began playing acoustic shows at local bars and coffee houses, and in time they expanded the band into a full electric quartet with the addition of fellow students Jon Jones on bass and Chris Thompson on drums, thus giving rise to the Eli Young Band.
The group became a potent local draw, and in 2003 opened a show for rising star Miranda Lambert. Producer Frank Liddell saw the show and was impressed enough to offer the band a deal with his independent label, Carnival Recording Co. The Eli Young Band's debut album, Level, appeared in 2005, and the songs "That's the Way" and "When It Rains" began scoring significant airplay in the Lone Star State. The Eli Young Band's enthusiastic live show helped them draw a large and loyal audience in the Southwest, where they were able to fill 2,000-seat venues as a headliner, and they toured the country as an opener for the likes of Pat Green, Cross Canadian Ragweed, and Jack Ingram.
In 2006, the group's live show was captured for posterity on the concert recording Live at the Jolly Fox, taped during a gig at a club in Huntsville, Texas. The Eli Young Band then landed a deal with the Universal-distributed Republic Records; a video for a new recording of "When It Rains" subsequently received extensive play on Country Music Television, and the group's first album for Republic, Jet Black & Jealous, was released September 2008, with "When It Rains" and two other songs from the album, "Always the Love Songs" and "Radio Waves," becoming Top 40 hits.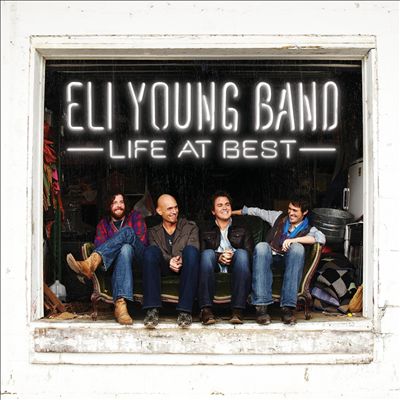 The follow-up album, Life at Best, delivered another hit, the Liz Rose– and Lee Brice-penned "Crazy Girl." The album was well-received by fans and critics alike, and the following year the Eli Young Band were nominated for a host of awards, including a clutch of Academy of Country Music Awards where they took home the Song of the Year accolade for "Crazy Girl." They were also up for Grammys for Best Duo/Group Performance and Best Country Song. They soon returned to the studio to record sessions for their fifth album, and in 2013 the fruits of their labor appeared in the shape of the "Drunk Last Night" single, which raced to number one in the U.S. Country Airplay chart. Building on this success, they headed out on tour before announcing that 10,000 Towns was set to be released in 2014; it was preceded by the second single "Dust." An EP called Turn It On was released in the spring of 2015. For 2017's Fingerprints, the Eli Young Band signed with the Big Machine subsidiary Valory; the record entered the Billboard country charts at 17.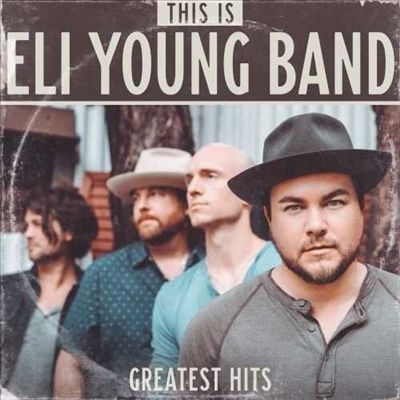 In March 2019, Big Machine released the compilation This Is Eli Young Band: Greatest Hits.