Tickets to your hometown music venue. The OFFICAL BLUESTONE TICKET BOX OFFICE for Columbus Ohio Concerts.
Get Tickets to The Bluestone and never miss your favorite artist again. Tickets From country and electronic to R&B and hip hop.  THE Bluestone brings quality entertainment to the stage every time. We're working hard to bring you the best music and special events in Columbus, Ohio. Keep an eye on our tickets and events calendar and check back often for concert updates. Just click on an event to purchase tickets.
https://www.eventbrite.com/o/the-bluestone-7491519101
Buying tickets on the Eventbrite app is quick and simple. Register for event with just a few taps, and you'll receive a confirmation email when your order is completed successfully.
Please note: You may view some events on the app that are not ticketed by Eventbrite. The ticket purchase flows for those events may differ from the description below.
Eventbrite takes the security and privacy of your billing information seriously. All online payments are processed over a secure connection using a PCI-compliant gateway. If you prefer an offline transaction, learn how to buy tickets without using a credit card.
 Tickets to The Bluestone
Click here to subscribe to our text messages.
From country music concerts and rock and roll, to corporate events, weddings and private parties, we're a destination venue for your special event tickets. With cathedral ceilings, soulful acoustics you can only hear in a 115-year old church, and a staff who truly cares about delivering an amazing experience, The Bluestone is one Columbus event venue you simply shouldn t miss.
Get your Tickets to the best shows in town Now
www.liveatthebluestone.com
Mar
1
Fri
Cody Johnson LIVE March 1st

@ The Bluestone
Mar 1 @ 7:00 pm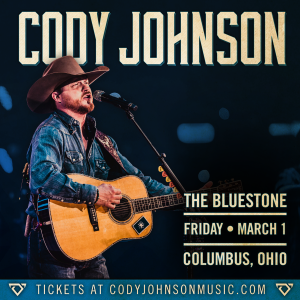 Cody Johnson will be performing LIVE at The Bluestone on March 1st, 2019
Doors for the show will open at 7pm
Opening Artist: Randall King
Tickets are $20 in advance and $25 day of show
THIS SHOW IS SOLD OUT
It's Cody Johnson's time.
After landing two releases in the Top 10 of Billboard's country albums chart on his own CoJo label and selling 74,000 tickets for a single show, to earn recognition as the only unsigned artist in history to sell out NRG Stadium at RodeoHouston, one of Texas' most-sought-after talents finally agreed to sign with a major label. Warner Music Nashville won a Music Row sweepstakes and enticed Johnson – who'd turned down several majors before – to join the team and take a shot at turning a concert success story into one with multimedia, national hit-making cred.
Johnson's passionate, rowdy concerts have already drawn comparisons to Garth Brooks, and the music from his previous albums – inspired by '90s country foundations, but built for the 21st century – has made him a familiar presence on Texas and Oklahoma red-dirt radio.
Johnson's introductory Warner project, Ain't Nothin' to It, ups the ante. After writing the bulk of his previous material, he put out word in Nashville that he was open to songs from other sources, and the results were astonishing. A-list writers – including Chris Stapleton, Radney Foster and Brothers Osborne guitarist John Osborne – came to the table with songs that suited Johnson's life and disposition. Music fans who are just now coming to the table will get a quick understanding of Johnson, from the rowdy troublemaker in the swampy "Doubt Me Now" to the devoted family man in the title track to the self-penned ex-bull rider in "Dear Rodeo" to the devoted Christian in "His Name Is Jesus."
Mar
21
Thu
Drake White LIVE March 21st

@ The Bluestone
Mar 21 @ 7:00 pm
Drake White will return to The Bluestone on March 21st, 2019
Doors for the show will open at 7pm
Opening Artist: Jordan Brooker
Tickets are $20 in advance and $25 day of show
Tickets go On-sale Friday, December 21st at 10am
To listen to Drake White's music is to fully experience the soul and rhythm of his upbringing in the Appalachian foothills of Northeastern Alabama. The undeniable sound of his soulful voice has whipped concert audiences across the country into a frenzy as Drake and his band, The Big Fire, raise the roof and summon spirits to life onstage. It's equal parts Baptist tent revival and amped-up southern rock festival. As you watch Drake crank the energy level up higher and higher throughout the night, you feel as if you'd walked in on a live gospel album backed up by all-stars from The Allman Brothers and Lynyrd Skynyrd. Of course those acts hit musical pay dirt recording in Muscle Shoals, Alabama in the late '60s and '70s, a little over two hours west of Drake's tiny hometown of Hokes Bluff.
The same fire that drives Drake to pour his entire being in to those performances also demands that he continue exploring and refining that country soul sound, which the world first heard on his debut album, 2016's SPARK (Big Machine Label Group). In the spirit of propelling his music forward, Drake teamed up with a crew of Nashville's most creative musicians in an effort to, as he says, "Bridge that gap between Nashville and Muscle Shoals." It's in the crossroads of those two musical worlds that you'll find Drake White's new five-song EP, PIECES (BMLG Records) . The new project is helmed by hit producer busbee, best known in country circles for his work with Maren Morris and Keith Urban.
May
16
Thu
Jerrod Niemann LIVE May 16th

@ The Bluestone
May 16 @ 7:00 pm
Jerrod Niemann will be performing LIVE at The Bluestone
as part of his "Broken Down Power Acoustic Tour"
Thursday, May 16th, 2019
Doors for the show will open at 7pm
Opening Artist: TBA
Tickets are $20 in advance and $25 day of show
After almost a decade as a major-label artist, prolific Nashville hitmaker Jerrod Niemann has put his heart on his sleeve like never before with the patriotic anthem, "Old Glory." Describing the resolute ballad as "100 percent heart, zero percent politics," the singer-songwriter wrote the track in honor of U.S. soldiers following the 2017 Tongo Tongo ambush in Niger. A veteran of multiple USO Tours, Niemann knew how much those heroes were willing to sacrifice in the name of duty – from missing their children's first steps and soccer games to holidays, anniversaries and so much more. He performed "Old Glory" live for the first time during that year's USO Holiday Tour, and is now bringing it to the American public. Also in 2017, Niemann dug deep into his journey for critically-acclaimed album THIS RIDE – his first for Curb Records which includes the feel-good jam, "I Got This," the uplifting duet "A Little More Love" (with Lee Brice) and the classy romance of "God Made a Woman." Known for clever wordplay and attention-grabbing lyrics, the engaging singer-songwriter topped Country charts with his PLATINUM-certified anthem "Drink to That All Night," a multi-week #1 from the 2014 album HIGH NOON – on which he co-wrote eight of the 12 tracks. Niemann first burst onto the scene in 2010 with his #1 major-label debut, JUDGE JERROD & THE HUNG JURY, which skyrocketed on the strength of his PLATINUM-certified #1 smash "Lover, Lover" and GOLD-certified Top 5 "What Do You Want." His second release, FREE THE MUSIC, included Top 15 "Shinin' On Me" and poignant ballad "Only God Could Love You More." From Academy of Country Music, Country Music Association and CMT Award nominations, to headlining and touring with some of Country's hottest acts – Dierks Bentley, Brad Paisley, and Keith Urban – Niemann continues to make his mark by creatively pushing boundaries while still offering a sincere nod to the legends before him.