Tickets to your hometown music venue. The OFFICAL BLUESTONE TICKET BOX OFFICE for Columbus Ohio Concerts.
Get Tickets to The Bluestone and never miss your favorite artist again. Tickets From country and electronic to R&B and hip hop.  THE Bluestone brings quality entertainment to the stage every time. We're working hard to bring you the best music and special events in Columbus, Ohio. Keep an eye on our tickets and events calendar and check back often for concert updates. Just click on an event to purchase tickets.
https://www.eventbrite.com/o/the-bluestone-7491519101
Buying tickets on the Eventbrite app is quick and simple. Register for the event with just a few taps, and you'll receive a confirmation email when your order is completed successfully.
Please note: You may view some events on the app that are not ticketed by Eventbrite. The ticket purchase flows for those events may differ from the description below.
Eventbrite takes the security and privacy of your billing information seriously. All online payments are processed over a secure connection using a PCI-compliant gateway. If you prefer an offline transaction, learn how to buy tickets without using a credit card.
 Tickets to The Bluestone
Click here to subscribe to our text messages.
From country music concerts and rock and roll to corporate events, weddings, and private parties, we're a destination venue for your special event tickets. With cathedral ceilings, soulful acoustics you can only hear in a 115-year old church, and a staff who truly cares about delivering an amazing experience, The Bluestone is one Columbus event venue you simply shouldn't miss.
Get your Tickets to the best shows in town Now
www.liveatthebluestone.com
Feb
9
Thu
Kolby Cooper February 9, 2023

@ The Bluestone
Feb 9 @ 8:00 pm – 11:45 pm
Kolby Cooper
February 9, 2023 at 8 PM
Doors Open 7 PM
The Bluestone
Columbus, Ohio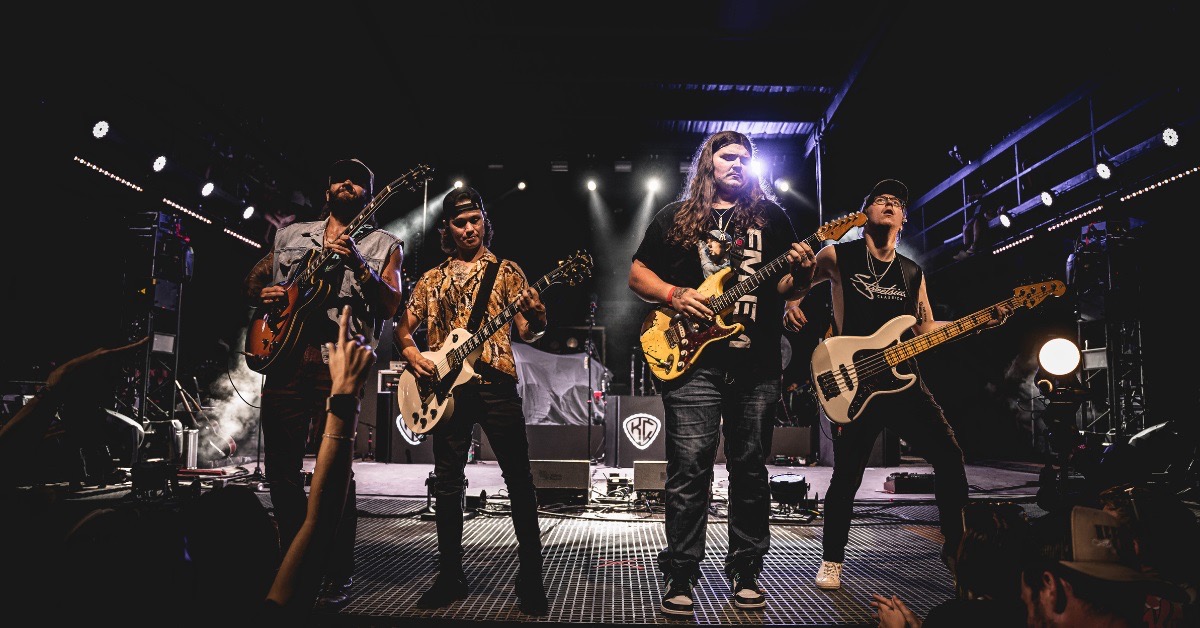 About

KOLBY COOPER
Kolby Cooper lost his childhood and found his voice.
Cooper was 14 when cancer took his dad, and he channeled that painful loss into songwriting. He was 18 with the responsibility of a wife and baby on his shoulders when he used his high school graduation money to record an EP. And now, barely old enough to buy a round for the band, Cooper is pouring his signature blend of scorching break-up anthems and gut-wrenchingly relatable songs into a new record for BBR Music Group.
Far from the typical music industry inroads, Cooper has been riding the fast track from a small Texas town driven by necessity and inspired by his fathers working-class principles.
"Losing my dad and then becoming a dad made me think, "This just can't be a fun thing. I mean, it's fun – but it has to be a job too," Cooper said with candor. "I have to work my ass off. I'm not Just trying to pay rent."
In three short years, Cooper has accomplished what has eluded seasoned Nashville insiders amassing more than 110 million Spotify streams and playing numerous, sold-out show around the country, with thousands of fans singing along to his searing, wry lyries.
Drawn to his unrestrained, fresh sound, Cooper is earning early praise for his rough-hewn velvet vocals, layered over wailing electric guitar, and a buoyant Texas bottom-end. His new record is Country with clear influences from his Lonestar State roots. 'The result "is authentic to me," said the humble outlier. "I m older and understanding more about myself, and the music, and what I want to say. This is exactly what I set out to sound like.
At 22, he is coming into his own as a master storyteller and an angry advocate for the heartsick as he writes each of his songs from the deeply personal "Boy from Anderson County," an autobiographical look at how love can propel a boy into becoming a better man, to "Good For You," a sneering, steel-guitar slice of resentment, and the dreaded "its not you, it's me pathos of
"Excuses, which was inspired by his guitar player's sudden breakup.
Cooper is refreshingly kind and happy for someone who can readily tap into rage and angst. He embodies and moves confidently between contradictions from the defiant to the forlorn.
"People ask me, 'Why do you write these breakup songs? You must have a bad past with exes." he said laughing. "Ive been dating my wife since we were seniors in high school. I write from the perspective of what I see – a lot of tough relationships in a small town that I witnessed firsthand.
Feb
28
Tue
Grateful Shred February 28, 2023

@ The Bluestone
Feb 28 @ 8:00 pm – 11:45 pm
Grateful Shred Industries, Relix and PHILM Present
Grateful Shred
February 28, 2023 at 8 PM
Doors Open 7 PM
The Bluestone
Columbus, Ohio

About

Grateful Shred / Bio 2023
After a meteoric rise from obscurity to a national touring band, Los Angeles-based Grateful Shred has made the most of its time in the spotlight. The lineup, featuring Dan Horne and Austin McCutchen alongside keyboardist Adam MacDougall woke the Grateful Dead cosmos with a unique laid-back harmony driven sound. The band literally went from playing the Shakedown Street vendor area prior to Dead and Company shows to touring the United States.
The moment that sent the band's popularity soaring is the "Busted at the Bowl" video, a YouTube video that features Shred members starting an impromptu set in the parking lot of the Hollywood Bowl before a Dead and Company show in 2017. They don't get too far before drawing so much attention that the police shut them down. Instantly creating Shred-cred, this was a bit of good fortune that doesn't get past McCutchen. "We've been dealt some pretty good cards," he states. "It's been cool to roll with it and push forward and continually make stuff happen. Things have gone our way. Even that video happened magically. It was put together at the last minute, and boom!"
The thing is, Grateful Shred manage to channel that elusive Dead vibe: wide-open guitar tones, effortless three-part vocal harmonies, choogling beats, and yes, plenty of tripped out, Shredded solos. The look, the sound, the atmosphere. It's uncanny. Far from being a historical re-enactment, Grateful Shred's laissez faire vibe infuses the band with a gentle spirit, warmth, and (dare we say it) authenticity. From their killer merch game to their eminently watchable
YouTube channel, they're clearly having a rad time and spreading the love. Strangely enough, in a world overflowing with wax museum nostalgia and Deadly sentimentalism, we need the Shred, now more than ever.
Grateful Shred is: Austine Beede, Dan Horne, Alex Koford, Zeph Ohora, Adam MacDougall, Austin McCutchen, John Lee Shannon