Tickets to your hometown music venue. The OFFICAL BLUESTONE TICKET BOX OFFICE for Columbus Ohio Concerts.
Get Tickets to The Bluestone and never miss your favorite artist again. Tickets From country and electronic to R&B and hip hop.  THE Bluestone brings quality entertainment to the stage every time. We're working hard to bring you the best music and special events in Columbus, Ohio. Keep an eye on our tickets and events calendar and check back often for concert updates. Just click on an event to purchase tickets.
https://www.eventbrite.com/o/the-bluestone-7491519101
Buying tickets on the Eventbrite app is quick and simple. Register for event with just a few taps, and you'll receive a confirmation email when your order is completed successfully.
Please note: You may view some events on the app that are not ticketed by Eventbrite. The ticket purchase flows for those events may differ from the description below.
Eventbrite takes the security and privacy of your billing information seriously. All online payments are processed over a secure connection using a PCI-compliant gateway. If you prefer an offline transaction, learn how to buy tickets without using a credit card.
 Tickets to The Bluestone
Click here to subscribe to our text messages.
From country music concerts and rock and roll, to corporate events, weddings and private parties, we're a destination venue for your special event tickets. With cathedral ceilings, soulful acoustics you can only hear in a 115-year old church, and a staff who truly cares about delivering an amazing experience, The Bluestone is one Columbus event venue you simply shouldn t miss.
Get your Tickets to the best shows in town Now
www.liveatthebluestone.com
Sep
12
Thu
Muscadine Bloodline LIVE

@ The Bluestone
Sep 12 @ 7:00 pm
Muscadine Bloodline will be performing LIVE at The Bluestone September 12th, 2019
Doors for the show will open at 7pm
Opening Artist: Tyler Booth
Tickets are $10 in advance and $15 day of show
Tickets will go on-sale Friday, August 2nd at 10am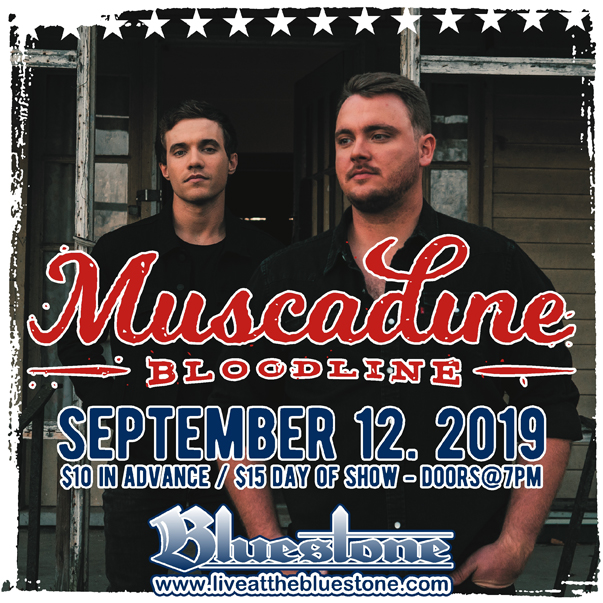 There's a new force making major waves in country music, Muscadine Bloodline. Proud natives of Mobile Alabama, Gary Stanton and Charlie Muncaster started Muscadine Bloodline in early 2016. From the first time they took stage, Nashville started talking… so now, with two Billboard charting critically acclaimed EP's under their belt, it's no surprise the rest of the music world is quickly catching on. The duo's reputation for high-energy live experiences has resulted in a schedule full of shows spanning from coast to coast. Charlie's contemporary vocals complimented by Gary's harmonies and masterful guitar licks make MB a powerfully refreshing mix of talent, passion and unfiltered authenticity. Infamously undaunted by the big stage, their sound intertwines the brash irreverence of early southern rockers with the seductive quality of 90s country love songs. Captivating hooks heard in songs like "Movin' On" and the aggressively anthemic "WD-40" stand as a testament to MB's wide ranging music-making capability. Every song and every show is a moving experience but at the same time, unmistakably Muscadine Bloodline.
Dec
12
Thu
LOCASH LIVE December 12th 2019

@ The Bluestone
Dec 12 @ 7:00 pm
LOCASH LIVE at The Bluestone on December 12th, 2019
Doors for the show will open at 7pm
Opening Artist: TBA
Tickets are just $25 in advance and $30 day of show
Tickets on-sale Friday, August 23rd at 10am
LOCASH are country music's comeback kids. Chris Lucas and Preston Brust were best-known as hit songwriters for a number of years, but they were also plugging away at a recording career under the name LoCash Cowboys, releasing their self-titled debut album independently in 2008 and releasing their label debut via Average Joes in 2013. The duo became well-known for their high-energy live shows, and they built an enormous and loyal social media following, but they admit they nearly gave up after radio success proved hard to come by. They changed their name to LoCash in 2015 and signed a new deal with Reviver Records, and their first single under that deal, "I Love This Life," breathed new life into their career, scoring a Top 5 hit for the duo. They will release a new EP titled 'The Fighters' in 2016
Dec
14
Sat
Morgan Evans LIVE

@ The Bluestone
Dec 14 @ 7:00 pm
Morgan Evans live at The Bluestone on Saturday, December 14th, 2019
Doors for the show will open at 7pm
Opening Artist: TBA
Tickets for the show are just $15 in advance and $20 day of show
Tickets go on-sale Friday, June 21st at 10am
MORGAN EVANS EXTENDS WORLD TOUR 2019 TO NORTH AMERICA THIS WINTER
JUNE 17 2019
NEW TOUR DATES ANNOUNCED AS "DAY DRUNK" BUZZES INTO COUNTRY RADIO'S TOP 25
ON THE ROAD ALL SUMMER WITH RASCAL FLATTS; ADDITIONAL FESTIVALS ON TAP FOLLOWING BONNAROO, CMA FEST PERFORMANCES
Warner Music Nashville rising star MORGAN EVANS has announced the North American leg of his WORLD TOUR 2019, with more than a dozen dates set in the U.S. and Canada. Further expanding his international fan base, the Australia native will crisscross the globe with 26 shows in 8 countries on tap, including previously announced European and Australian dates. The career-milestone performances mark Evans' biggest shows to-date in his home country, already selling out one of two Sydney shows, as well as Perth, Adelaide and Toowoomba.