Tickets to your hometown music venue. The OFFICAL BLUESTONE TICKET BOX OFFICE for Columbus Ohio Concerts.
Get Tickets to The Bluestone and never miss your favorite artist again. Tickets From country and electronic to R&B and hip hop.  THE Bluestone brings quality entertainment to the stage every time. We're working hard to bring you the best music and special events in Columbus, Ohio. Keep an eye on our tickets and events calendar and check back often for concert updates. Just click on an event to purchase tickets.
https://www.eventbrite.com/o/the-bluestone-7491519101
Buying tickets on the Eventbrite app is quick and simple. Register for event with just a few taps, and you'll receive a confirmation email when your order is completed successfully.
Please note: You may view some events on the app that are not ticketed by Eventbrite. The ticket purchase flows for those events may differ from the description below.
Eventbrite takes the security and privacy of your billing information seriously. All online payments are processed over a secure connection using a PCI-compliant gateway. If you prefer an offline transaction, learn how to buy tickets without using a credit card.
 Tickets to The Bluestone
Click here to subscribe to our text messages.
From country music concerts and rock and roll, to corporate events, weddings and private parties, we're a destination venue for your special event tickets. With cathedral ceilings, soulful acoustics you can only hear in a 115-year old church, and a staff who truly cares about delivering an amazing experience, The Bluestone is one Columbus event venue you simply shouldn t miss.
Get your Tickets to the best shows in town Now
www.liveatthebluestone.com
Mar
14
Sat
Blood Sweat & Bass Tour featuring DOWNLINK and DIESELBOY – The Bluestone
Mar 14 @ 8:00 pm
IGNYTE EVENTS presents: DOWNLINK and DIESELBOY at The Bluestone on Saturday, March 14th.
$15 Presale $20 Door (This show is for ages 18+)
May
17
Sun
Above & Beyond

@ The Bluestone
May 17 @ 8:00 pm
ABOVE & BEYOND are set to perform LIVE at The Bluestone May, 17th 2015!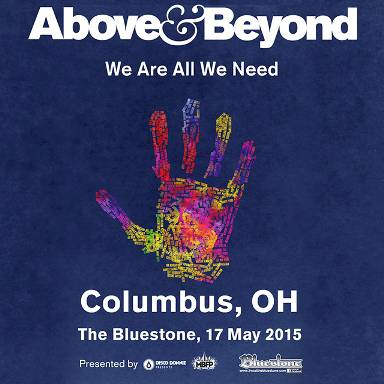 CONNECTION. If one word sums up the phenomenon of Above & Beyond then that is surely it. Whether it's the thousands of A&B fans singing their lyrics back at them at gigs from Beirut to Brixton, or the millions that tune in for their weekly Group Therapy radio show, connection – real human connection – is at the heart of all things that define Above & Beyond.
Much like acts like The Smiths or Joy Division before them, Above & Beyond find themselves embedded at the heart of their fans' lives. Some walk down the wedding aisle to their songs, others ink their bodies with their lyrics, often a proud couple will choose to get engaged at one of their gigs. All that pledge their loyalty to them are moved in a way that goes beyond most electronic music out there.
Above & Beyond is Jono Grant, Tony McGuinness and Paavo Siljamaki and their story is one of constant movement. From their early days as hotly tipped producers to their current global standing, Jono, Tony and Paavo have remained as down-to-earth and determined as ever – always focused on the next goal. Over their 13-year history, this dedication has continually paid off.
The only dance act in history to win Essential Mix Of The Year twice (in 2004 and 2011), the London-based trio have remixed greats like Radiohead and Madonna, played to one million people on Barra Beach in Rio de Janeiro (New Year's Eve in 2007) and even had their track "Buzz" chosen to soundtrack the launch of Richard Branson's Virgin Galactic SpaceShipTwo in the Mojave desert. And as these landmarks rack up the non-stop pulse of their global touring keeps them connected to their growing international fanbase. Each week brings another crowd, another country and often another continent, while their weekly Group Therapy radio show now reaches over 30 million people worldwide.
A band first and foremost, Above & Beyond are songwriters as much as they are DJs and their second album "Group Therapy" has taken their sound to new heights. The follow-up to 2006's widely acclaimed debut "Tri-State", the album draws on musical reference points as diverse as French cosmic pop heroes Air, American singer-songwriter Jeff Buckley and soundtrack master Hans Zimmer. "We are always looking to explore new territory but try to operate in our own way rather than just trying to follow trends," explains Jono. The combined result on "Group Therapy" was unmistakably Above & Beyond – a cohesive album that was described by Mixmag as "the artist album of the year".
At the heart of the album's allure, of course, were songs of loves lost, confused and found. "Songs have an impact which is quite unparalleled in art," believes Tony. "Poetry can be powerful, great literature is another great informer and educator, but few of us can remember any significant words from the great books or poems we read. But something amazing happens when you put words to music."
Featuring two BBC Radio 1 playlisted singles ("Sun & Moon" and "Thing Called Love") and a Sirius BPM Chart #1, the album's many songs have connected in a way that so few dance tracks – vocal or otherwise – ever manage. "Since releasing our Group Therapy Album in 2011, it's brought us even closer to our audience around the world," explains Paavo. "The one thing I didn't expect to happen on the scale it has, is how people from around the world have shared their stories with us as they go through amazingly positive or incredibly difficult times in their lives. It's really touched us all and feels like a driving force for new creativity."
Since the release of Group Therapy, the intense atmosphere at Above & Beyond's increasingly ambitious live performances has redrawn the parameters of the DJ set. While so many superstar DJs place themselves at the centre of the show, Above & Beyond's focus is always on getting closer to their crowd and making them part of the action. Whether that is by bringing fans up on stage to press the play button on their CDJs or communicating with the fans via their visual screens, the effect is to make everyone in the room feel like they are part of an experience that is at once epic, immersive and interactive.
"Some time ago we realised that on the best nights we have it's always a three way thing: us, the music and the people, and we see improving the communication between all three as helping a good party turn incredible" explains Paavo. "The soundsystem, lights and visuals are all there to help people connect to the music, with each other and with us, better. A Group Therapy experience, ideally, is positive, uniting and life-affirming for all involved."
Having celebrated TATW milestones in Moscow, Miami and Beirut, 2012 saw Above & Beyond call time on Trance Around The World, as they launched their new radio show Group Therapy at a spectacular live broadcast event at Jayamahal Palace in Bangalore, India. Evolving from the foundation built by TATW, Group Therapy is broadcast weekly to 30 million people worldwide, and features guest mixes from the biggest names in electronic music. This year Above & Beyond celebrate the 50th instalment of Group Therapy Radio with their biggest ever UK show at the historic home of broadcasting, Alexandra Palace.
In the summer of 2013 Jono, Tony & Paavo launched another bold musical project, Above & Beyond Acoustic. Rewriting a selection of their back catalogue for a 15 piece ensemble, complete with a full string section, a harp and even a broom, they sold out three intimate shows at the impressive Porchester Hall in London, and in October 2013 will bring Above & Beyond Acoustic to Los Angeles.
Throughout this process, Above & Beyond have continued to release forward-thinking instrumental club music – such as their own tech-fused rollercoaster "Walter White" – on their renowned Anjunabeats label. An essential part of their story, the label is now in its 13th year and has helped to nurture artists like the London-based innovator Mat Zo, the eclectic genius Andrew Bayer and Russian star Arty. Independently spirited but run with ambitious vision, the label has grown like a family."Dance music tends to be very short term, but we aim to release records that will leave a lasting impression on people and are listened to in years to come" explains Jono. "We try to operate in our own way rather than trying to follow trends."
Like just about everything they turn their attentions to, it is a labour of love as well as a collaboration of the trio's energies. De La Soul weren't wrong. Three really is the magic number: and in Above & Beyond's case the magic is spreading faster than ever before.
www.aboveandbeyond.nu/
https://soundcloud.com/aboveandbeyond
SUPPORT TBA
TICKETS ON SALE TUESDAY APRIL 14TH AT 1PM
www.discodonniepresents.com
https://www.facebook.com/ddpworldwide
www.mybestfriendsparty.com
www.facebook.com/mybestfriendsparty@