When:
March 1, 2019 @ 7:00 pm
2019-03-01T19:00:00-05:00
2019-03-01T19:30:00-05:00
Where:
The Bluestone
583 E Broad St
Columbus, OH 43215
USA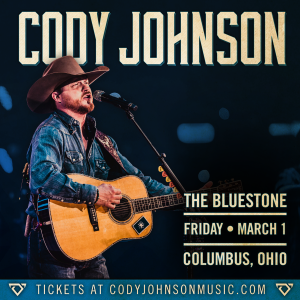 Cody Johnson will be performing LIVE at The Bluestone on March 1st, 2019
Doors for the show will open at 7pm
Opening Artist: Randall King
Tickets are $20 in advance
THIS SHOW IS SOLD OUT
It's Cody Johnson's time.
After landing two releases in the Top 10 of Billboard's country albums chart on his own CoJo label and selling 74,000 tickets for a single show, to earn recognition as the only unsigned artist in history to sell out NRG Stadium at RodeoHouston, one of Texas' most-sought-after talents finally agreed to sign with a major label. Warner Music Nashville won a Music Row sweepstakes and enticed Johnson – who'd turned down several majors before – to join the team and take a shot at turning a concert success story into one with multimedia, national hit-making cred.
Johnson's passionate, rowdy concerts have already drawn comparisons to Garth Brooks, and the music from his previous albums – inspired by '90s country foundations, but built for the 21st century – has made him a familiar presence on Texas and Oklahoma red-dirt radio.
Johnson's introductory Warner project, Ain't Nothin' to It, ups the ante. After writing the bulk of his previous material, he put out word in Nashville that he was open to songs from other sources, and the results were astonishing. A-list writers – including Chris Stapleton, Radney Foster and Brothers Osborne guitarist John Osborne – came to the table with songs that suited Johnson's life and disposition. Music fans who are just now coming to the table will get a quick understanding of Johnson, from the rowdy troublemaker in the swampy "Doubt Me Now" to the devoted family man in the title track to the self-penned ex-bull rider in "Dear Rodeo" to the devoted Christian in "His Name Is Jesus."