Tickets to your hometown venue for Columbus Ohio Concerts at The Bluestone
Get Tickets to The Bluestone and never miss your favorite artist again. Tickets From country and electronic to R&B and hip hop,  Bluestone tickets bring quality entertainment to the stage. We're working hard to bring you tickets to the best music and special events in Columbus, so keep an eye on our tickets and events calendar and check back often for ticket updates. Just click on an event to purchase tickets.
https://www.eventbrite.com/o/the-bluestone-7491519101
Buying tickets on the Eventbrite app is quick and simple. Register for event with just a few taps, and you'll receive a confirmation email when your order is completed successfully.
Please note: You may view some events on the app that are not ticketed by Eventbrite. The ticket purchase flows for those events may differ from the description below.
Eventbrite takes the security and privacy of your billing information seriously. All online payments are processed over a secure connection using a PCI-compliant gateway. If you prefer an offline transaction, learn how to buy tickets without using a credit card.
 Tickets to The Bluestone
Click here to subscribe to our text messages.
From country music concerts and rock and roll, to corporate events, weddings and private parties, we're a destination venue for your special event tickets. With cathedral ceilings, soulful acoustics you can only hear in a 115-year old church, and a staff who truly cares about delivering an amazing experience, The Bluestone is one Columbus event venue you simply shouldn t miss.
Get your Tickets to the best shows in town Now
www.liveatthebluestone.com
Jun
29
Fri
Joe Diffie LIVE June, 29th

@ The Bluestone
Jun 29 @ 7:00 pm
Joe Diffie LIVE at The Bluestone on June 29th, 2018
*Opening Artist: 
Dillon

 Carmichael and David Adam Byrnes
*Doors for the show will open at 7PM
*Tickets are $15 in advance and $20 day of show
Tickets On-Sale Now!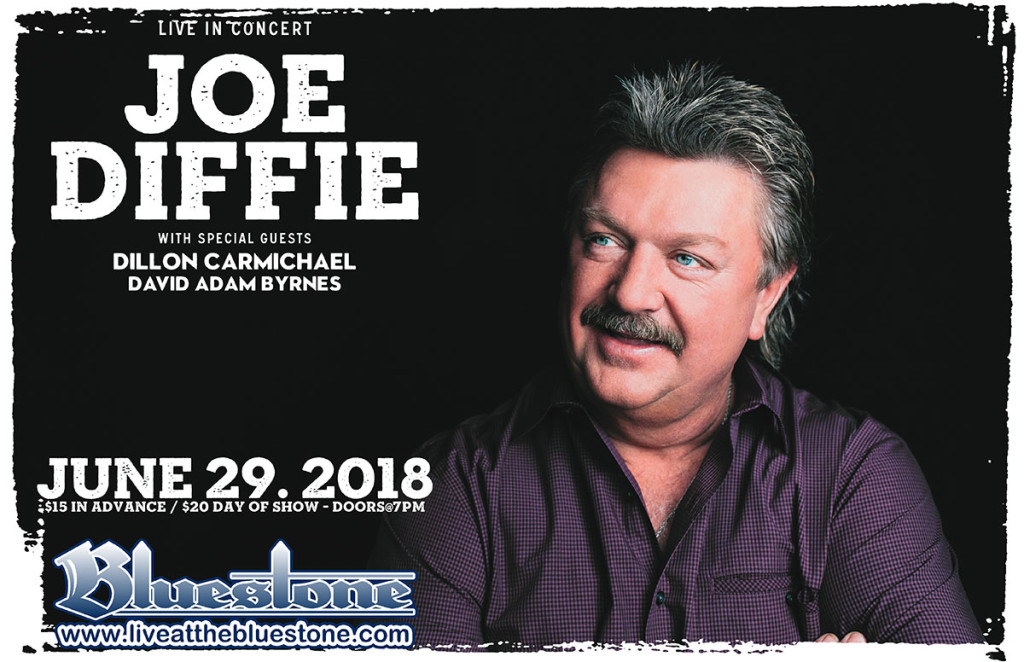 Joe Diffie was regarded by many of his peers as one of the better vocalists in contemporary country, and lent his traditional sensibilities to humorous, rock-tinged novelties and plaintive ballads. Diffie was born in Tulsa, Oklahoma, in 1958 and grew up in a musical family, first performing in public at age four with his aunt's country band. He played in a rock band during high school, and later moved on to a gospel quartet and, during college, a bluegrass band called the Special Edition. He worked on his songwriting and singing over the next few years while working in a foundry, and caught a break when his "Love on the Rocks" was recorded by Hank Thompson. When Randy Travis nearly recorded another of his songs, Diffie was convinced he had a shot in the business, and moved to Nashville in 1986. He took a job at the Gibson guitar plant while continuing to write songs, and became an in-demand demo singer as well. Holly Dunn's 1989 recording of a Diffie collaboration, "There Goes My Heart Again," proved a major hit, and Diffie found himself a hot commodity. He signed with Epic and released his debut album, A Thousand Winding Roads, in 1990. His first single, "Home," went all the way to number one on the country charts, and "If the Devil Danced (In Empty Pockets)" duplicated that feat; meanwhile, two more singles from the album, "If You Want Me To" and "New Way (To Light Up an Old Flame)," reached number two.
Diffie became a regular hitmaker over the rest of the '90s, and scored again with his sophomore LP, 1992's Regular Joe; "Is It Cold in Here" and "Ships That Don't Come In" both made the Top Five. Known primarily for his ballads at this point in his career, Diffie switched things up with 1993's Honky Tonk Attitude, which emphasized his rambunctious, rocking side and sense of humor, and proved to be his biggest-selling album yet. The title track, "Prop Me Up Beside the Jukebox (If I Die)," and "John Deere Green" all went Top Five. Sticking with engaging humor as the selling point of his hugely popular follow-up, 1994's Third Rock from the Sun, Diffie scored two number ones with the title track and "Pickup Man," plus a Top Five hit in "So Help Me Girl." 1995 brought a holiday album, Mr. Christmas, as well as a proper release in Life's So Funny, which gave Diffie his fifth number one hit in "Bigger Than the Beatles." 1997's Twice Upon a Time saw his commercial momentum slipping a bit, and so Epic issued a Greatest Hits compilation the following year; its new song, "Texas Sized Heartache," returned Diffie to the Top Five. 1999's A Night to Remember was the most straight-ahead, traditional country record Diffie had yet recorded, and it gave him two Top Ten hits in the title cut and "It's Always Somethin'." He returned to his more established style for 2001's In Another World, which found him transferred to Sony's reactivated Monument subsidiary; its title track went Top Ten early the next year. Tougher Than Nails followed in 2004, then in 2010 Diffie returned to bluegrass for Homecoming: The Bluegrass Album, which was released by Rounder Records and was greeted by warm reviews.
Diffie had a bit of an unexpected revival in early 2013, when his name provided the chorus of Jason Aldean's party-hearty hit "1994." Later that year, Diffie set out on the road with fellow country singers Sammy Kershaw and Aaron Tippin on a tour called All in the Same Boat; the trio released an accompanying album of the same name in May. ~ Steve Huey, Rovi

Aug
2
Thu
Drake White and The Big Fire LIVE August 2nd

@ The Bluestone
Aug 2 @ 7:00 pm
Drake White and The Big Fire live at The Bluestone on August 2nd, 2018!
*Opening Artist: TBA
*Doors for the show will open at 7PM
*Tickets are $15 in advance and $20 day of show
Tickets On-Sale Friday, May 11th at 10AM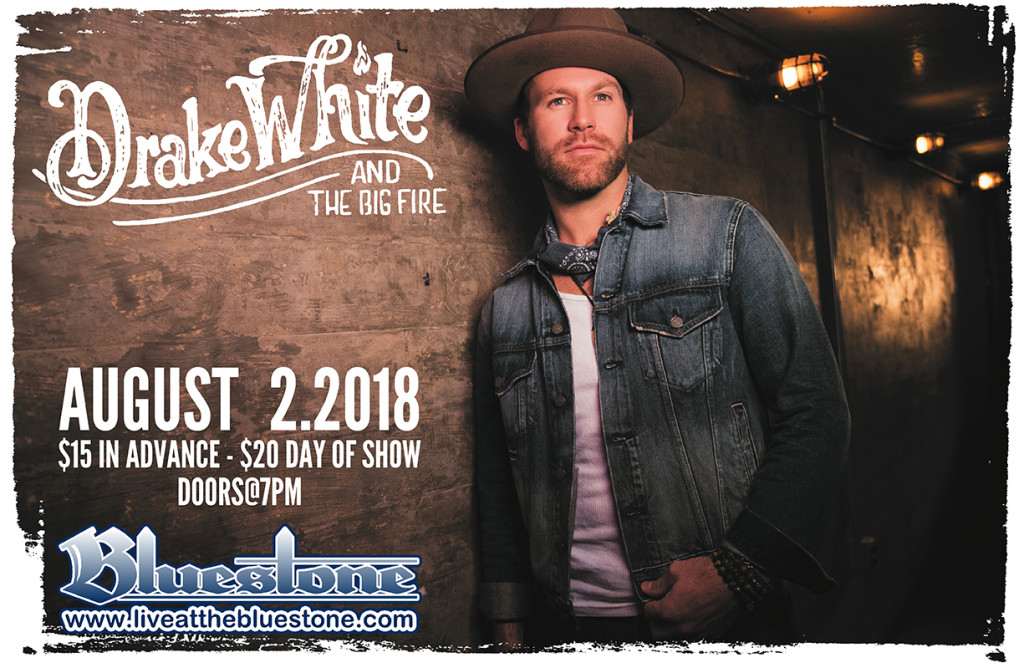 Born in Hokes Bluff, Alabama, country singer and songwriter Drake White's mix of country, blues, funk, rock & roll, and reggae and his energetic, foot-stomping live shows eventually led him to Nashville and beyond. Growing up, he sang in the choir at his local church, and after getting a guitar at the age of 14 from a neighbor down the road who played bluegrass, he began writing and playing songs, continuing to do so while attending Gadsen State Community College and then Auburn University, earning a degree in building science even as he played in the local venues at night. After graduation, White took a job with a general contractor in Nashville, working by day and playing the song rounds at night, developing, with his band the Big Fire, a crackling and energetic stage presence that often found him freestyling lyrics in the middle of songs. He caught the eye of producer Jeremy Stover and was soon signed to MCA Nashville, turned his attention full-time to music, and released a debut single, "Simple Life," on the label early in 2013. A year later, White signed with Big Machine affiliate Dot Records, resulting in a pair of 2015 singles, "It Feels Good" and "Livin' the Dream." In August 2016, Dot released White's debut album, Spark. ~ Steve Leggett, Rovi

Aug
23
Thu
Aaron Lewis LIVE August, 23rd

@ The Bluestone
Aug 23 @ 7:00 pm
Aaron Lewis at The Bluestone Two Nights, BACK TO BACK!
*August 23rd, 2018 and
August 24th, 2018 (SOLD OUT)
*Opening Artist: Travis Marvin
*Doors for the show will open at 7pm each night
*Tickets are $35 in advance and $40 day of show
(Ticket is only valid for admission for the date printed on the ticket)
Tickets are on-sale NOW!