Your hometown venue for Columbus Ohio Concerts,
Never miss your favorite artist again. From country and electronic to R&B and hip hop, the Bluestone brings quality entertainment to the stage. We're working hard to bring you the best music and special events in Columbus, so keep an eye on our events calendar and check back often for updates. Just click on an event to purchase tickets.
At a time when the prevalence of women in country is being highly criticized, it was reassuring to witness one woman prove that they aren't going anywhere. Jana Kramer is at the top of her game and has been impacting radio waves with her new single "I Got the Boy." I have always enjoyed seeing Kramer live ever since I saw her open for Blake Shelton on the Ten Times Crazier Tour. Her performance last night blew all the previous shows out of the water. The energy she brought to The Bluestone in Columbus, Ohio was off the charts.
"I'd be lying if I said there was anywhere else I'd have rather spent my New Year's Eve. It's one thing to watch a show as a fan, but to be a friend & watch these fellas do what they love…it's a feeling that can't be put into words. I could've easily watched them sing their songs all night long and never have gotten bored. If this night was any indication of what 2016 is gonna be like, I'm pretty damn excited. These four dudes definitely lived up to the hype of making this show "A Night That You'll Never Forget". http://thetennesseelife.blogspot.com/2016/01/concert-review-nye-with-love-theft-joel.html
Nov
2
Thu
SIRIUSXM Presents: Highway Finds Tour ft: HIGH VALLEY

@ The Bluestone
XM Highway Finds Tour ft: HIGH VALLEY
http://www.highvalleymusic.com
on Thursday, November 2nd
Doors for the show will open at 7pm
Opening Artist: Adam Doleac
Tickets $15
Tickets will go on-sale Friday, September 8th at 10am
 RESERVED LOFT TABLE SEATING
RESERVED TABLE PURCHASE DOES NOT INCLUDE ADMISSION TICKETS TO THE SHOW.  
Admission tickets must be purchased separately.
Loft Lower Tier: $250 (seats four people-no exceptions)
Prime view of stage!
Includes first bucket of Miller or Coors Light
Server
Exclusive Private Bar access
Loft Upper Tier: $200 (seats four people-no exceptions)

Includes first bucket of Miller or Coors Light
 Server
Private Bar Access
May be Obstruction in View
*All Reserved tables located in the loft area
ALL SALES ARE FINAL
High Valley keeps in line with traditional country sounds while they explore Americana, rock and pop influences in their major-label debut album, Dear Life. Tracks of inspiration, desires of the heart and their journey as musicians make up the record. The 11-track project experiments with a variety of beats and guitar picking that keep the music interesting while they share their pitch-perfect harmonies.
Production elements blend genres to create foot-tapping beats and melodies that replay through your head all day. High Valley make their own sound that will stand out on country radio while staying in touch with country roots that serve as each tune's platform.
The Canadian country group's lead single, "Make You Mine," has the most interesting sound on the album. It sticks out among the rest and will draw intrigued listeners into explore what other stories the duo has to offer.
"Dear Life," the title track, shares feelings about making choices while growing up. Its message will resonate with much of their audience and may be representative where they are in their own life. It follows similar patterns as surrounding tracks, including heavy drums that bring the song to life.
"The Only" and "She's With Me" have comparable themes of adoration. Their obvious pop influences match the song's tone with complimenting faster-tempo beats. The featured repetitive hooks just about guarantee them stuck in your head all day as you fight the urge to dance along.
Americana influence is heaviest in the No. 8 title, "I Be U Be." The back-and forth nature of the song has hints of tribal elements as strong imagery describes an ideal love scenario. Just as many other included tracks, "I Be U Be" stays clear of electric guitar solos and focuses on percussion and diction, a factor that might become a signature in their career.
The closing track, "Young Forever" has a similar vibe that compares to Billy Currington's "We Are Tonight." The embrace-the-moment trend adds a brightness to the album that contributes to its already high-spirited qualities.
Emotional tracks intertwined with flirty fun songs lead to this diverse album. Dear Life is an exciting piece of art that serves as a solid platform for the bright career they have ahead of them.
http://www.soundslikenashville.com/reviews/album-review-high-valleys-dear-life/
Nov
17
Fri
David Nail LIVE Nov. 17

@ The Bluestone
Nov 17 @ 7:00 pm
 DAVID NAIL will be performing LIVE at The Bluestone
on Friday, November 17th, 2017
Doors for the show will open at 7pm
Opening Artist: Jimmie Allen
Tickets are $20 in advance and $25 day of show
Tickets will go on-sale Friday, August 18th at 10am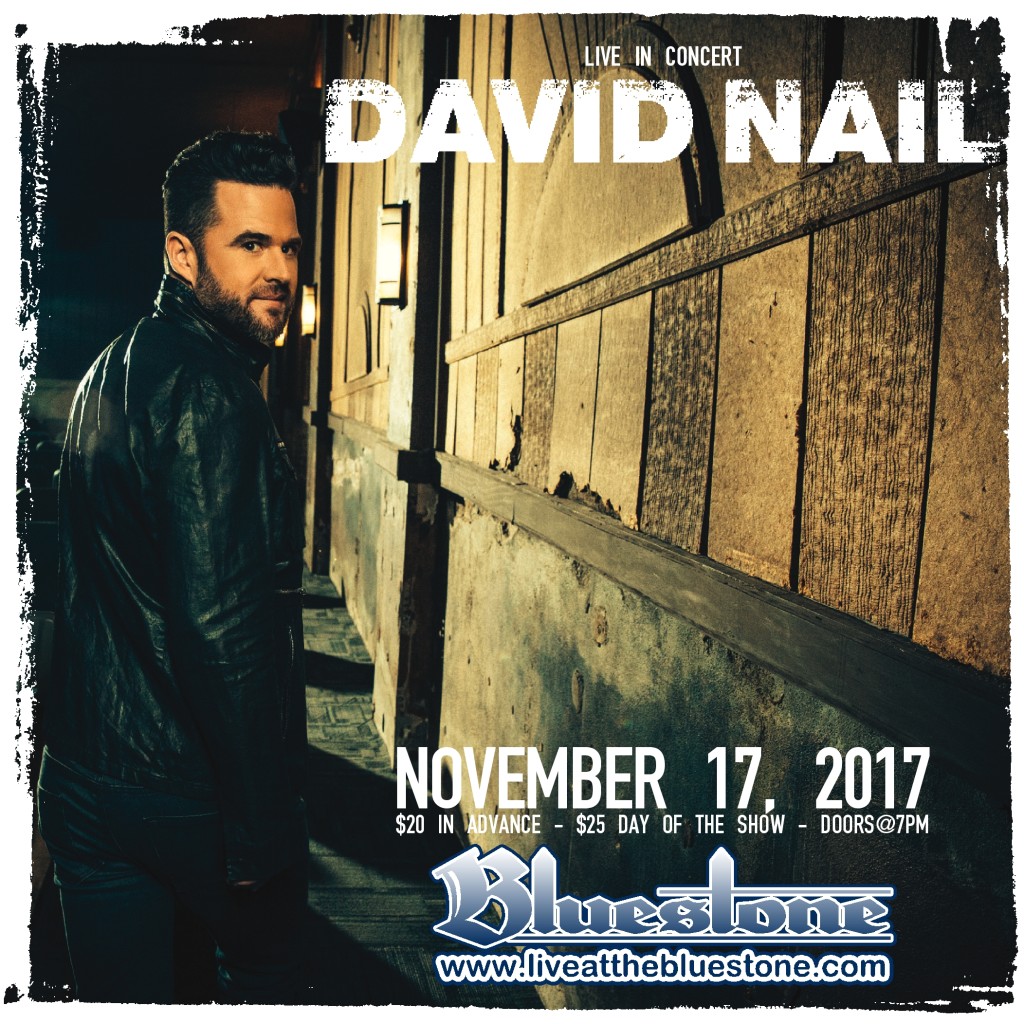 RESERVED LOFT TABLE SEATING
RESERVED TABLE PURCHASE DOES NOT INCLUDE ADMISSION TICKETS TO THE SHOW.  
Admission tickets must be purchased separately.
Loft Lower Tier: $250 (seats four people-no exceptions)
Prime view of stage!
Includes first bucket of Miller or Coors Light
Server
Exclusive Private Bar access
Loft Upper Tier: $200 (seats four people-no exceptions)

Includes first bucket of Miller or Coors Light
 Server
Private Bar Access
May be Obstruction in View
*All Reserved tables located in the loft area
ALL SALES ARE FINAL
ABOUT
During the making of his fourth MCA Nashville album, David Nail underwent a transformation – and so did his music. Fighter is the most vulnerable, personal record the Missouri native has ever made, and it signals the beginning of a new phase in his career."
"Six months ago, people would ask me about the record and I would jokingly say 'It's my love-making record,'" Nail explains. "But what it meant to me then and what it means to me now are completely different. … Having been a father for about five months, it definitely changes the dynamic of things."
Following the birth of he and wife Catherine's long-hoped-for children (twins born in December 2015), the singer-songwriter found his world turned upside down. The mark he wanted to leave and things he wanted to say had changed, and despite an early version of Fighter being already finished, he decided to record four new songs, completely changing the project's tone.
In short, Nail decided to get real in a way he never would have allowed himself before. Already known for powerful, emotionally-charged vocals, he took the same approach to choosing Fighter's 11 tracks (seven of which were written or co-written by Nail himself), celebrating life's victories but also exposing the knock-downs he's endured – and it wasn't always flattering.
"[I was] like, 'Am I ready to sing this? Am I ready to tell this story?" Nail says. "[But] they come from a genuine place that you can kind of say, 'Okay, I've said that. I'm at peace with that.' I think that's what this record is."
Writing and singing in courageous personal detail, Nail confronted some of his deepest troubles, revealing the clarity he's achieved about his hometown, the true struggle depression caused in his marriage, the answered-prayer of his children's birth and the things he never told his own father.
Meanwhile, producer Frank Liddell (who also guided Nail's first three albums, I'm About to Come Alive, The Sound of a Million Dreams and I'm a Fire) made sure Fighter's musical tone was just as authentic, backing Nail's volcanic vocals with a melting pot of Mississippi-delta sounds — a mix of classic-country balladry and sweaty Memphis soul, with touches of in-the-moment modernity sprinkled throughout.
"I grew up listening to all this music that my father listened to," says Nail. "A lot of it was classic, huge songs and artists from the '60s and '70s – and even the '80s – so I think there's always part of me that just falls toward that type of sound, rather than fighting it and trying to say 'Whoa! No-no-no, we need to stay 2016."
Big-name collaborations abound, with Nail inviting Vince Gill, Brothers Osborne, Lori McKenna and Logan Brill to help tell his story, as well as Bear and Bo Rinehart of NEEDTOBREATE.
"When I'm making a record I selfishly want to push my buttons so I try to approach it as my swan song, it could be the last piece of music I make. I want to fulfill some life goals in the process and one of my biggest influences in the word is Vince Gill so I'm thankful he said yes"
Brothers Osborne kick the project off in star-crossed revelry on "Good at Tonight," McKenna joins "Home" to quietly uncover Nail's love/hate relationship with his hometown, Gill adds stunning harmony vocals to the country-soul "I Won't Let You Go" – a promise to David's wife Catherine – and the Rineharts help close the album in tender admiration with "Old Man's Symphony," an overdue thank-you note to Nail's dad.
Along the way, he toasts to the passion of youth in the upbeat hit "Night's On Fire," pledges romantic relief in the raw Chris Stapleton co-write "Ease Your Pain," delivers a desperate double entendre in the indie-rocking "Lie With Me" and crafts a loving, rock-a-bye origin story for his new family in "Babies" – an instant classic.
Then there's the project's title track, "Fighter," a heartfelt '80s-country throwback ripped from Nail's real life that holds his wife up as an unshakable supporter – even when he was at his worst.
"'Fighter' is about as honest as I've ever been in a song," Nail admits. "I mean, when you're quoting your wife saying things that are not pleasant [about you], you know it was our story. … But it also, I think, tells the story of me."
Nail and Catherine have had to fight their whole lives, he explains – for his career, for their marriage, to battle back inner demons and to conceive their beautiful kids – but their ultimate success in those battles has led them to a better place. And it also gave the album a mission.
Fighter is more than a bookmark in Nail's life and career – it's a period on the final sentence of a difficult chapter. Penned during dark times that have given way to a new sunrise, these are some of the most meaningful and personal songs he's ever recorded. And now that they exist for all to hear, he can finally move on.
"I feel like I've told the main aspects of my career, and my life, up to this point," he explains. "So I really think whatever we do in the future, we'll be able to start just completely fresh. It'll be a new story, a new part of my life."
-Chris Parton
Dec
8
Fri
Wcol Winter Wonder Jam MICHAEL RAY

@ The Bluestone
Dec 8 @ 8:00 pm
Wcol Winter Wonder Jam with
Michael Ray as part of his "Get To you Tour"
Special Guests: Love and Theft, Devin Dawson
Doors for the show will open at 8pm
Tickets just $30 in advance, $35 day of show
Tickets On-Sale November 6th at 10am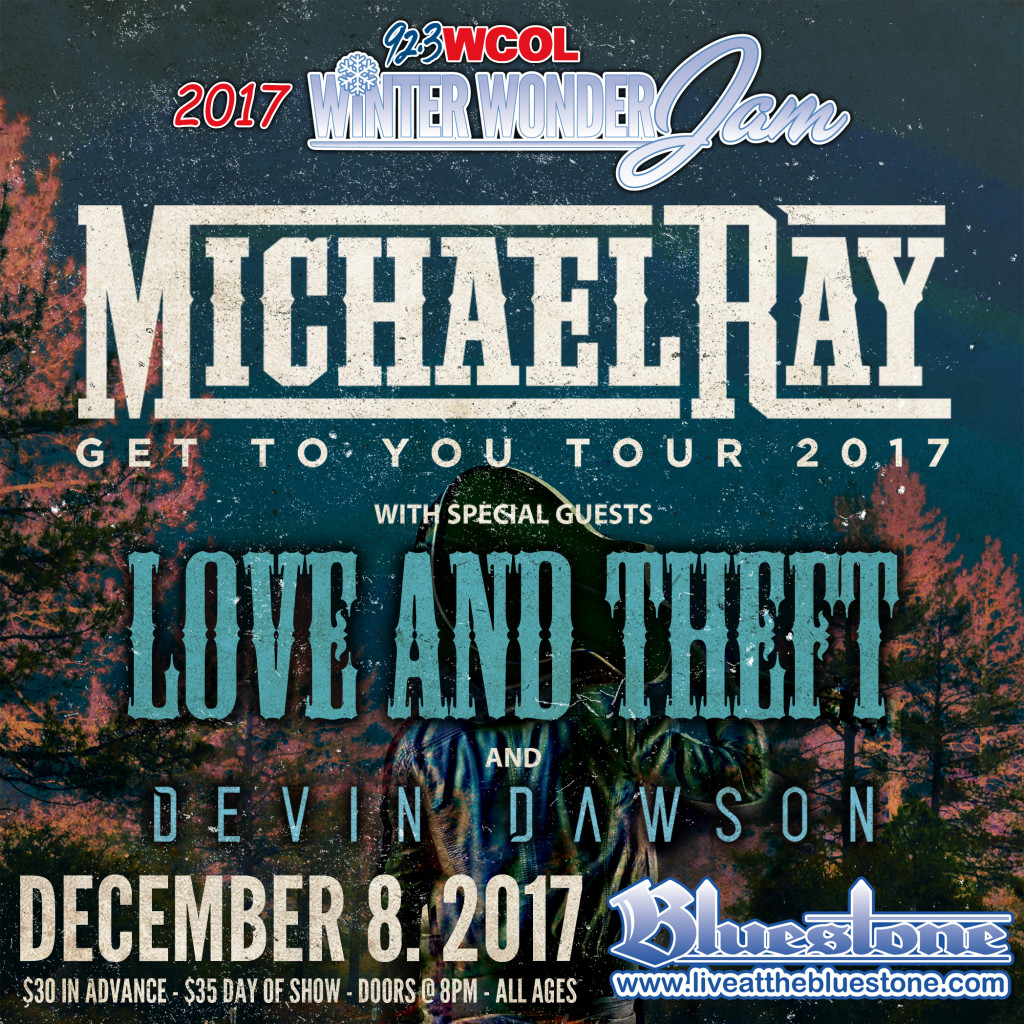 Michael Ray Roach (born April 29, 1988), best known as Michael Ray, is an American country music singer and songwriter. He is signed to Warner Music Nashville, for which he has released his debut single, "Kiss You in the Morning". The song has reached No. 1 on Country Airplay. Before this single's release, Ray was mentored by John Rich of Big & Rich on the singing competition The Next: Fame Is at Your Doorstep, which he won. He and Rich co-wrote Big & Rich's 2015 single, "Run Away with You".[1]
In March 2017, it was reported that Ray would put his acting chops to the test when he revealed that he landed a guest role on CMT's show, Nashville.[2]
Love and Theft is an American country music group founded by Stephen Barker Liles, Eric Gunderson, and Brian Bandas, all three of whom alternated as lead singers and acoustic guiarists. Signed to Lyric Street Records subsidiary Carolwood Records in 2009, Love and Theft made their chart debut in early 2009 with the single "Runaway," which reached the Top 10 on Billboard Hot Country Songs. The band's debut album, World Wide Open, was released on August 25, 2009.
In 2011, following the departure of Bandas, Love and Theft continued as a duo consisting of Gunderson and Liles. The duo moved to RCA Records Nashville that year and released the single "Angel Eyes", which became their first number 1 single. It and the Top 40 singles "Runnin' Out of Air" and "If You Ever Get Lonely" all appear on their second, self-titled album.
Devin Dawson is an American country music singer-songwriter.
Devin Dawson first became famous after filming a mashup of Taylor Swift songs, which gained popularity on YouTube.[2][3][4] His debut single "All on Me" is also his first hit song.[2] With the help of producer Jay Joyce, he signed to Warner Bros. Records in 2017.[5] Dawson's "All on Me" has charted on the Hot Country Songs and Country Airplay charts.
Dawson has also toured with Tim McGraw and Faith Hill.[6]