Your hometown venue for Columbus Ohio Concerts,
Never miss your favorite artist again. From country and electronic to R&B and hip hop, the Bluestone brings quality entertainment to the stage. We're working hard to bring you the best music and special events in Columbus, so keep an eye on our events calendar and check back often for updates. Just click on an event to purchase tickets.
At a time when the prevalence of women in country is being highly criticized, it was reassuring to witness one woman prove that they aren't going anywhere. Jana Kramer is at the top of her game and has been impacting radio waves with her new single "I Got the Boy." I have always enjoyed seeing Kramer live ever since I saw her open for Blake Shelton on the Ten Times Crazier Tour. Her performance last night blew all the previous shows out of the water. The energy she brought to The Bluestone in Columbus, Ohio was off the charts.
"I'd be lying if I said there was anywhere else I'd have rather spent my New Year's Eve. It's one thing to watch a show as a fan, but to be a friend & watch these fellas do what they love…it's a feeling that can't be put into words. I could've easily watched them sing their songs all night long and never have gotten bored. If this night was any indication of what 2016 is gonna be like, I'm pretty damn excited. These four dudes definitely lived up to the hype of making this show "A Night That You'll Never Forget". http://thetennesseelife.blogspot.com/2016/01/concert-review-nye-with-love-theft-joel.html
Apr
12
Thu
3LAU LIVE at The Bluestone

@ The Bluestone
Apr 12 @ 8:00 pm – Apr 13 @ 2:00 am
3LAU will be performing LIVE at The Bluestone April 12, 2018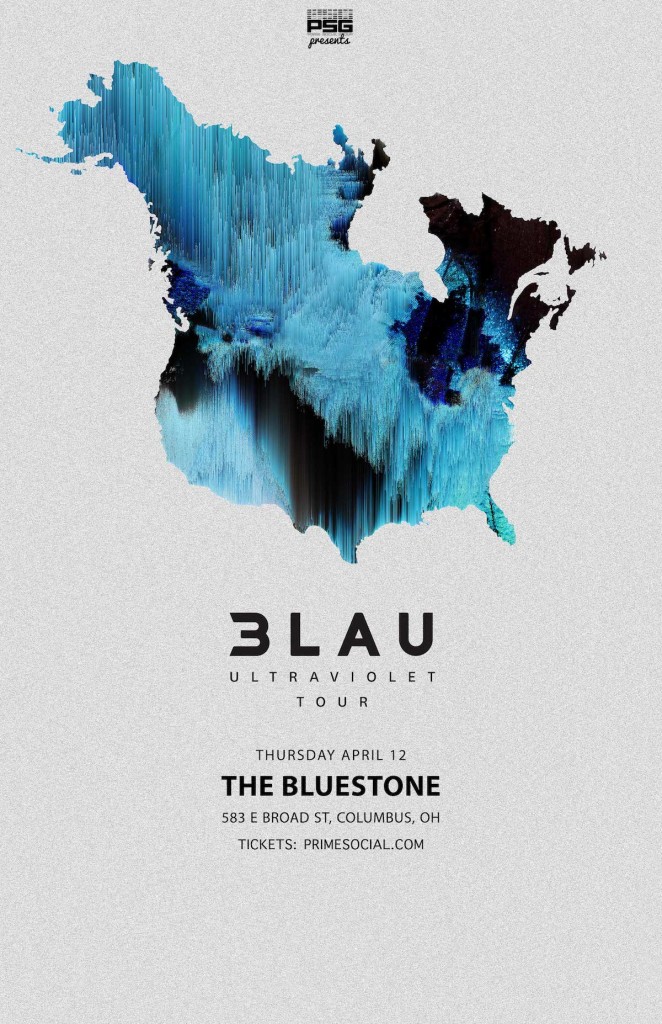 3LAU approaches electronic dance music from many unconventional angles. The artist, multi-instrumentalist, producer, and entrepreneur born Justin Blau usually begins his compositions on the piano.
"I like to create the framework for a song traditionally and then add the electronic elements later." It's a style he's been cultivating since childhood. Commencing piano lessons at the age of three, he'll tell you that he couldn't go to sleep without classical music as a kid. His tastes began to veer towards the likes of Radiohead and Sigur Ros in high school as he taught himself guitar, bass, and drums. During his sophomore year of college, he took a trip to Sweden and fell in love with electronic dance music. Upon returning home, 3LAU began creating.
Taking a leave from college in his junior year, he became a favorite on the club scene through relentless touring, initially turning heads with his innovative mashups. His 2014 original single "How You Love Me" [feat. Bright Lights] dominated radio and closed out 2014 as SiriusXM BPM's "Most Played Record of the Year." More recently, Justin realized that he wanted to do more with music, so he launched Blume—the "first not-for-profit dance music label and philanthropic movement."
With over 5 original releases through BLUME, 3LAU was able to raise 200,000 for Pencils of Promise in 2016, and in 2017 he continues to give to different charities with each new release. For both 3LAU and BLUME it's just the beginning.

May
10
Thu
Randy Houser LIVE at The Bluestone

@ The Bluestone
May 10 @ 7:00 pm
Randy Houser will be performing live at The Bluestone on May 10th, 2018
Opening Artist: TBA
Doors for the show will open at 7pm
Tickets are $30 in advance and $35 day of show
Tickets On-Sale Friday, March 2nd at 10am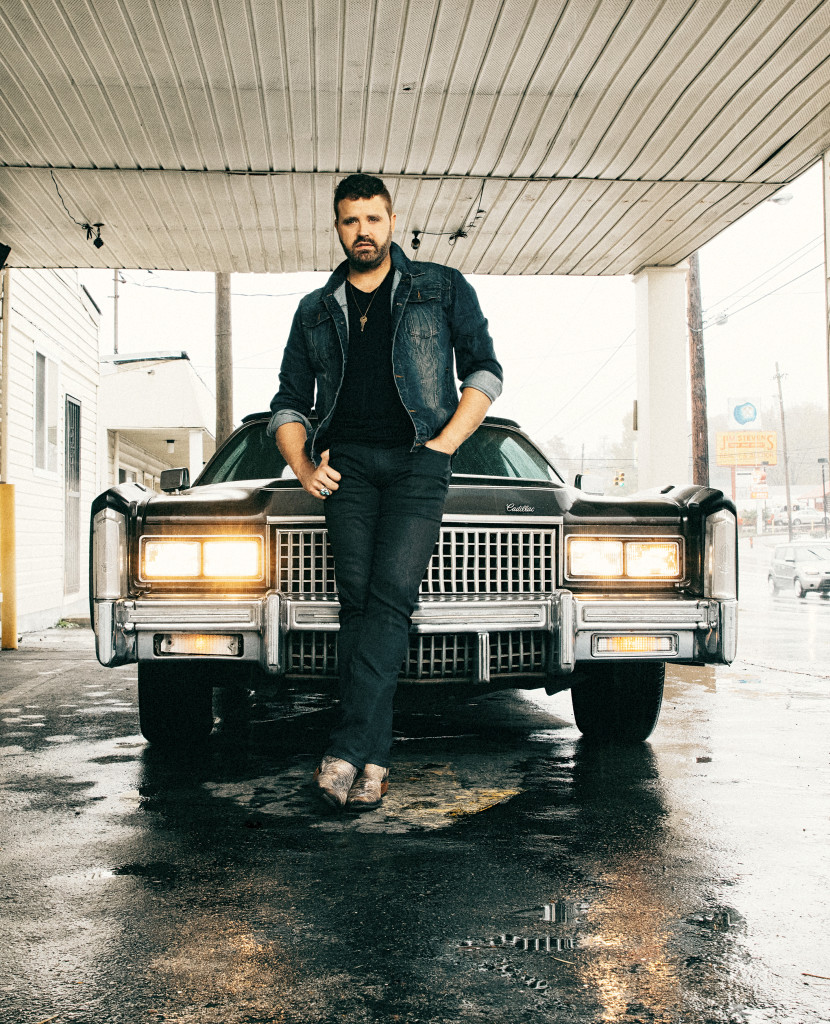 Country singer and songwriter Randy Houser was born and raised in Lake, Mississippi, where his love of music was apparent even as a young child. Houser started fronting bands when he was around 13 years old, and continued playing local gigs all the way through high school. While attending East Central Community College in Decatur, Mississippi, he realized playing music had its financial rewards as well, and he began working on his songwriting. He also formed 10lb. Biscuit, and the band was well received on the local circuit.
Houser relocated to Nashville, Tennessee in 2002, and landed a song publishing deal. One of his songs, "Honky Tonk Badonkadonk," became a big hit for Trace Adkins in 2005, and he also wrote tunes for Justin Moore, John Michael Montgomery, Jessie James, and many more. Houser began concentrating more on the performing side of things and started playing more local gigs, which eventually led to a record deal with Universal Records South. The label released his debut single, "Anything Goes," written by Brice Long and John Wayne Wiggins, in May of 2008, followed later in the year by a debut album, named for the first single. Thanks to the Top Ten country single "Boots On," the album performed well, peaking at 21 on the Billboard Country Albums chart, and Houser returned in 2010 with his second album, They Call Me Cadillac. The album peaked at eight on the Billboard Country Albums chart but none of the record's singles turned into hits, nor did the non-LP "I'm All About It."
After They Call Me Cadillac, Houser left Show Dog/Universal and signed with Stoney Creek Records, releasing How Country Feels in January of 2013. The title track became a hit single that topped out at number one on the Country Airplay chart, and How Country Feels produced three more singles, "Runnin' Outta Moonlight," "Goodnight Kiss," and "Like a Cowboy," the latter peaking at number five on the Country Singles chart. In 2015, Houser toured extensively as Luke Bryan's opening act and dropped a new single, "We Went," in anticipation of Fired Up, Houser's second album for Stoney Creek. Fired Up saw release in March 2016. ~ Steve Leggett, Rovi
Aug
17
Fri
William Michael Morgan LIVE at The Bluestone

@ The Bluestone
Aug 17 @ 7:00 pm
William Michael Morgan will be performing at The Bluestone on Friday, August 17th, 2018
Doors open at 7pm
Opening Artist: TBA
Tickets are $15 in advance and $20 day of show
Tickets on-sale Friday, March 16th, 2018 at 10am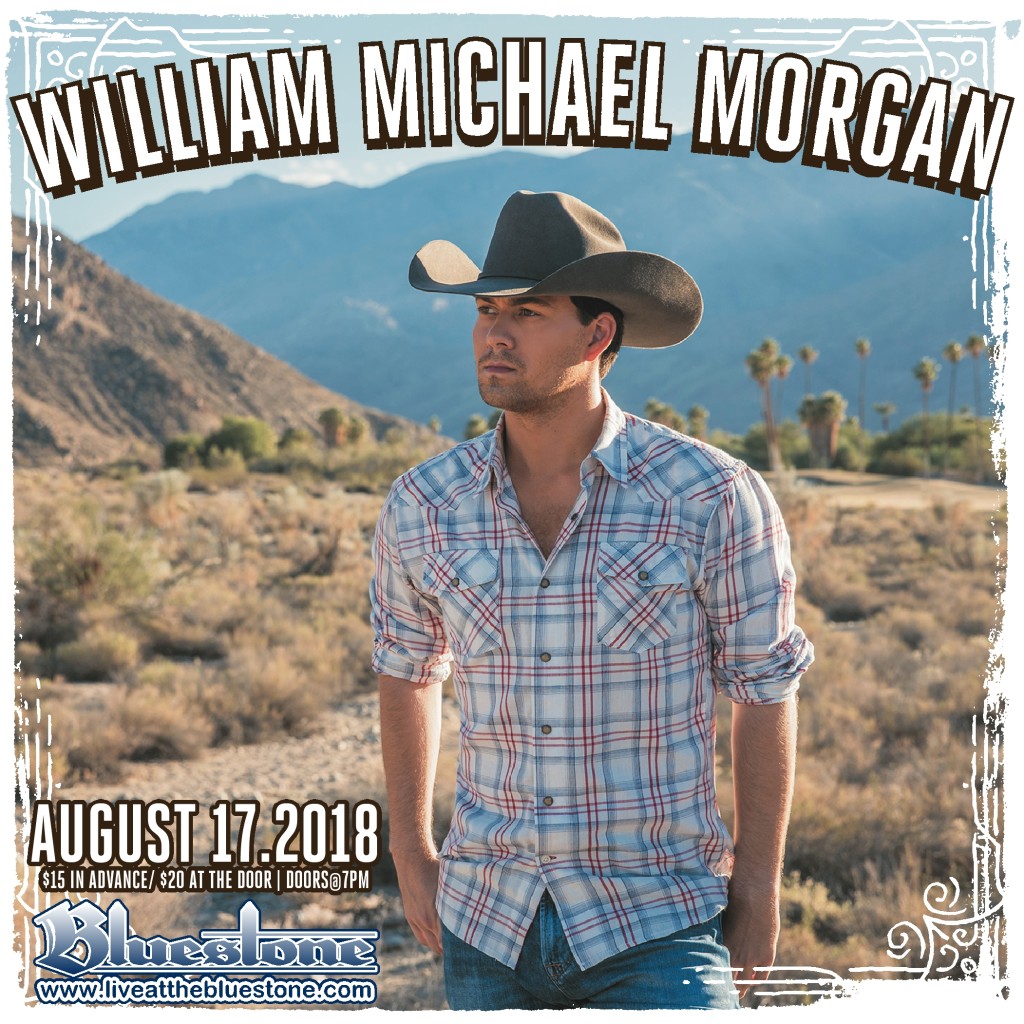 The New York Times declares "…in the emergent field of gentleman country — an antidote to the bros of the last few years — William Michael Morgan stands tall." The praise continues with his debut album VINYL, being hailed as a "sturdy, reflective debut album….a throwback to the temperate wisdom of midcareer George Strait." The record, which opened in the Top 5 on Billboard's Country Albums Chart, has landed him on countless year-end best album lists, including Rolling Stone, iTunes and Saving Country Music. His breakout mega-hit "I Met A Girl" has earned top song of the year nods from Billboard and NPR. The song topped charts and has garnered over a billion audience impressions, including over 25 million on-demand streams. Morgan recently released the title track as his third single. The tune harkens back to yesteryear with a modern twist.