Tickets to your hometown music venue. The OFFICAL BLUESTONE TICKET BOX OFFICE for Columbus Ohio Concerts.
Get Tickets to The Bluestone and never miss your favorite artist again. Tickets From country and electronic to R&B and hip hop.  THE Bluestone brings quality entertainment to the stage every time. We're working hard to bring you the best music and special events in Columbus, Ohio. Keep an eye on our tickets and events calendar and check back often for concert updates. Just click on an event to purchase tickets.
https://www.eventbrite.com/o/the-bluestone-7491519101
Buying tickets on the Eventbrite app is quick and simple. Register for event with just a few taps, and you'll receive a confirmation email when your order is completed successfully.
Please note: You may view some events on the app that are not ticketed by Eventbrite. The ticket purchase flows for those events may differ from the description below.
Eventbrite takes the security and privacy of your billing information seriously. All online payments are processed over a secure connection using a PCI-compliant gateway. If you prefer an offline transaction, learn how to buy tickets without using a credit card.
 Tickets to The Bluestone
Click here to subscribe to our text messages.
From country music concerts and rock and roll, to corporate events, weddings and private parties, we're a destination venue for your special event tickets. With cathedral ceilings, soulful acoustics you can only hear in a 115-year old church, and a staff who truly cares about delivering an amazing experience, The Bluestone is one Columbus event venue you simply shouldn t miss.
Get your Tickets to the best shows in town Now
www.liveatthebluestone.com
Nov
26
Mon
RAW Artist Columbus presents OVATION

@ The Bluestone
Nov 26 @ 7:00 pm
RAW Artist COLUMBUS PRESENTS OVATION
Doors will open at 7pm
This event is ages 18+
Tickets are $22 in advance and $30 at the Door
RAW Natural Born Artist is an independent arts organization for artists, by artists.
RAW is a fun and alternative way for creatives to showcase both to their local community and the world-at-large.
We are not your average art show. We are loud, colorful, creative, and all about our artists. We are RAW.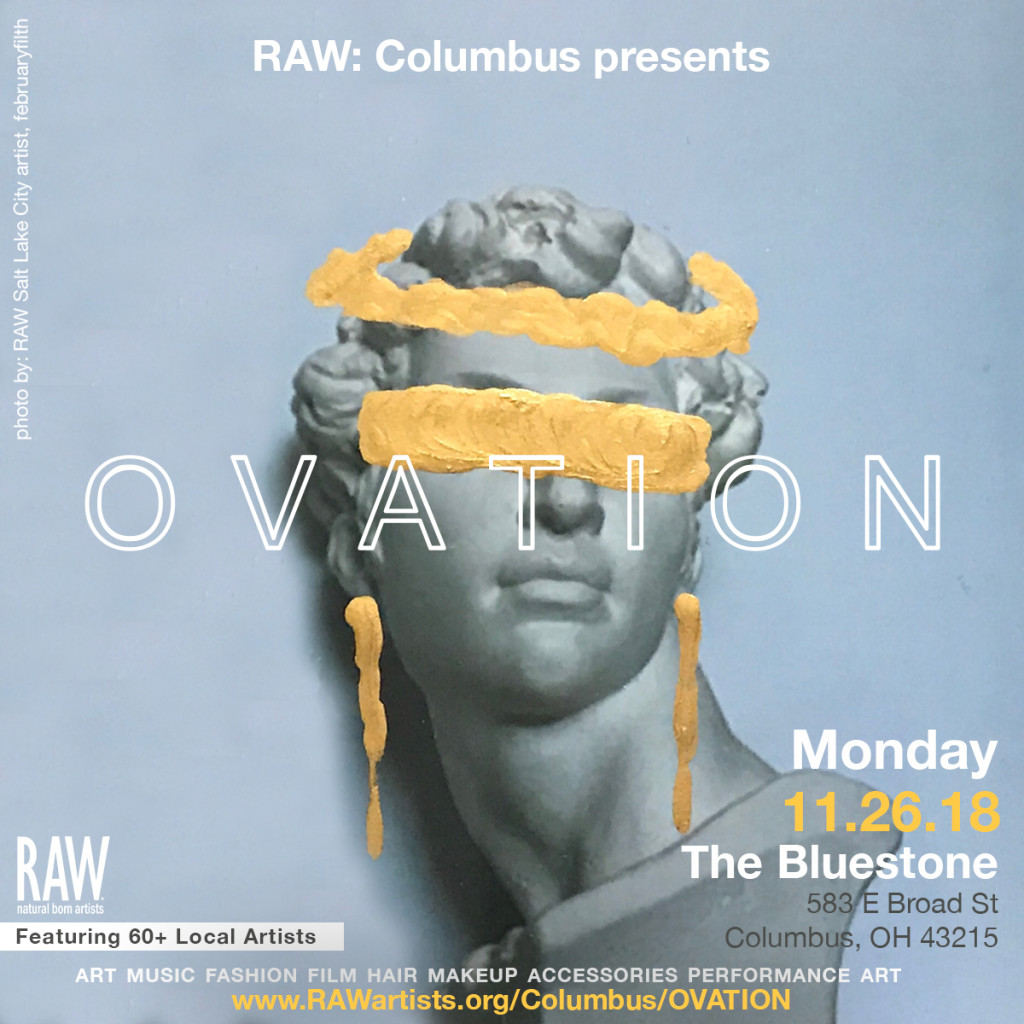 Dec
9
Sun
AEGIS @20 Presented by VYNZ-NY Entertainment LIVE

@ The Bluestone
Dec 9 @ 3:00 pm
VYNZ-NY Entertainment presents:  AEGIS @ 20 LIVE at The Bluestone on Sunday, December 9th, 2018
Doors for the show will open at 3pm
TICKETS:
*VIP TABLE FOR 4-6 (FRONT) $2000 (limited availability)*
(REDEEM TICKET FOR WRIST BAND AT WILL CALL)
INCLUDES:
6 VIP WRIST BANDS
1 TABLE OF 4-6 NONOBSTRUCTED VIEW IN LOFT
1 COMPLIMENTARY BOTTLE OF WINE
1 COMPLIMENTARY DRINK TICKET PER PERSON (6)
6 MEET AND GREET PASSES WITH PHOTO OPPORTUNITY
*VIP TABLE FOR 4-6 (BACK OBSTRUCTED VIEW) $1000*
(REDEEM TICKET FOR WRIST BAND AT WILL CALL)
INCLUDES
6 VIP WRIST BANDS
1 TABLE FOR 4-6 ELEVATED BACK VIEW IN LOFT
1 COMPLIMENTARY DRINK TICKET PER PERSON
6 MEET AND GREET PASSES WITH PHOTO OPPORTUNITY
-GOLD GENERAL ADMISSION FRONT MAIN FLOOR $65 (STANDING ROOM ONLY) (WRIST BANDS WILL BE GIVEN AT GATE)
-SILVER GENERAL ADMISSION BACK MAIN FLOOR $50 (STANDING ROOM ONLY)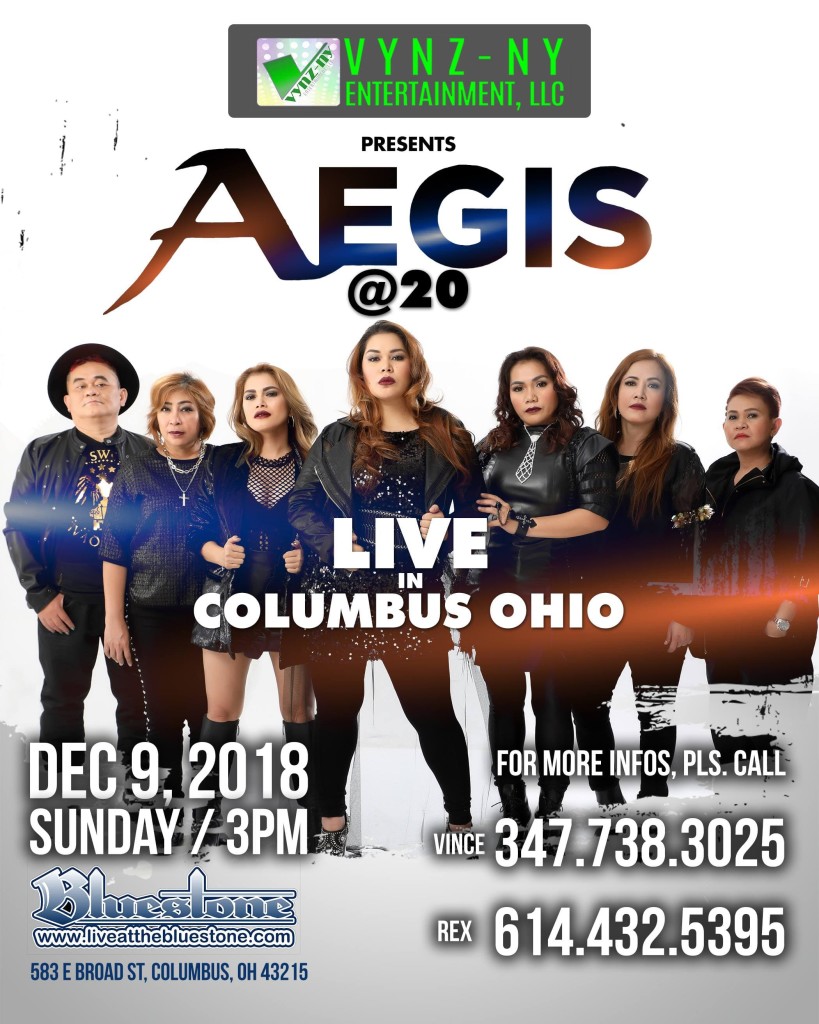 Dec
15
Sat
Sgt. Peppercorn's Annual Beatles Marathon 2018

@ The Bluestone
Dec 15 @ 12:00 pm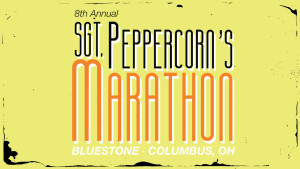 Sgt. Peppercorn's Beatles Marathon is an event like no other.  Experience Sgt. Peppercorn's Lonely Hearts Club Band perform e
very Beatles song in chronological order.
215 songs, 1 day, 12+ hours. 
For the Ninth consecutive year, Columbus musicians will play all 215 officially released Beatles songs, in a single performance. Beginning with the album, Please Please Me at

12:30 PM

, and ending with Abbey Road some time after

midnight

, The Beatles Marathon is currently, the only single performance of every Beatles song.
Tickets On-Sale Thursday, October 25th at 12pm
The Beatles Marathon is arguably the most ambitious musical feat attempted in Columbus each year, and it has also become a beloved community event. For Peppercorn, who's now known more for the Beatles show than for his band the Whiles, the event isn't some excuse to play a bunch of covers and make some money. It's an essential, sacred part of his life.
"You could find better musicians – especially with me," Peppercorn said. "There are always at least 100 people in the Bluestone who could sing the song I am singing better than me. [But] we are the island of misfit toys, and this show is our home." -Columbus Alive