Tickets to your hometown music venue. The OFFICAL BLUESTONE TICKET BOX OFFICE for Columbus Ohio Concerts.
Get Tickets to The Bluestone and never miss your favorite artist again. Tickets From country and electronic to R&B and hip hop.  THE Bluestone brings quality entertainment to the stage every time. We're working hard to bring you the best music and special events in Columbus, Ohio. Keep an eye on our tickets and events calendar and check back often for concert updates. Just click on an event to purchase tickets.
https://www.eventbrite.com/o/the-bluestone-7491519101
Buying tickets on the Eventbrite app is quick and simple. Register for event with just a few taps, and you'll receive a confirmation email when your order is completed successfully.
Please note: You may view some events on the app that are not ticketed by Eventbrite. The ticket purchase flows for those events may differ from the description below.
Eventbrite takes the security and privacy of your billing information seriously. All online payments are processed over a secure connection using a PCI-compliant gateway. If you prefer an offline transaction, learn how to buy tickets without using a credit card.
 Tickets to The Bluestone
Click here to subscribe to our text messages.
From country music concerts and rock and roll, to corporate events, weddings and private parties, we're a destination venue for your special event tickets. With cathedral ceilings, soulful acoustics you can only hear in a 115-year old church, and a staff who truly cares about delivering an amazing experience, The Bluestone is one Columbus event venue you simply shouldn t miss.
Get your Tickets to the best shows in town Now
www.liveatthebluestone.com
Aug
24
Fri
SOLD OUT!! Aaron Lewis LIVE August, 24th

@ The Bluestone
Aug 24 @ 7:00 pm
Aaron Lewis will be performing at The Bluestone Two Nights, BACK TO BACK!
*August 23rd, 2018 and
August 24th, 2018 (SOLD OUT)
*Opening Artist: Travis Marvin
*Doors for the show will open at 7pm each night
*Tickets are $35 in advance and $40 day of show
(Ticket is only valid for admission for the date printed on the ticket)
Tickets are on-sale Friday, May 4th at 10am

 PURCHASE FRIDAY, AUGUST 24th TICKET HERE
SOLD OUT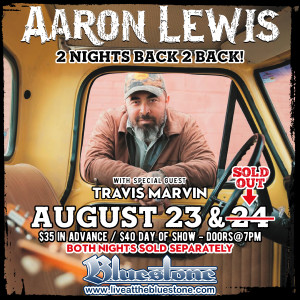 Lewis has been performing solo acoustic shows since he was 17 and still does today. He has written and performed many songs that have never been officially released such as "Angel", "Something Like Me", "Bonghits for Breakfast" (originally performed with J-CAT), and "Sleeping at the Wheel".
In July 2010, Lewis finished recording a country music EP entitled Town Line that was released March 1, 2011 on Stroudavarious Records. It features seven tracks including three versions of the first single "Country Boy" featuring George Jones, Charlie Daniels, and Chris Young, as well as the songs "Massachusetts", "Vicious Circles", "The Story Never Ends", and a re-recording of "Tangled Up in You" originally from The Illusion of Progress.[5] Lewis said in a July 2011 interview that he was introduced to country music as a child by his grandfather, but his interest was recently rekindled when he toured with fellow rock turned occasional country singer Kid Rock.[6]
Lewis released his first full solo album, The Road, in November 2012. Its debut single, "Endless Summer", has also made the country charts. Lewis wrote every song on the 10 track collection, except for "Granddaddy's Gun" which was penned by Dallas Davidson, Rhett Akins and Bobby Pinson, marking the first time Lewis has recorded outside material for an album.[7] In an interview with Broadway's Electric Barnyard, Lewis said he recorded "Granddaddy's Gun" as both a compliment to a friend, and because he was pressed for time.[8]
Lewis wrote songs for his second solo album whilst touring in support of The Road, often performing the unreleased material in his live sets.[9][10] The album, dubbed Sinner, was mostly recorded in a single 18 hour session, with many tracks done in one take. Aaron's daughter Zoe also provides guest vocals on one song.[11] It was released on September 16, 2016, with the lead single, "That Ain't Country", released on 17 June. Country artist Willie Nelson is featured on the album's title track as well.
Oct
17
Wed
Billy F. Gibbons Featuring Matt Sorum and Austin Hanks

@ The Bluestone
Oct 17 @ 7:00 pm – 11:00 pm
The Big Bad Blues Tour: Billy F. Gibbons Featuring Matt Sorum and Austin Hanks
$34.50 in advance, $39.50 day of show on Sale Tuesday Aug. 14 2018 www.liveatthebluestone.com or www.Eventbrite.com
Ticket purchase includes free album download. Instructions for download will be emailed to all ticket buyers approximately 2 weeks after ticket purchase. Questions about album download can be directed to: help@musicredemptions.com
Price $275.00 Per Package (Limited amount)
(1) General Admission Ticket
– Meet & Greet with Billy Gibbons
– Photo Opportunity with Billy Gibbons
– A Copy of "Big Bad Blues" CD
– Billy Gibbons Tote Bag – exclusive to VIP Packages
– Billy Gibbons Guitar Pick Set
– Commemorative Meet & Greet Laminate
Billy F. Gibbons Premium VIP Package
Selling Price $150.00 Per Package (Limited amount)
(1) General Admission Ticket
– A Copy of "Big Bad Blues" CD
– Billy Gibbons Tote Bag – exclusive to VIP Packages
– Billy Gibbons Guitar Pick Set
– Commemorative Meet & Greet Laminate
Billy Gibbons had plenty of help getting the blues for his upcoming second solo album, The Big Bad Blues; both from his assortment of musical collaborators and, on the track "Missin' Yo' Kissin'," from Gilligan Stillwater, the woman he affectionately (and legally) calls Miz Gibbons.
"That was a gift," the ZZ Top mainstay tells Billboard about the track, whose lyric video premieres exclusively below. "We had gotten maybe five (songs) recorded, and my lovely sweetheart Gilligan was scribbling away on the couch. I was, 'Omigod, she's reading the Chanel catalog. Hide the credit card!' Then she took a break and the engineers kinda glanced over the scribbling and said, 'Hey man, this looks pretty good. This could be nice and bluesy if we put something to it,' which we did.
"Of course, I was like, 'Why does that say 'Missin' Yo' Kissin'?' I hope she's writing it about ME!'"