Your hometown venue for Columbus Ohio Concerts,
Never miss your favorite artist again. From country and electronic to R&B and hip hop, the Bluestone brings quality entertainment to the stage. We're working hard to bring you the best music and special events in Columbus, so keep an eye on our events calendar and check back often for updates. Just click on an event to purchase tickets.
At a time when the prevalence of women in country is being highly criticized, it was reassuring to witness one woman prove that they aren't going anywhere. Jana Kramer is at the top of her game and has been impacting radio waves with her new single "I Got the Boy." I have always enjoyed seeing Kramer live ever since I saw her open for Blake Shelton on the Ten Times Crazier Tour. Her performance last night blew all the previous shows out of the water. The energy she brought to The Bluestone in Columbus, Ohio was off the charts.
"I'd be lying if I said there was anywhere else I'd have rather spent my New Year's Eve. It's one thing to watch a show as a fan, but to be a friend & watch these fellas do what they love…it's a feeling that can't be put into words. I could've easily watched them sing their songs all night long and never have gotten bored. If this night was any indication of what 2016 is gonna be like, I'm pretty damn excited. These four dudes definitely lived up to the hype of making this show "A Night That You'll Never Forget". http://thetennesseelife.blogspot.com/2016/01/concert-review-nye-with-love-theft-joel.html
Jun
14
Thu
A Thousand Horses LIVE

@ The Bluestone
Jun 14 @ 7:00 pm
A Thousand Horses will perform live at The Bluestone on June 14th, 2018!
*Opening Artist: Cody Barnett
*Doors will OPEN at 7PM
*Tickets are $15 in advance and $20 day of show
Tickets On-Sale NOW!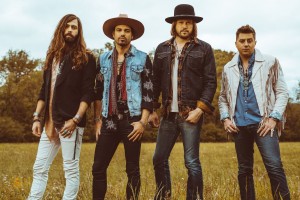 America's bona fide band of brothers A Thousand Horses deliver an authentic fusion of Southern rock and contemporary Country mixed with rowdy jams. Their 13-track project BRIDGES features working man's anthem "Preachin' to the Choir" along with seven acoustic tracks, six of which were recorded live in the U.K. at the famed Metropolis Studios. The group's debut single "Smoke" made Country Aircheck history as the highest debut for a new artist and solidified the band (with at least three members) as the first this decade to score a #1 with their first single on the Billboard Country Airplay Chart. A Thousand Horses have landed multiple awards show nominations, most recently vying for the title of ACM New Vocal Duo or Group at the 52nd Annual ACM Awards. The band's debut album, SOUTHERNALITY, blends Southern Rock and influential sounds of The Black Crowes and Rolling Stones' Exile on Main Street era. The talented foursome soars with Michael Hobby on lead vocals as Bill Satcher and Zach Brown on guitar and Graham Deloach on bass round out their unique grooves. After opening for Country powerhouse Jason Aldean and a string of performances in the U.K. last fall, A Thousand Horses are currently headlining shows across the U.S. before kicking off their opening run on Kid Rock's AMERICAN ROCK n ROLL TOUR 2018 in January. New music from the band is on the horizon, with details coming soon. For more information and tour dates, visit AThousandHorses.com.

Aug
24
Fri
SOLD OUT!! Aaron Lewis LIVE

@ The Bluestone
Aug 24 @ 7:00 pm
Aaron Lewis will be performing at The Bluestone Two Nights, BACK TO BACK!
*August 23rd, 2018 and
August 24th, 2018 (SOLD OUT)
*Opening Artist: Travis Marvin
*Doors for the show will open at 7pm each night
*Tickets are $35 in advance and $40 day of show
(Ticket is only valid for admission for the date printed on the ticket)
Tickets are on-sale Friday, May 4th at 10am

.
PURCHASE FRIDAY, AUGUST 24th TICKET HERE
SOLD OUT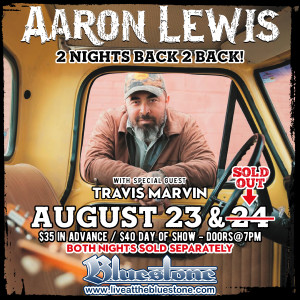 Biography
At the heart of Staind's loud, angst-laden music are the confessional lyrics and introspective personality of frontman Aaron Lewis. While other post-grunge bands were successful in mining the dark caverns once explored by Soundgarden and Alice in Chains, Lewis allowed his sensitivity to pour freely from his words and often pensive vocals, enabling Staind to strike a balance between heavy metal bombast and thoughtful, melodic rock. Born in Springfield, Vermont, Lewis listened to folk music as a child. The son of divorced parents, he chronicled the emotional turmoil in his childhood with Staind, namely on tracks like "Epiphany" and "For You," from Break the Cycle. Like the late Kurt Cobain from Nirvana, Lewis cast an unpretentious, no-frills image, exhibiting a brooding disposition and emotional vulnerability that troubled youths could relate to.
Lewis recorded his first album with Staind, Tormented, in 1996. Staind remained on the fringes of mainstream acceptance until "Outside," a live collaboration between Lewis and Limp Bizkit's Fred Durst during the 1999 Family Values Tour, blew up on alternative and mainstream rock stations a year later. With only his acoustic guitar as his musical backing, Lewis delivered a raw, anguished performance of a song that Staind would later record in the studio for Break the Cycle. The track carved the path for Staind's subsequent commercial breakthrough.
Staind sustained a decade of popularity before Lewis broke free with a solo career in 2011, refashioning himself as a conservative country singer on his 2011 EP, Town Line. He had some success with the album but before he could capitalize on his country career, he reunited with Staind for an eponymous album in 2011. In 2012, he prepped his full-length country debut, The Road, which appeared toward the end of the year. Thanks to the minor hits "Endless Summer," "Country Boy," and "Forever," the album went to seven on Billboard's country chart, and he followed it with another country album, Sinner, in the fall of 2016. ~ Michael Sutton, Rovi