Tickets to your hometown music venue. The OFFICAL BLUESTONE TICKET BOX OFFICE for Columbus Ohio Concerts.
Get Tickets to The Bluestone and never miss your favorite artist again. Tickets From country and electronic to R&B and hip hop.  THE Bluestone brings quality entertainment to the stage every time. We're working hard to bring you the best music and special events in Columbus, Ohio. Keep an eye on our tickets and events calendar and check back often for concert updates. Just click on an event to purchase tickets.
https://www.eventbrite.com/o/the-bluestone-7491519101
Buying tickets on the Eventbrite app is quick and simple. Register for event with just a few taps, and you'll receive a confirmation email when your order is completed successfully.
Please note: You may view some events on the app that are not ticketed by Eventbrite. The ticket purchase flows for those events may differ from the description below.
Eventbrite takes the security and privacy of your billing information seriously. All online payments are processed over a secure connection using a PCI-compliant gateway. If you prefer an offline transaction, learn how to buy tickets without using a credit card.
 Tickets to The Bluestone
Click here to subscribe to our text messages.
From country music concerts and rock and roll, to corporate events, weddings and private parties, we're a destination venue for your special event tickets. With cathedral ceilings, soulful acoustics you can only hear in a 115-year old church, and a staff who truly cares about delivering an amazing experience, The Bluestone is one Columbus event venue you simply shouldn t miss.
Get your Tickets to the best shows in town Now
www.liveatthebluestone.com
Dec
1
Sat
Whiskey Myers LIVE December, 1st

@ The Bluestone
Dec 1 @ 7:00 pm
Whiskey Myers will be performing LIVE at The Bluestone on Saturday, December 1st, 2018!
*Opening Artist: Bishop Gunn
*Doors will Open at 7PM
*Tickets are $15 in advance and $20 day of show
Tickets On-Sale Friday, June 22nd at 10am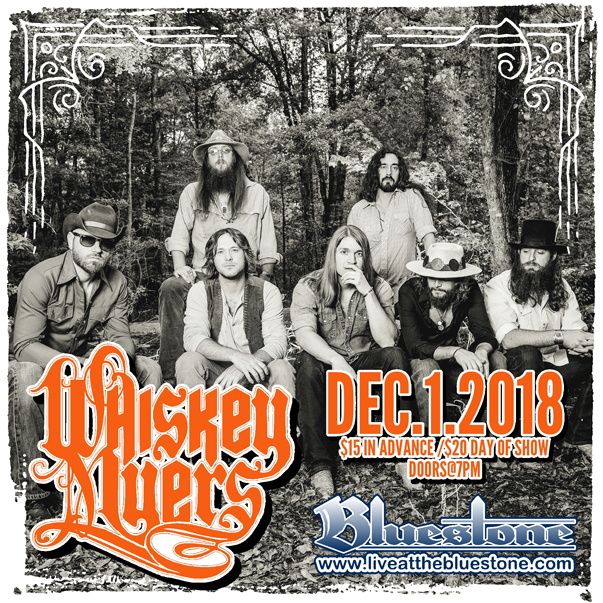 It would be an understatement to say that a lot has happened since Whiskey Myers was last in the recording studio. Over two whirlwind years, the gritty Texas band hit #1 on the iTunes Country Chart with their breakout third album 'Early Morning Shakes,' earned raves everywhere from Rolling Stone to USA Today, and toured the US and UK relentlessly, slaying massive festival crowds and sharing stages with Lynyrd Skynyrd, Hank Williams Jr., Jamey Johnson, and more along the way. You'd be forgiven, then, for expecting things to work a little differently this time around when the band reunited with acclaimed producer Dave Cobb for their stellar new album, 'Mud.' But as it turns out, success doesn't change a Southern gentleman, and they don't come any more Southern than Whiskey Myers.
Fueled by larger-than-life performances honed tight from countless nights on the road, 'Mud' finds the band scaling new heights of songwriting and musicianship, with searing guitars, soulful vocals, and indelible hooks. While their approach to the music and humble, hard-working attitudes may not have altered, there have been developments in the Whiskey Myers world, most notably with the arrival of new faces. For the recording sessions, the band's five founding members—Cody Cannon on lead vocals and guitar, Cody Tate and John Jeffers on guitars, Gary Brown on bass, and Jeff Hogg on drums—fleshed out their sound with the addition of fiddler/keyboard player Jon Knudson and percussionist Tony Kent, who are both now full-time members. "They bring a great energy, and I think it's really helped our sound and makes the band more versatile," explains Cannon. "There's less room onstage now, but sometimes a family grows."
Feb
15
Fri
Love and Theft LIVE February 15th 2019

@ The Bluestone
Feb 15 @ 7:00 pm
Love and Theft will be performing LIVE at The Bluestone on Friday, February 15th, 2019
Doors for the show will open at 7pm
Opening Artist: TBA
Tickets are $15 in advance and $20 day of show
Tickets will go on-sale Friday, October 26th at 10am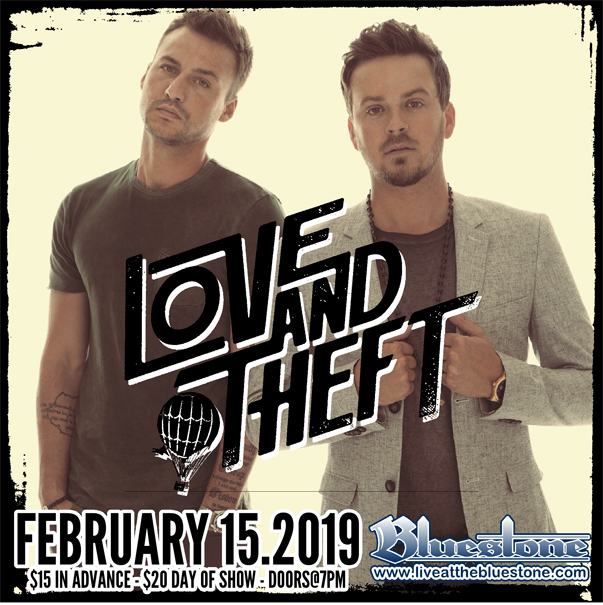 "We wanted to show a different side and make a record that sounds like us," Stephen Barker Liles says of Love and Theft's boundary-pushing new album Whiskey On My Breath. "Country music has always been about honest performances and songs that mean something, and that's the kind of record that we wanted to make."
"We're at a different place, in our music and in our lives, than we were when we made our earlier records, and we wanted this album to reflect that," agrees his longstanding musical partner Eric Gunderson. "We worked harder and more passionately on this record than anything we've ever done. The whole experience was refreshing and inspiring for us."
Whiskey On My Breath—the duo's third album—marks a significant creative statement for the two singer-songwriter-guitarists, whose resume already includes a long series of career highlights. Having already established themselves as one of country's hottest young acts with such memorable hits as the #1 country smash "Angel Eyes" and the Top 10 hit "Runaway," and their widely acclaimed albums World Wide Open and Love and Theft, the ACM/CMA/CMT-nominated twosome take their music to the next level on Whiskey On My Breath.
Mar
1
Fri
Cody Johnson LIVE March 1st

@ The Bluestone
Mar 1 @ 7:00 pm
Cody Johnson will be performing LIVE at The Bluestone on March 1st, 2019
Doors for the show will open at 7pm
Tickets are $20 in advance and $25 day of show
Tickets will go on-sale Friday, November 2nd at 10am
It's Cody Johnson's time.
After landing two releases in the Top 10 of Billboard's country albums chart on his own CoJo label and selling 74,000 tickets for a single show, to earn recognition as the only unsigned artist in history to sell out NRG Stadium at RodeoHouston, one of Texas' most-sought-after talents finally agreed to sign with a major label. Warner Music Nashville won a Music Row sweepstakes and enticed Johnson – who'd turned down several majors before – to join the team and take a shot at turning a concert success story into one with multimedia, national hit-making cred.
Johnson's passionate, rowdy concerts have already drawn comparisons to Garth Brooks, and the music from his previous albums – inspired by '90s country foundations, but built for the 21st century – has made him a familiar presence on Texas and Oklahoma red-dirt radio.
Johnson's introductory Warner project, Ain't Nothin' to It, ups the ante. After writing the bulk of his previous material, he put out word in Nashville that he was open to songs from other sources, and the results were astonishing. A-list writers – including Chris Stapleton, Radney Foster and Brothers Osborne guitarist John Osborne – came to the table with songs that suited Johnson's life and disposition. Music fans who are just now coming to the table will get a quick understanding of Johnson, from the rowdy troublemaker in the swampy "Doubt Me Now" to the devoted family man in the title track to the self-penned ex-bull rider in "Dear Rodeo" to the devoted Christian in "His Name Is Jesus."