Your hometown venue for Columbus Ohio Concerts,
Never miss your favorite artist again. From country and electronic to R&B and hip hop, the Bluestone brings quality entertainment to the stage. We're working hard to bring you the best music and special events in Columbus, so keep an eye on our events calendar and check back often for updates. Just click on an event to purchase tickets.
At a time when the prevalence of women in country is being highly criticized, it was reassuring to witness one woman prove that they aren't going anywhere. Jana Kramer is at the top of her game and has been impacting radio waves with her new single "I Got the Boy." I have always enjoyed seeing Kramer live ever since I saw her open for Blake Shelton on the Ten Times Crazier Tour. Her performance last night blew all the previous shows out of the water. The energy she brought to The Bluestone in Columbus, Ohio was off the charts.
"I'd be lying if I said there was anywhere else I'd have rather spent my New Year's Eve. It's one thing to watch a show as a fan, but to be a friend & watch these fellas do what they love…it's a feeling that can't be put into words. I could've easily watched them sing their songs all night long and never have gotten bored. If this night was any indication of what 2016 is gonna be like, I'm pretty damn excited. These four dudes definitely lived up to the hype of making this show "A Night That You'll Never Forget". http://thetennesseelife.blogspot.com/2016/01/concert-review-nye-with-love-theft-joel.html
Sep
21
Thu
Montgomery Gentry LIVE

@ The Bluestone
Sep 21 @ 7:00 pm
Montgomery Gentry
will be performing live at The Bluestone on Thursday, September 21st, 2017
Doors for the show will open at 7pm
Opening Artist: TBD
Tickets are $40 in advance and $50 day of show
 Tickets on sale Friday, May 26th at 10am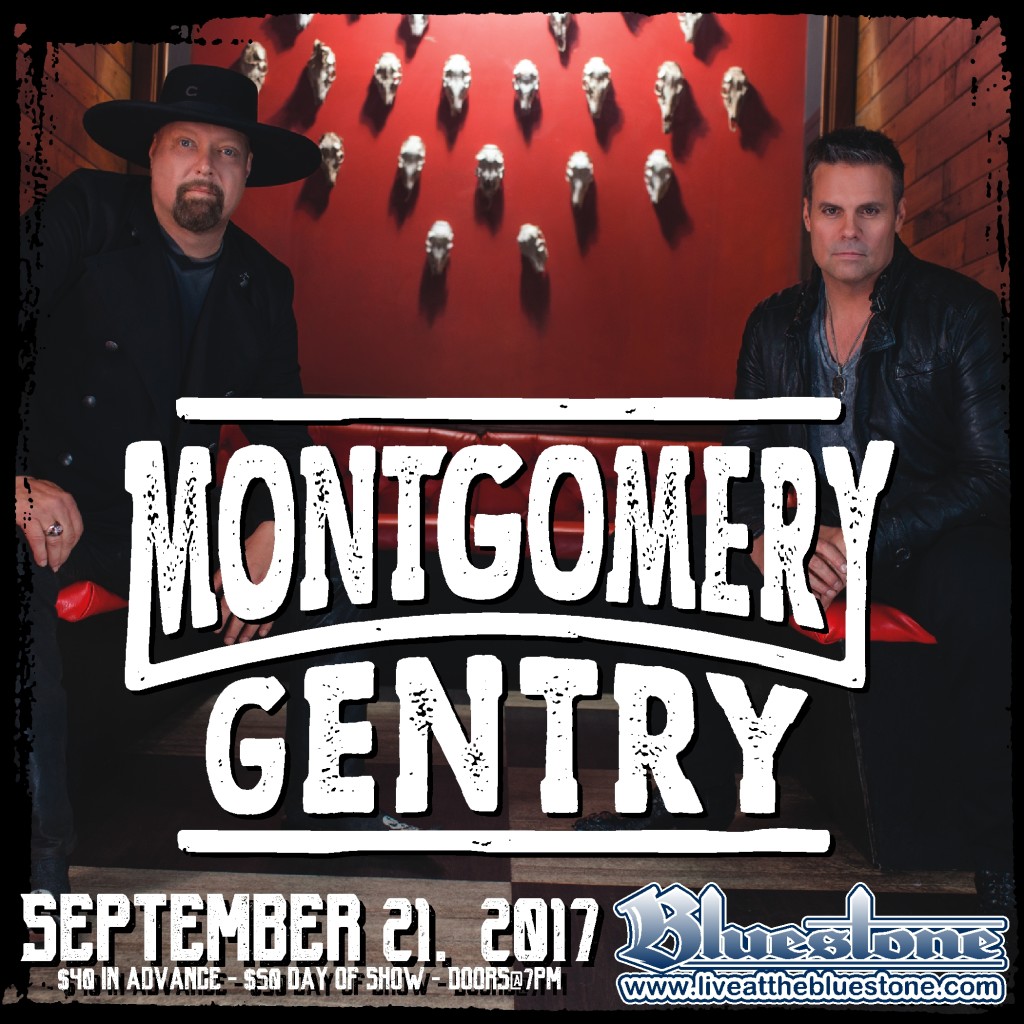 RESERVED LOFT TABLE SEATING
RESERVED TABLE PURCHASE DOES NOT INCLUDE ADMISSION TICKETS TO THE SHOW.  
Admission tickets must be purchased separately
The loft is located on the second level of The Bluestone
Loft Lower Tier: $250 (seats four people-no exceptions)
Prime view of stage!
Includes first bucket of Miller or Coors Light
Server
Exclusive Private Bar access
Loft Upper Tier: $200 (seats four people-no exceptions)

Includes first bucket of Miller or Coors Light
 Server
Private Bar Access
May be Obstruction in View
*All Reserved tables located in the loft area
ALL SALES ARE FINAL
From "Hillbilly Shoes" to "Headlights," Montgomery Gentry has become one of the most identifiable duos in the history of country music—as much for their outlaw-meets-gentleman sensibilities, their yin and yang personalities and their intensely energetic live performances as that balance of voices that gives their brand of country an edge or their version of Southern rock a softer place to fall. This chemistry has been reacting for over 15 years. After nearly a decade and a half, Montgomery Gentry continues to draw door-busting crowds into their concerts and release albums that stay true to the Kentucky country music movement they helped define.
That doesn't mean that the duo has an "if it ain't broke, don't fix it" attitude or has become complacent. That isn't the case at all. Once again, the duo has been working with Michael Knox (Rebels On The Run), and they have collectively embraced the ever-changing environment of country music while remaining true to their signature sound. However, that's what Eddie Montgomery and Troy Gentry have always done, and that practice has positioned them as trailblazers for contemporary country. A modest Troy scoffs at the notion, but says, "We're going to continue to do the same music that we always have, and if that puts us in that leadership role, then so be it. I definitely want to be the one on the front end and not trying to copy something else that's already been done."
They won't and they haven't. Since breaking into the format in 1999, Montgomery Gentry has been a representative of the workingman, releasing blue-collar anthems for what Eddie calls, "the good, the bad, the ugly and the party on the weekend." But the songs are about more than just factory workers who like to blow-off a little steam. They dig deeper. They're about passion: for doing a good job, for working hard and playing harder, for being an honorable person, for loving your God, your country, your family and your life. Even on their newest album, FOLKS LIKE US, the song "That's Just Living" embraces a life of passion: