Your hometown venue for Columbus Ohio Concerts,
Never miss your favorite artist again. From country and electronic to R&B and hip hop, the Bluestone brings quality entertainment to the stage. We're working hard to bring you the best music and special events in Columbus, so keep an eye on our events calendar and check back often for updates. Just click on an event to purchase tickets.
At a time when the prevalence of women in country is being highly criticized, it was reassuring to witness one woman prove that they aren't going anywhere. Jana Kramer is at the top of her game and has been impacting radio waves with her new single "I Got the Boy." I have always enjoyed seeing Kramer live ever since I saw her open for Blake Shelton on the Ten Times Crazier Tour. Her performance last night blew all the previous shows out of the water. The energy she brought to The Bluestone in Columbus, Ohio was off the charts.
"I'd be lying if I said there was anywhere else I'd have rather spent my New Year's Eve. It's one thing to watch a show as a fan, but to be a friend & watch these fellas do what they love…it's a feeling that can't be put into words. I could've easily watched them sing their songs all night long and never have gotten bored. If this night was any indication of what 2016 is gonna be like, I'm pretty damn excited. These four dudes definitely lived up to the hype of making this show "A Night That You'll Never Forget". http://thetennesseelife.blogspot.com/2016/01/concert-review-nye-with-love-theft-joel.html
Feb
23
Fri
WCOL Country Jam 2014
Feb 23 @ 3:14 pm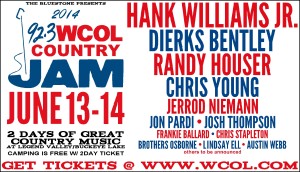 COUNTRY JAM 2014:This summer's Country Jam, the largest country concert in central Ohio, will be a TWO DAY event held at Legend Valley Concert Venue and Campground on June 13th-14th, and will feature: Hank WIlliams Jr, Dierks Bentley, Randy Houser, Josh Thompson, Jerrod Niemann, Chris Young, Jon Pardi, Frankie Ballard, Brothers Osborne, Chris Stapleton, Lindsay Ell, and Austin Webb! Camping is included with purchase of a two-day ticket!
Tickets and more information available HERE!
Interested in being a vendor at Country Jam? Click HERE.
Feb
28
Sat
Brothers Osborne – The Bluestone
Feb 28 @ 7:00 pm
 Brothers Osborne will be performing live at The Bluestone in Columbus, Ohio on Saturday, February 28th.
 Opening Artist: TBD
 Doors open at 7pm
 All Ages Event
 TICKETS: $15 ADVANCED | $17 DAY OF SHOW
For John and TJ Osborne, getting into music was unavoidable. Growing up in the water town of Deale, Maryland, their close-nit-family of seven spent most nights not in front of the television, but writing and playing songs. The Brothers' father had a shed behind their home that he used for small performances for friends and family. John and TJ could be caught listening in on their father's playing or fetching beers for pocket change. Later their father would convert that shed into a home studio where their parents would write and record songs.
As the brothers aged, they formed a band with their ever eclectic father named "Deuce & a Quarter." The band played cover songs from Lynyrd Skynyrd to Dwight Yoakem to Merle Haggard to Bob Seger. They performed at local venues in the town, but it was here that the Brothers got the taste for performing live.
John (guitar) moved to Nashville first to play in other bands. Two years later, TJ (vocals/guitar) moved to Nashville. It was then they formed Brothers Osborne and began playing as many writer rounds as they could. In April 2011, Warner Chappell/King Pen Music offered them a publishing deal. A year later, Capitol Records offered them a record deal. The Brothers Osborne are currently in the studio finishing their debut album, an album they describe as "aggressive, bold and fragile at times." More to come from Brothers Osborne in 2015.
VIP Opportunities Available: 
VIP TABLE PURCHASE DOES NOT INCLUDE ADMISSION TICKETS TO THE SHOW.  
Admission tickets must be purchased separately.
Loft Lower Tier (PRIME VIEW!): $250 (seats four people-no exceptions)
Prime view of stage!
Includes six bottles of Miller or Coors Light
VIP waitress
Exclusive Private Bar access
Buckets (six bottles) available for purchase all night for $24
Loft Upper Tier: $200 (seats four people-no exceptions)
Includes six bottles of Miller or Coors Light
VIP waitress
Private Bar Access
Buckets (six bottles) available for purchase all night for $24
May be Obstruction in View
*All VIP tables located in the loft area