Your hometown venue for Columbus Ohio Concerts,
Never miss your favorite artist again. From country and electronic to R&B and hip hop, the Bluestone brings quality entertainment to the stage. We're working hard to bring you the best music and special events in Columbus, so keep an eye on our events calendar and check back often for updates. Just click on an event to purchase tickets.
At a time when the prevalence of women in country is being highly criticized, it was reassuring to witness one woman prove that they aren't going anywhere. Jana Kramer is at the top of her game and has been impacting radio waves with her new single "I Got the Boy." I have always enjoyed seeing Kramer live ever since I saw her open for Blake Shelton on the Ten Times Crazier Tour. Her performance last night blew all the previous shows out of the water. The energy she brought to The Bluestone in Columbus, Ohio was off the charts.
"I'd be lying if I said there was anywhere else I'd have rather spent my New Year's Eve. It's one thing to watch a show as a fan, but to be a friend & watch these fellas do what they love…it's a feeling that can't be put into words. I could've easily watched them sing their songs all night long and never have gotten bored. If this night was any indication of what 2016 is gonna be like, I'm pretty damn excited. These four dudes definitely lived up to the hype of making this show "A Night That You'll Never Forget". http://thetennesseelife.blogspot.com/2016/01/concert-review-nye-with-love-theft-joel.html
Sep
11
Fri
Outshyne at The Bluestone
Sep 11 @ 11:00 pm
Outshyne at The Bluestone September, 11th 2015
Supporting Artist: TBA
Doors OPEN at 7PM ( All Ages Event )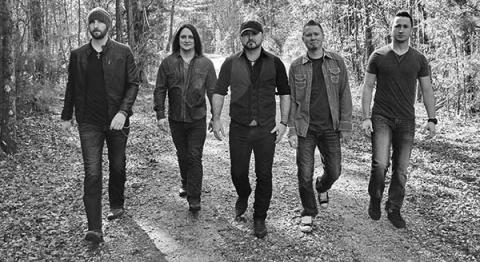 Outshyne is a country band who hales from South Carolina. Their music has a country feel with rock overtones. Originally formed in 2007, of high school friends playing after work. In 2010 they turned their passion for music into a full time endeavor, doing 150-180 dates a year. Since then their success keeps growing!
They have opened for country music superstars including, Jake Owen, Eric Church, Lee Brice, Colt Ford, Joe Nichols, Gary Allen, and Justin Moore to name a few, Waylon sang the National Anthem at the Nascar Sprint Cup in Darlington, SC in 2013, raised over $130,000 for Saint Jude Children's Research Hospital, and played on the Hard Rock stage for CMA Fest.
Their first single "Dirt Road Romance", written by friends Florida Georgia Line and Albis Albritton, went to #29 on the Music Row Chart and #46 on the Billboard Indicator Chart. The album titled "Starting Over" was produced by Grammy nominated Chip Matthews and hit song writer Jeffrey Steele, and debuted #11 on iTunes the day it was released.
The bands second single "Moonlight Crush" is currently at #24 on the Music Row Chart and #40 on the Billboard Indicator, and is being played on Sirius/XM "the Highway". The two singles combined have over 100,000 downloads and over 1 million youtube views.
In January, 2014, Outshyne signed with Sony Red, and are featured on CMT's website.
Be sure to go get their singles "Night With Your Name On It" & "Whiskey Whispers" from iTunes, Amazon or any other digital market.