Your hometown venue for Columbus Ohio Concerts,
Never miss your favorite artist again. From country and electronic to R&B and hip hop, the Bluestone brings quality entertainment to the stage. We're working hard to bring you the best music and special events in Columbus, so keep an eye on our events calendar and check back often for updates. Just click on an event to purchase tickets.
At a time when the prevalence of women in country is being highly criticized, it was reassuring to witness one woman prove that they aren't going anywhere. Jana Kramer is at the top of her game and has been impacting radio waves with her new single "I Got the Boy." I have always enjoyed seeing Kramer live ever since I saw her open for Blake Shelton on the Ten Times Crazier Tour. Her performance last night blew all the previous shows out of the water. The energy she brought to The Bluestone in Columbus, Ohio was off the charts.
"I'd be lying if I said there was anywhere else I'd have rather spent my New Year's Eve. It's one thing to watch a show as a fan, but to be a friend & watch these fellas do what they love…it's a feeling that can't be put into words. I could've easily watched them sing their songs all night long and never have gotten bored. If this night was any indication of what 2016 is gonna be like, I'm pretty damn excited. These four dudes definitely lived up to the hype of making this show "A Night That You'll Never Forget". http://thetennesseelife.blogspot.com/2016/01/concert-review-nye-with-love-theft-joel.html
May
25
Fri
The Young Guns of Country Tour
May 25 @ 4:13 pm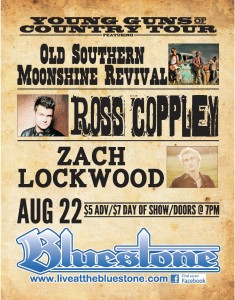 The Bluestone is proud to present The Young Guns of Country Tour on August, 22nd, 2013. Hear three great country acts for just $5 on The Bluestone stage! The Young Guns of Country Tour features Old Southern Moonshine Revival, Ross Coppley, and Zach Lockwood.
TICKET AVAILABILITY
General Admission
$5 Advance

$7 Day of Show
Standing room only
This event is open to all ages
Thursday, 08/22 | Doors at 7:00 P.M.