Your hometown venue for Columbus Ohio Concerts,
Never miss your favorite artist again. From country and electronic to R&B and hip hop, the Bluestone brings quality entertainment to the stage. We're working hard to bring you the best music and special events in Columbus, so keep an eye on our events calendar and check back often for updates. Just click on an event to purchase tickets.
At a time when the prevalence of women in country is being highly criticized, it was reassuring to witness one woman prove that they aren't going anywhere. Jana Kramer is at the top of her game and has been impacting radio waves with her new single "I Got the Boy." I have always enjoyed seeing Kramer live ever since I saw her open for Blake Shelton on the Ten Times Crazier Tour. Her performance last night blew all the previous shows out of the water. The energy she brought to The Bluestone in Columbus, Ohio was off the charts.
"I'd be lying if I said there was anywhere else I'd have rather spent my New Year's Eve. It's one thing to watch a show as a fan, but to be a friend & watch these fellas do what they love…it's a feeling that can't be put into words. I could've easily watched them sing their songs all night long and never have gotten bored. If this night was any indication of what 2016 is gonna be like, I'm pretty damn excited. These four dudes definitely lived up to the hype of making this show "A Night That You'll Never Forget". http://thetennesseelife.blogspot.com/2016/01/concert-review-nye-with-love-theft-joel.html
Aug
17
Fri
William Michael Morgan LIVE

@ The Bluestone
Aug 17 @ 7:00 pm
William Michael Morgan will be performing at The Bluestone on Friday, August 17th, 2018
*Doors open at 7pm
*Opening Artist: TBA
*Tickets are $15 in advance and $20 day of show
Tickets On-Sale NOW!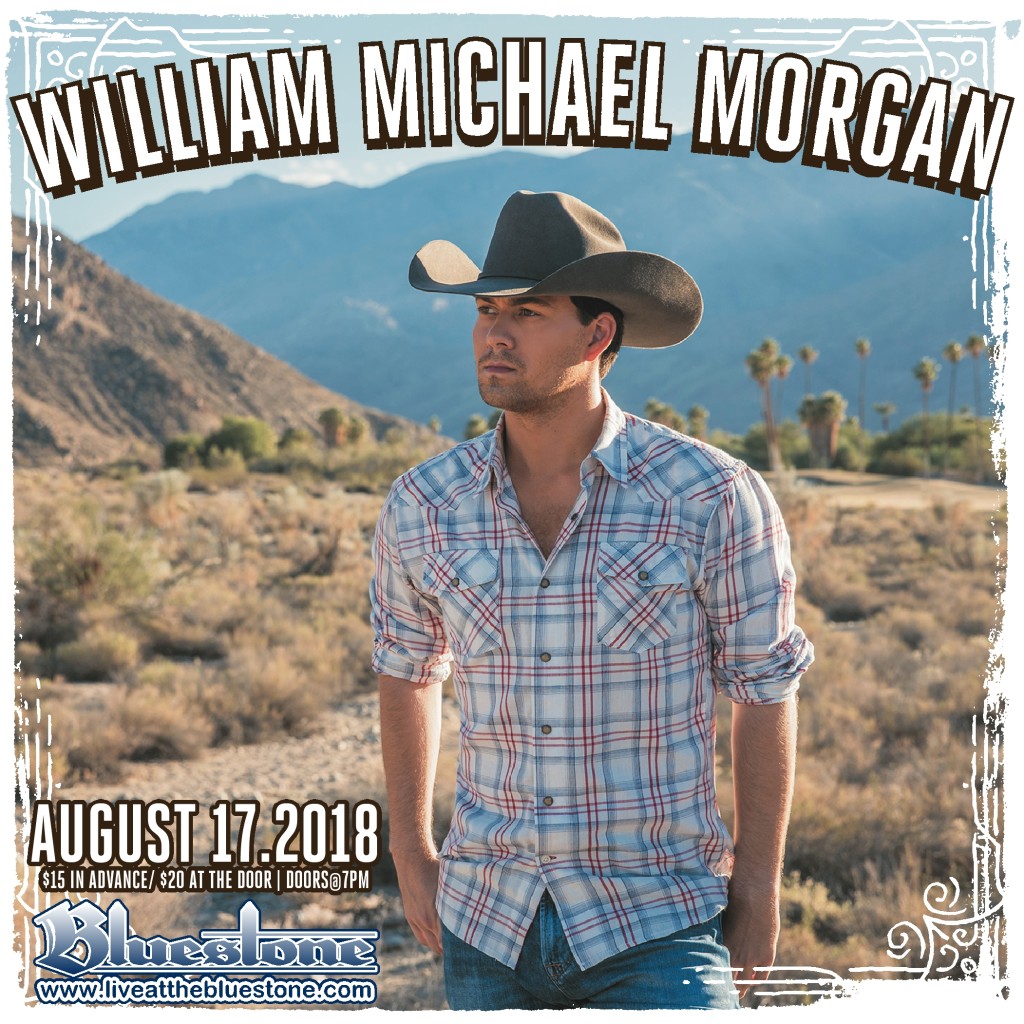 The New York Times declares "…in the emergent field of gentleman country — an antidote to the bros of the last few years — William Michael Morgan stands tall." The praise continues with his debut album VINYL, being hailed as a "sturdy, reflective debut album….a throwback to the temperate wisdom of midcareer George Strait." The record, which opened in the Top 5 on Billboard's Country Albums Chart, has landed him on countless year-end best album lists, including Rolling Stone, iTunes and Saving Country Music. His breakout mega-hit "I Met A Girl" has earned top song of the year nods from Billboard and NPR. The song topped charts and has garnered over a billion audience impressions, including over 25 million on-demand streams. Morgan recently released the title track as his third single. The tune harkens back to yesteryear with a modern twist.