Your hometown venue for Columbus Ohio Concerts,
Never miss your favorite artist again. From country and electronic to R&B and hip hop, the Bluestone brings quality entertainment to the stage. We're working hard to bring you the best music and special events in Columbus, so keep an eye on our events calendar and check back often for updates. Just click on an event to purchase tickets.
At a time when the prevalence of women in country is being highly criticized, it was reassuring to witness one woman prove that they aren't going anywhere. Jana Kramer is at the top of her game and has been impacting radio waves with her new single "I Got the Boy." I have always enjoyed seeing Kramer live ever since I saw her open for Blake Shelton on the Ten Times Crazier Tour. Her performance last night blew all the previous shows out of the water. The energy she brought to The Bluestone in Columbus, Ohio was off the charts.
"I'd be lying if I said there was anywhere else I'd have rather spent my New Year's Eve. It's one thing to watch a show as a fan, but to be a friend & watch these fellas do what they love…it's a feeling that can't be put into words. I could've easily watched them sing their songs all night long and never have gotten bored. If this night was any indication of what 2016 is gonna be like, I'm pretty damn excited. These four dudes definitely lived up to the hype of making this show "A Night That You'll Never Forget". http://thetennesseelife.blogspot.com/2016/01/concert-review-nye-with-love-theft-joel.html
Mar
17
Sat
Montgomery Gentry FT: Eddie Montgomery LIVE at The Bluestone

@ The Bluestone
Mar 17 @ 7:00 pm
Montgomery Gentry featuring Eddie Montgomery will be performing at
The Bluestone on Saturday, March 17th, 2018
Doors open at 7pm
Opening Artist: Ray Scott
Tickets are $30 in advance and $35 day of show
Tickets on-sale Friday, December 8th at 10am
RESERVED LOFT TABLE SEATING
RESERVED TABLE PURCHASE DOES NOT INCLUDE ADMISSION TICKETS TO THE SHOW.  
Admission tickets must be purchased separately.
Loft Lower Tier: $250 (seats four people-no exceptions)
Prime view of stage!
Includes first bucket of Miller or Coors Light
Server
Exclusive Private Bar access

Loft Upper Tier: $200 (seats four people-no exceptions)

Includes first bucket of Miller or Coors Light

Server
Private Bar Access
May be Obstruction in View
*All Reserved tables located in the loft area
ALL SALES ARE FINAL
Country duo Montgomery Gentry evoked the sound and spirit of Southern rockers like Lynyrd Skynyrd, the Marshall Tucker Band, and Charlie Daniels, painting themselves as rowdy redneck rebels who still held small-town values. Eddie Montgomery and Troy Gentry first played together in Early Tymz, a Lexington, Kentucky band led by Montgomery's brother, future country star John Michael Montgomery. Both Eddie and Troy had been performing on the local club scene since their teenage years, the former as a drummer in his father's band. After Early Tymz broke up, a new group called Young Country formed from its ashes, with John Michael billed out front. He eventually went solo, of course, and Montgomery Gentry first formed not long after, initially calling themselves Deuce.
After playing around Lexington for a time, Montgomery Gentry landed a deal with Columbia thanks to a showcase performance. Their debut album, Tattoos & Scars, was released in 1999 and made the country Top Ten on the strength of the Top 20 singles "Hillbilly Shoes" and "Daddy Won't Sell the Farm," plus the Top Five smash "Lonely and Gone" and the Charlie Daniels collaboration "All Night Long." They were named the CMA's Duo of the Year in 2000, breaking a run of eight consecutive years by Brooks & Dunn. In 2001, the follow-up album Carrying On was released; it also made the country Top Ten and produced the number two smash "She Couldn't Change Me." A third album, My Town, was completed quickly and released in 2002, bringing the duo their third Top Five hit in the title track.
The hard-driving You Do Your Thing arrived in 2004, followed by the greatest-hits collection Something to Be Proud Of: The Best of 1999-2005 in November of 2005. Some People Change appeared from Columbia Records in 2006, followed by Back When I Knew It All in early 2008. It all amounted to a pretty successful track record, with a dozen or more of their singles since 1999, plus all of their studio albums, entering the Top Ten charts (as did the greatest-hits collection). The duo's eighth studio album, Gravel Road, appeared in 2010. The Michael Knox-produced Rebels on the Run, the duo's first album for new label Average Joe's Entertainment, appeared in 2011; it debuted at nine on the Billboard country charts. A digital-only EP called Friends and Family showed up in October 2012, and after two years of solid touring the duo signed to Blaster Records and released the full-length Folks Like Us in June 2015.
Amidst plans for the release of Montgomery Gentry's ninth studio album in 2017, Troy Gentry was killed in a New Jersey helicopter crash on September 8th of that year, shortly before a scheduled concert by the duo. He was 50 years old. Here's to You, the album completed prior to Gentry's death, saw release on February 2, 2018. By that point, Eddie Montgomery had laid plans to continue touring and recording under the name Montgomery Gentry. ~ Steve Huey & Steve Leggett, Rovi
Mar
22
Thu
Morgan Wallen LIVE at The Bluestone

@ The Bluestone
Mar 22 @ 7:00 pm
Morgan Wallen will be performing live at The Bluestone on March 22nd, 2018
Opening Artist: Ray Fulcher
Doors for the show will open at 7pm
Tickets are $10 in advance and $15 day of show
Tickets On-Sale Friday, December 15th at 10am
He's a passionate singer with a unique sound, who grew up in Appalachia, and you'll be hearing a lot more of MORGAN WALLEN before 2017 is over. Currently out supporting Florida Georgia Line's explosive DIG YOUR ROOTS TOUR, followed by select dates on THE SMOOTH TOUR 2017, he is climbing Country radio with his Top 30 "The Way I Talk" on Billboard's Country Airplay chart and has racked up over 7 million Spotify streams (and counting). Offering up the first real taste of his Big Loud Records EP – also titled THE WAY I TALK – Wallen's drawling, fun-loving anthem penned by hit-makers Ben Hayslip, Chase McGill and Jessi Alexander, plays off the young star's dynamic vocal delivery and features a sound straight out of the modern South, combining elements of both country and rock
Back when Wallen moved to Nashville in July 2015, he was not sure what he would find, but convinced that he should at least give his dreams a legitimate shot. Less than a year later, he'd already been signed to Big Loud Records, recorded some initial tracks with producer Joey Moi (Florida Georgia Line, Jake Owen) and hit the road on his first radio promotion tour.
It might appear that Wallen's on the fast track, but it took him a while to get there. Born in Sneedville, Tennessee (a town that also lays claim as the birthplace of bluegrass pioneer Jimmy Martin), to a hard-rock-lovin' preacher and contemporary-Christian-devoted teacher, he showed his musical interests early, singing in front of the local congregation at age three and asking for a violin for his fifth birthday. He would soon switch to piano and later add guitar to his arsenal, though he never really imagined it was possible to make a career of it.
"I didn't think that was realistic because I had no clue about how the music business worked," Wallen admits. "Even living three hours away, I had no idea about Nashville."
Instead, he focused his efforts on baseball and he was pretty good at it. Playing shortstop and pitcher for Gibbs High School in Corryton – the same school where Kenny Chesney graduated. Wallen earned an offer to continue playing at a major college.
But fate intervened. While pitching during his senior year, he felt a pop in his right elbow and would undergo a tendon replacement procedure. While he was able to continue playing guitar and piano, it proved to be the end of his baseball career.
"Looking back, I'm glad it happened the way it did, because I really actually loved music more than I ever did baseball," he shares.
The kind of music almost didn't matter. Rock, hip-hop, country – he loved it all,
particularly the emotional connection that it created between the musician and the listener. But when he wrote, the music was invariably country.
"Writing music was a way for me to get my feelings out," he explains. "I don't really express my feelings very much and I guess it was just a way for me to let some of that go. It's my safe place."
During extended time in California, Wallen met Sergio Sanchez, the lead singer and writer for Jive Records' hard-rock band Atom Smash. While Sanchez initially served as Wallen's vocal coach, they hit it off and started co-writing regularly back in Knoxville. Sanchez brought the music to the attention of producer Paul Trust and partner Bill Ray, who in turn produced an initial batch of songs. From there, things moved quickly. Wallen's managers, Dirk Hemsath and Mike Bachta of Working Group Artist Management, set him up to play for William Morris Endeavor's Kevin Neal, agent for Jason Aldean and Florida Georgia Line. Neal signed him on the spot. Hemsath and Bachta next sent demos to Big Loud Shirt's Seth England, hoping to land some co-writing opportunities with songwriters at the publishing company. England was so impressed that he brought Wallen in to audition for his partners in Big Loud Records: Craig Wiseman, Clay Hunnicutt, Kevin "Chief" Zaruk and Joey Moi. They signed Wallen to both the label and the publishing company.
Wallen started woodshedding as a songwriter, working with the likes of Wiseman ("Live Like You Were Dying"), Rodney Clawson ("Dirt"), Chris Tompkins ("Drunk On A Plane"), the Warren Brothers ("Highway Don't Care"), Tommy Cecil ("Home Alone Tonight") and Matt Dragstrem ("Sippin' On Fire"). Meanwhile, Big Loud Records proved that it was big-league – while Wallen worked on his own music, the label's first-ever single, Chris Lane's "Fix," shot to #1, an unheard-of start for a brand-new label.
Wallen hopes to build a similar story. His end goal is to continue to be onstage, making that emotional connection with his distinctive sound, as well as releasing his anticipated forthcoming debut album of Big Loud Records.
"We've just really been trying to get the focus on the music," he concludes. "If we don't have that, then there's no point in playing."
Aug
17
Fri
William Michael Morgan LIVE at The Bluestone

@ The Bluestone
Aug 17 @ 7:00 pm
William Michael Morgan will be performing at The Bluestone on Friday, August 17th, 2018
Doors open at 7pm
Opening Artist: TBA
Tickets are $15 in advance and $20 day of show
Tickets on-sale Friday, March 16th, 2018 at 10am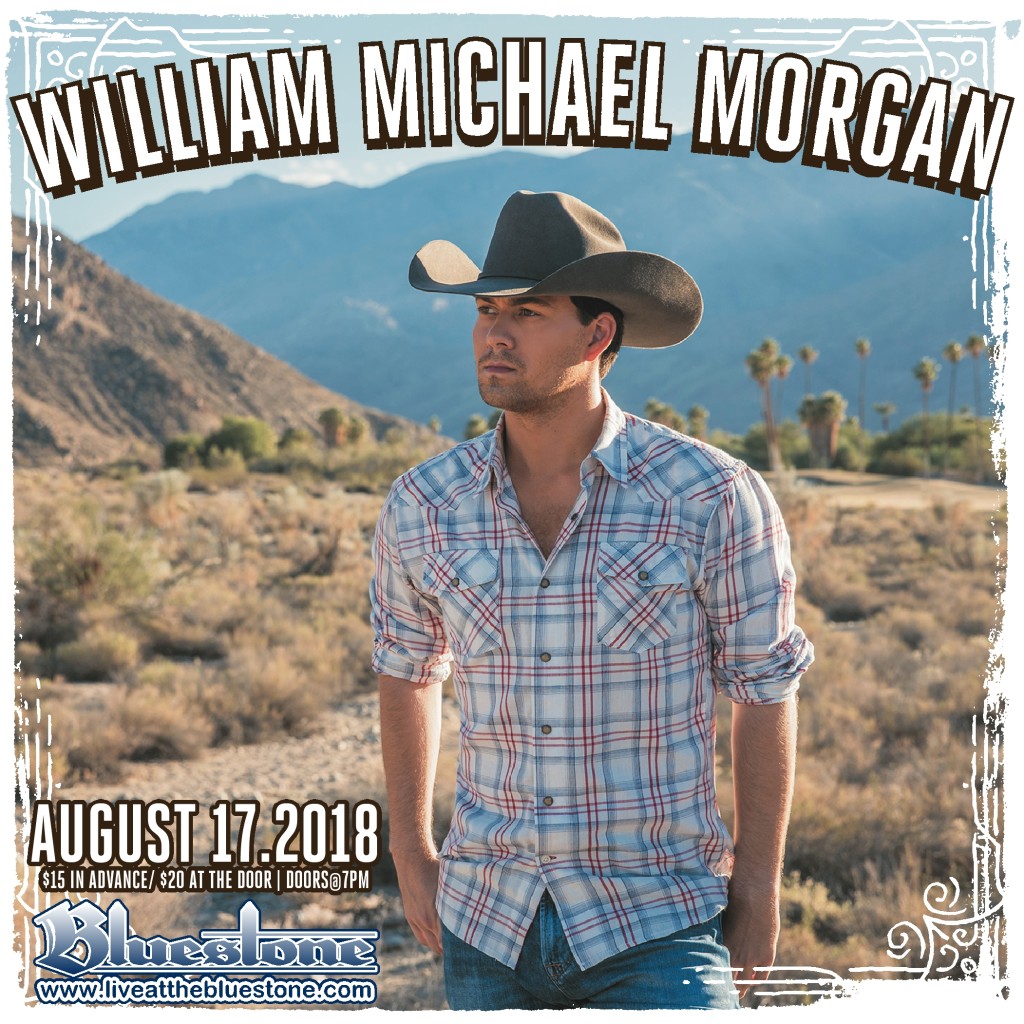 The New York Times declares "…in the emergent field of gentleman country — an antidote to the bros of the last few years — William Michael Morgan stands tall." The praise continues with his debut album VINYL, being hailed as a "sturdy, reflective debut album….a throwback to the temperate wisdom of midcareer George Strait." The record, which opened in the Top 5 on Billboard's Country Albums Chart, has landed him on countless year-end best album lists, including Rolling Stone, iTunes and Saving Country Music. His breakout mega-hit "I Met A Girl" has earned top song of the year nods from Billboard and NPR. The song topped charts and has garnered over a billion audience impressions, including over 25 million on-demand streams. Morgan recently released the title track as his third single. The tune harkens back to yesteryear with a modern twist.