Jamie Lynn Spears will be performing live at The Bluestone on Friday, March 27th, 2015
 WCOL Miller Lite Concert Series.
Opening Artists: SAMMY ARRIAGA and KATIE ARMIGER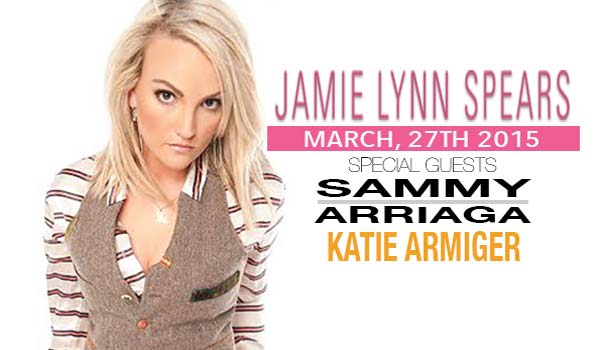 At 23 years-old Jamie Lynn Spears is already a seasoned entertainment veteran. After five years focused on raising her daughter, Maddie, the Kentwood, LA native is back in the spotlight with a sound and style that truly captures her Southern roots.
Her official music debut comes in the form of country ballad "How Could I Want More." The intensely personal lyrics mixed with a simple song production portrays Jamie Lynn as wise beyond her 23 years.
"How Could I Want More" was written by Spears along with Nashville songwriter Rivers Rutherford, who has also collaborated with Tim McGraw, Brad Paisley, and Montgomery Gentry.
Jamie Lynn's experiences with Rivers and other Nashville writers, including Chris Tompkins, Liz Rose, Lisa Carver and Luke Laird, made for a master class in songwriting. Jamie Lynn learned about how to bring her stories to life through music and became a part of a community that helped her figure out the kind of artist she wanted to be. The experiences paid off – Jamie Lynn now has over 100 songs in her catalog.
Her first single already has critical acclaim and cultural heat. It was named a Taste of Country Critic's Pick and her journey has been covered by such outlets as E!, Entertainment Tonight, BuzzFeed, MTV, CMT and more!
A full album is imminent and Jamie Lynn credits her producer, Corey Crowder, for helping her define her sound. "He is a huge influence, and mainly responsible for making my music sound like "me"- he really just got me," says Spears. "It took me years to figure out my sound, and to have confidence in knowing what I wanted."
Choosing "How Could I Want More" as her first single was not an easy decision, but she feels that it is the right one because of the help and support of her team.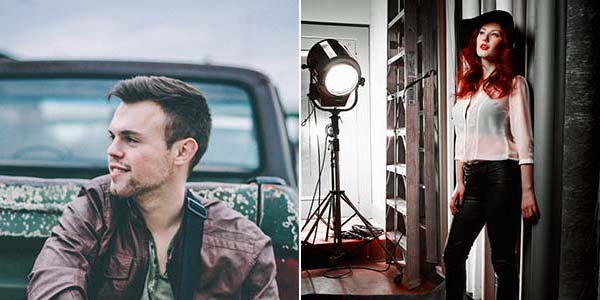 SAMMY ARRIAGA
Bringing his Miami heat to Music City, TN in 2011, South Florida native Sammy Arriaga has quickly become a young, rising Country Music sensation. After discovering his natural ability and passion for singing at the age of 14, Arriaga began to teach himself to play guitar. "Picking up the guitar inspired me to learn more about the Country genre," says Arriaga.  "And I quickly fell in love with it." So much so that Arriaga plugged the famed Tootsie's Orchid Lounge into his GPS and drove straight to Nashville.
At 21 years old, Arriaga is certainly no stranger to the music industry, as America witnessed his unique voice and style earn him a gold ticket to Hollywood during Season 10 of American Idol. Since making his debut on the American Idol stage, Arriaga has been captivating audiences across the country with his infectious style, performing alongside popular chart-topping acts such as the ACM-nominated duo Love and Theft and The Voice winner Cassadee Pope.  "The process of bringing a song to life, from a writer's room on music row to music venues, is the best thing in the world," says Arriaga.
Integrating his Latin heritage into his music, Arriaga incorporates various rhythmic elements that put a unique spin on today's Country sound. With the release of his debut single, "Lighter Up," Arriaga is blazing new trails and filling a niche that Country music has not yet experienced.
KATIE ARMIGER
With the release of her new album, Fall Into Me, it's clear Katie Armiger has come of age. The album, a work of stunning maturity, also reflects the accomplished young star's deepening confidence in her own abilities.
Armiger co-wrote every song on the 14-cut set not because she deliberately set out to do so, but because she had such a clear vision for the project that none of the many outside songs she considered seemed personal enough. "I know it's cliché to say, but it really is kind of a diary of my life in the last two years," she says of the album.
Working once again with Grammy Award-winning producer Chad Carlson allowed Armiger to have quite a bit of control over the album's direction, so she opted for a central theme: love in all its many forms. "The album is literally about falling in, falling out, and searching for that special something," she says. "The songs take you on that journey."
Armiger chose the title Fall Into Me, she says, because "whether or not you're falling in love, or falling out of love, that sensation of falling is always involved." Yet other than the defiant track "He's Gonna Change," the album's songs tend to take a hopeful, optimistic tone about romance, and the prospect of finding it. It closes with the sweet ballad "Safe," which perfectly captures the security of a love that feels just right.
Other standout tracks include "Playin' With Fire," about the heat and volatility of a less predictable romance; "Cardboard Boxes," which cleverly uses moving cartons as a metaphor for both the beginning and end of a relationship; and the poignant, string-laden "Okay Alone," an empowering song about slowly healing from a broken heart that fans who find themselves in a similar circumstance are likely to listen to on repeat. The album's first single, the feisty top 40 hit "Better In A Black Dress," also takes an empowering tone, and were the most successful of the 10 singles and videos she's released in her career to date.
VIP TABLE PURCHASE DOES NOT INCLUDE ADMISSION TICKETS TO THE SHOW.  
Admission tickets must be purchased separately.
Loft Lower Tier: $250 (seats four people-no exceptions)
Prime view of stage!
Includes six bottles of Miller or Coors Light
VIP waitress
Exclusive Private Bar access
Buckets (six bottles) available for purchase all night for $24
Loft Upper Tier: $200 (seats four people-no exceptions)
Includes six bottles of Miller or Coors Light
VIP waitress
Private Bar Access
Buckets (six bottles) available for purchase all night for $24
May be Obstruction in View
*All VIP tables located in the loft area