When:
December 30, 2017 @ 12:00 pm
2017-12-30T12:00:00-05:00
2017-12-30T12:30:00-05:00
Sgt. Peppercorn's Marathon is an event like no other.  Experience Sgt. Peppercorn's Lonely Hearts Club Band perform e
very Beatles song in chronological order.
215 songs, 1 day, 12+ hours. 
For the eighth consecutive year, Columbus musicians will play all 215 officially released songs, in a single performance. Beginning with the album, Please Please Me at

12:30 PM

, and ending with Abbey Road some time after

midnight

, The Marathon is currently, the only single performance of every Beatles song.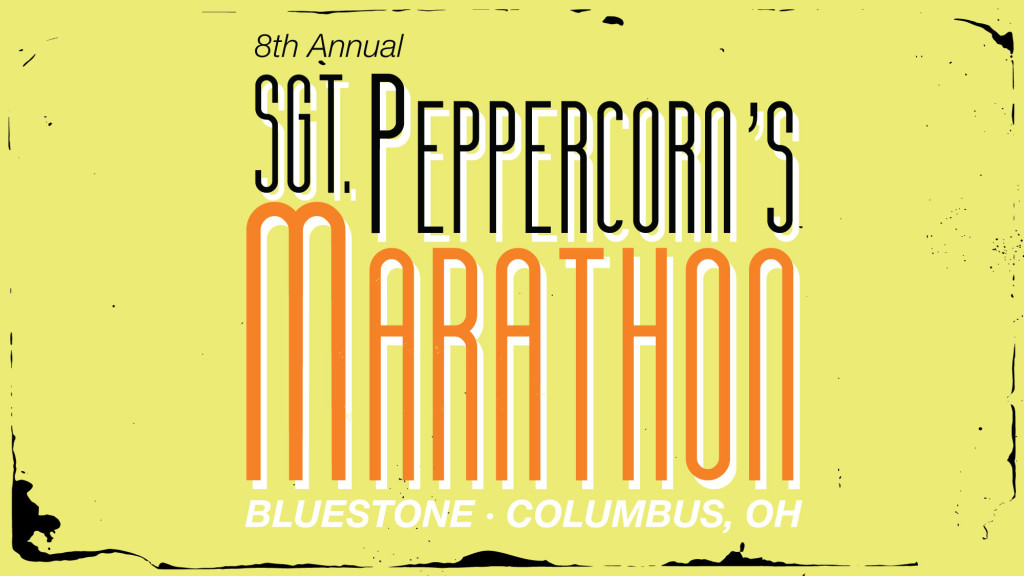 The Eighth Annual Beatles Marathon will take place at the Bluestone, on Saturday December 30. A 12 hour live performance of every Beatles album and every Beatles song in chronological order, The Beatles Marathon begins at 1 in the afternoon, with Please Please Me, and ends with Abbey Road some time around midnight. An assortment of 12 Columbus musicians will, once again, faithfully recreate all 214 official Beatles songs with an attention to detail. Attendees are encouraged to come and go as they please, and trace the evolution of the Beatles throughout the day. This is currently, the only publicized single performance of the entire Beatles catalog in the world. Created by Joe Peppercorn, and directed by Chris Bolognese and Peppercorn, the Beatles Marathon has grown to become a Columbus staple since its ramshackle inception at Andyman's Treehouse in 2010.