When:
November 16, 2017 @ 7:00 pm
2017-11-16T19:00:00-05:00
2017-11-16T19:30:00-05:00
Where:
The Bluestone
583 E Broad St
Columbus, OH 43215
USA

Josh Abbott Band
live at
 The Bluestone Thursday, November 16th
as part of their
"Until my Voice Runs Out tour"
Doors for the show will open at 7pm
Opening Artist: TBD
Tickets are $20 in advance and $25 day of show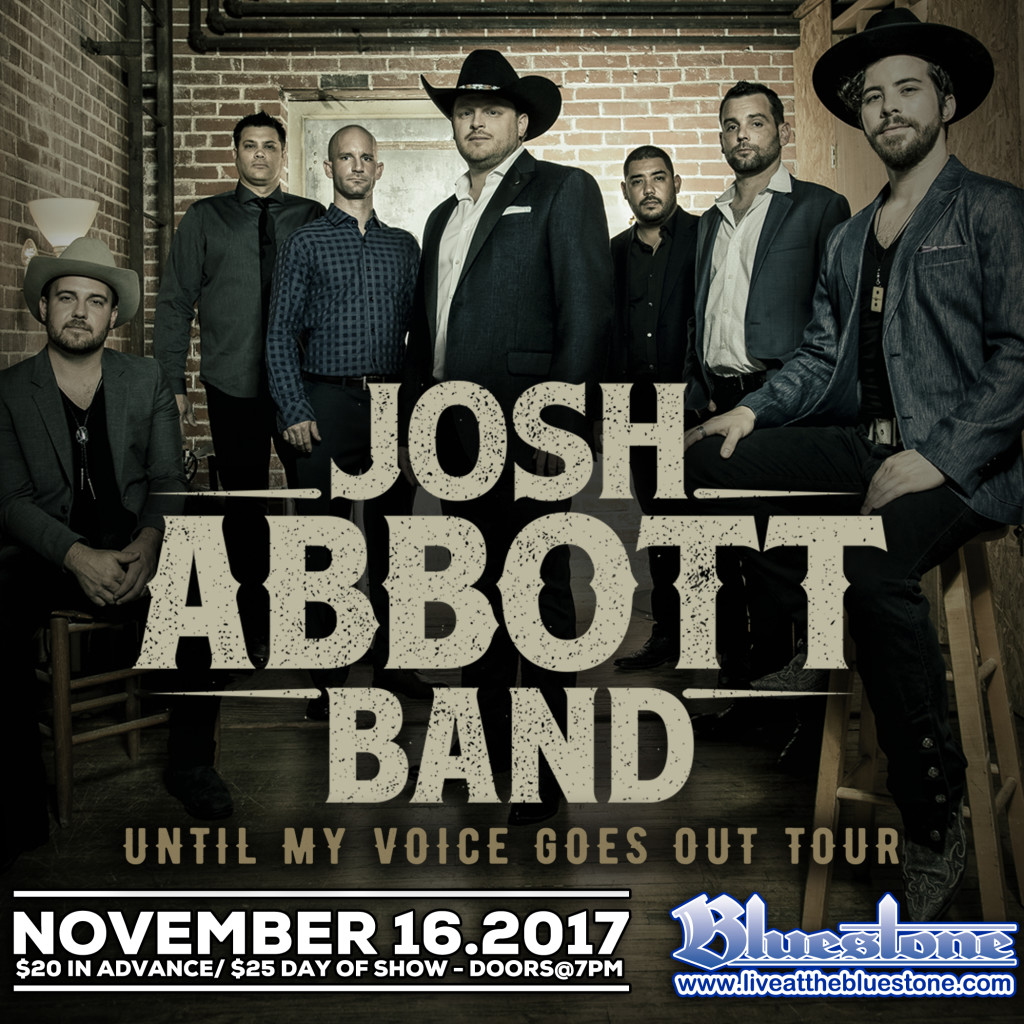 RESERVED LOFT TABLE SEATING
RESERVED TABLE PURCHASE DOES NOT INCLUDE ADMISSION TICKETS TO THE SHOW.  
Admission tickets must be purchased separately
The loft is located on the second level of The Bluestone
Loft Lower Tier: $250 (seats four people-no exceptions)
Prime view of stage!
Includes first bucket of Miller or Coors Light
Server
Exclusive Private Bar access
Loft Upper Tier: $200 (seats four people-no exceptions)

Includes first bucket of Miller or Coors Light
 Server
Private Bar Access
May be Obstruction in View
*All Reserved tables located in the loft area
ALL SALES ARE FINAL
When Josh Abbott Band recorded "Ghosts" for its fourth album, Front Row Seat, Abbott expected to redo the vocals. The final chorus had some technical imperfections, and he figured he could improve on the performance once his heart settled down. Producer Dwight Baker, one-half of the Austinbased duo The Wind and The Wave, wouldn't let Abbott retouch it.
"I was actually crying my eyes out during that last chorus, and that's why there's a couple of notes in the beginning of that section that don't really explode like normal," Abbott says. "Dwight was like, 'We're keeping that. That's real.'"
Real is the operative word for Front Row Seat, a 16-track song cycle that represents the most ambitious and emotionally challenging project yet for JAB, a highly melodic six-piece ensemble that's managed to keep a foot in both the Texas music scene and the national country world. The band won four times during the inaugural Texas Regional Radio Awards behind an upbeat brand of country that still leans on classic instrumentation – particularly banjo and fiddle – to effect a raucous, roof-raising attitude.
The band has lobbed three singles onto the Billboard Hot Country Songs chart – including "Oh, Tonight," the first charted track to feature Grammy-winning Kacey Musgraves – and nabbed a Top 10 album with the 2012 release Small Town Family Dreams and reached No. 12 with the 2014 EP Tuesday Night.
But Front Row Seat steps beyond the band's honky-tonk inclinations for a more personal journey as the album traverses the emotional course of Abbott's first marriage and subsequent divorce. It was not his original intention to depict his private life in a public way, but as he wrote the songs for Front Row Seat, beginning before the split actually occurred, he naturally mined his emotional life for a set of songs that were profoundly honest and revealing. It was only as they began recording the material at Baker's Matchbox Studios outside of Austin, that they realized they had the germ of a tangible plot.
"We started looking at the music we'd done and had a whole bunch of other songs that we really loved and we were like, 'Man, we could put this together and make a really neat story out of it," fiddler Preston Wait recalls. "Especially with the song 'Front Row Seat,' we basically just made it kind of like you're watching a movie and it's your front row seat to this life."
Owing to that silver-screen character, JAB employed screenwriting technique by assembling the project with the five elements of plot structure: the exposition, or beginning; an inciting incident; the climax; a falling action (in this case, a breakup); and the resolution.
The story begins with "While I'm Young," in which a college-aged Abbott lives a typically carefree existence, spending much of his discretionary income in bars and living for the moment, an ideal that's captured authoritatively in the anthemic "Live It While You Got It." As the album progresses, he meets a woman who commands his attention for more than one evening, finding himself by track 7, "Crazy Things," mulling what it is that would make a woman who's dang-near perfect fall for someone so flawed.
By the time the album concludes, his once-ideal relationship has turned sour, and the two are no longer one. The fracture becomes apparent through the resignation of "Born To Break Your Heart," and he discovers in "Ghosts" that all the memories that once lived with such passion and revelry continue to haunt his memory, taunting him with whispers of a past he can never reclaim. As Front Row Seat closes with "Anonymity," Abbott sings a spare dirge with acoustic guitar and fiddle, fantasizing that he could return to the start of the relationship and live it out right.