Hit Singer Songwriters, Brothers Osborne, to Perform LIVE at The Bluestone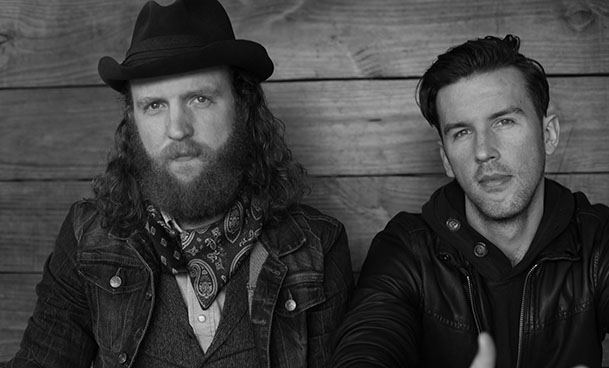 Tickets available for purchase at www.LIVEatthebluestone.com
COLUMBUS, OH-  Nashville based duo Brothers Osborne, will perform live at The Bluestone on Saturday, February 28th, 2015. Tickets are available online at www.liveatthebluestone.com for just $15 in advance and $17 day of show.  Doors for the show will open at 7pm. This is an all ages event.
Brothers Osborne, were born and raised in Deale, Maryland. Growing up the sons of a working class mother and father, T.J. and John Osborne learned at an early age to make do with what they had, creating music with little to nothing. "A lot of the coolest music comes when you don't have anything else to do and you have random objects lying around," says John. The family would spend many days and nights with friends at impromptu yard parties listening to their father play out of a shed in the backyard. As the brothers aged, they formed a band with their ever eclectic father named "Deuce & Quarter". This created a twang-and-church duo that blends equal parts country and rock into one of the freshest most identifiable sounds to come out of Nashville in recent years. Driven by T.J.'s sultry, low-down baritone and John's slow-hand guitar work, Brothers Osborne fills a void for singer/guitarist duos with a presence.
Eventually, the brothers relocated to the Music City, first John and a year later, T.J. Reunited, the versatile musicians accepted a job backing up a bluegrass artist and cut their teeth onto the touring circuit, even playing the Grand Ole Opry. In April 2011, Warner Chappel of King Pen Music offered them a publishing deal. A year later, Capitol Records offered them a record deal. Influenced heavily by Hank Williams, Merle Haggard, Dwight Yoakam, Tom Petty, and especially, Bob Seger helped to shape the sound of the Brothers Osborne. Soon, the duo was laying the groundwork for what would become their EMI Records Nashville debut album, a collection of songs each written by the Brothers that, while indisputably ready for radio, carried an integrity akin to those of their influences. The Brothers first single "Let's Go There," was the gateway to the rest of the album, T.J. says. "It has echoes of the rock, blues, folk and country, all of the elements on our album wrapped up into one song." Their next single, a boozy escape "Rum" is the perfect back-porch sing-along. It is a perfect embodiment of the duo's ability to make something out of nothing.
The Bluestone is pleased to host the the Brothers Osborne on The Bluestone's stage February, 28th 2015. This will be the bands first time performing on the stage of the 117-year old Baptist church renovated into a unique, private event space and concert venue. The Bluestone has hosted many country artists including Lee Brice and Dustin Lynch as well as country legends Dwight Yoakam, Chris Cagle, and Tracy Lawrence and is very excited to add Brothers Osborne to this talented list of performers.